VARIOUS ARTISTS
Tulikulkku
Folk Music Institute

The folk music department at The Sibelius Academy in Helsinki is a model for both national musical pride and bold innovation. Under the leadership oif Heikki Laitinen from 1974 to 1984, and with his continued participation as a lecturer to this day, Sibelius includes as staff and alumni spome of Finlands most creative musicians. In honor of his 50th birthday, his students and comrades in music at the academy and the Finnish Folk Music Institute have put together a birthday tribute called Tulikulkku Here is the perfect introduction to what can really happen when folk music is turned loose as a living, growing force. Traditional a capella singing takes on new formes, Lappish joiking meets electronics and guitars, and traditional instruments are taken into the world of free- improvisation and new world art. If you have any doubt of how powerful a force folk music can be in the modern world, take a listen to the live "Mikonkatu," an absolutely stunning fusion of pre-historic sounds and contemporary force. Then get into tracks from Hedningarna, Niekku (with Arto Järvälä and Maria Kalaniemi) and the primitive Primo (is there a band Arto doesn't play in in Finland?).
---
HEDNINGARNA
Trä
Silence / Sweden ; Northside / US
On Trä (Which I am told is a word play on "three" and "wood") this Finnish/Swedish band has acheived yet another milestone on their quest for a new local music for Scandinavia. Their research into the ancient legends and music of their homes, their reconstruction of old instruments linked to their use of modern technology has put them in the forefront of new music. In one breath there are fiddles and lutes in an almost barogue setting, and then suddenly ancient harps are run through a mixmaster of electronics, voices are synthesized, bagpipes get fuzz boxes and ouds sound like the last dream of Jimmy Hendrix. When they play on stage they draw a crowd of young toughs and aging hippies, a testemant to the fact that they are making music that speaks not to modern pop culture's "generations" but to the universal soul and wit of their own culture. Trä is a testament to the strength of that local approach. All the trappings of pop are there, but none of the sell-outs. This is high energy rock music that sounds like nothing that could be made outside of Scandinavia.
---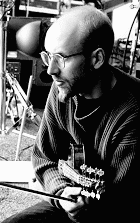 HEDNINGARNA
Kaksi!
Silence / Sweden ; Northside / US

HEDNINGARNA take the ancient music of Sweden and turns it into an impressive folk-rock hybrid. Comparisons to Filarfolket, Mouth Music and even Peter Gabriel come to mind, but only in terms of approach, not sound. There are few new bands that seem to define their own genre, but this is one of them. Synthesizers and bagpipes mingle with processed vocals and keyed fiddles. African rhythms stir up a pot of Scandinavian dance steps, and not a single track on the album slips by unnoticed. Kaksi! (Silence, S- 670 41, Koppom, Sweden) is an experience unto itself, looking to the past while adamantly living in the future. NEW music...

See also Hippjokk (1997)
---
WIMME
Rockadillo Records / Northside-US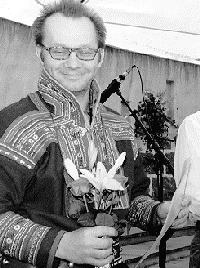 Our excursion is to the northern reaches of Scandinavia, to the land known as Lapland or Samiland. Here, a vocal form called yoiking gives the singer a personal freedom to create an almost visual representation of the people, places and things around her. There is a strict approach to structures and scales, but it is the improvisation, the personal nature of each yoik, that makes the music moving. WIMME will be known to some folks for his appearances with Hector Zazou, Hedningarna and the techno-jazz-joik band RinneRadio. He was not raised a singer, but rather learned the music during a stint at the Finnish Broadcasting Company, where he found tapes of his uncle and decided to pick up the family tradition. On Wimme (Rockadillo Records) he makes yoiks without compromise, and then adds musical ambiance and rhythms that never alter the original beauty of the singing. The accompaniments range from the simplest drones and woodwinds to elaborate, beautiful electro-acoustic landscapes, full of intensity and a clarity that never gets sullied by over- production.

This is a special recording, not only for its unity and direction, but because it once again shows how an intense artist with a singular vision can create new music without delving into cliché; use the old ways without ever falling into the trap of either revivalism or obliteration.
---
ANNA-KAISA LIEDES
Kuuttaren Korut
Olarin

The Finns continue to explore and expand the music of their roots. If you found the instrumental approach of Maria Kalaniemi's new album on Green linnet exciting, then you should go the effort of getting this album. Singer Liedes has gone digging for old songs from Ostrobothnia, Karelia and Ingria, and with the help of folks like Kalaniemi and her band, has forged a new music that captures the old spirit and then expands it with Finnish folk, gipsy jazz, pygmy vocal percussions and Tanzanian pluck. Her voice is a joy, the arrangements sparse and edgy, the music both earthy and surreal. Once again, my belief is confirmed: only by knowing the deepest roots of her own culture can an artist hope to make truly creative "world music."
---
NYPYKÄT
Elämä On Sumfaraa
Kanuunaralli
Poko Records/Finland
They call themselves "the kings of polkka" but that's like calling the Pogues the kings of ceili. This is a ten member rock and roll band with a bad attitude, a sense of humor, and a love of the old music of their country that comes out as sometimes respectful, but more often as sly parody or outright badgering. Electric guitars, fiddles, bass, drums and of course, accordion seem standard enough. On Elämä On Sumfaraa they add a bit more electronic keyboard that gives some of their best tunes, like the thumping, psuedo-reggae/polkka fusion "Anna Armoa" a pleasant, cheesy feeling. It also makes a spit-fire minute and a half send up of "My Sharona" come to life. Kanuunaralli definately has the edge for energy, with a slightly folkier feel that seems better suited to their particular brand of humor. The arrangements are a paste-up of changing rhythms and manaical turn-arounds. Nothing deep or intense here, Nypykät are high-octane folk pop fun.
---
The five women who comprised Niekku were all former students of the country's only music "high school" and are now performers and teachers. They sing warm, gentle harmonies, play accordions, kantele (the lap harp), mandolins, bass and fiddle. The music they make on Niekku 3 (Olarin Music, Finland) is deceptive, in that the tones of all the instruments and voices are usually light and sweet, but at times the groupings of the harps and voices gets down-right furious, and once or twice it even gets a little skewed and bizarre. One tune weaves its way through music box-like melodies on the kantele, with the accordions eventually overwhelming them in discordant madness, and then drifts slowly back to the ground. It is this splendid use of old instruments and new ideas that typifies Niekku's approach to their music.
---