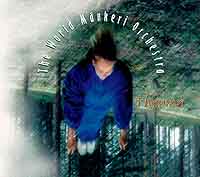 The World Mänkeri Orchestra (aka EtnoPojat) 1999 album, "Thauma"
---
Ancient Winds From Finland
How jazz and folk music come together in EtnoPojat
originally published in Dirty Linen Magazine, 1994
by Cliff Furnald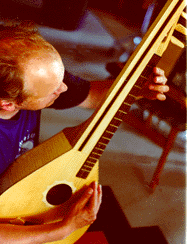 Pekka with his SCUD

EtnoPojat, The World Mänkeri Orchestra, is more than just a band. They are, in a very real sense, a community of musicians, with historical ties to the ancient past and a firm vision of the musical future. Their music is based on the ancient instruments of Finland, but blessed with a world view that includes be-bop and folk. They are researchers, teachers and students who have opened up a new way of making contemporary music in Finland. In July of 1994 I was their guest, in the homes of Heikki Syrjänen and Pekka Westerholm in Nakkila, Finland. After two days of listening to and playing music, visiting the beach and the local schools, eating, drinking and of course, basking in the sauna, we sat down in their home studio/concert hall for a few hours to talk about what the band is, and how such a band came to be.
Both their official name and its subtitle explain of lot about the group. EtnoPojat means "ethnic boys" and a lot of what they do is based on the ancient ethnic music of Finland, particularly of Karelia, on the Finno-Russian border. The mänkeri, one of their primary tools, is a five-tone reed instrument, a medieval clarinet that came to Finland in the 1500s from Germany. Folk instruments like this and the liru (an older but similar reed instrument from Karelia), the kantele (a traditional five tone harp), and pine flutes are combined with percussion from around the globe, and electric bass (their one concession to instrumentation they don't build themselves) in an orchestra with both a solid traditional viewpoint and a wild eye on the global music scene.

Syrjänen, reed player, composer and arranger, started with a history of the band. "EtnoPojat: The World Mänkeri Orchestra was started in 1984. It was kind of an accident, when three of the musicians met when I came to Nakkila for a teacher's job. We all had a jazz background. Pekka and Olli [Penttilä] were already playing together in a band that had no name. I had been doing many different jobs, working with a philharmonic brass band, and then I was also playing in the Turku Big Band and I had a little jazz band playing Cuban influenced music in Turku.

"I think the most important thing was that we were all playing in bands that weren't working well. Pekka was in summer academy with Heikki Laitinen, so I guess the boys had some kind of disease already, to think of music [in] a different way, from a more minimalist view."

Westerholm is not only a musician, but is primarily responsible for the instruments they play. His wood working shop is as important to the sound of EtnoPojat as their studio. He first discovered the liru and mänkeri while studying in Tampere. "There was a professor in Tampere, Timo Leisiö, who in 1985 wrote his masterwork about these old instruments... We thought, why don't we make them ourselves."

Westerholm set up a craft studio for building these reed, pine and birch bark instruments, and Syrjänen proceeded to take his experience as a jazz saxophonist and apply it to their new found tools. They decided not to modernize, not to add extra capabilities to the instruments, choosing to stick to the old five tone scale. They made some small concessions to modern times. "The traditional way of playing these instruments," Syrjänen explains, "As to play alone, not with a group, not with other instruments. I think there have been at some time, like in the Soviet Union, bands with wooden horns playing with symphonies, but in the real folk music this wasn't the case. But we wanted to play together, and we wanted to make the instruments for the band, so we had to make them in tune [with one another], something the old instrument makers didn't need to do." They have developed on their own twists. They have a few different sizes, and even have a bass mänkeri with an electric pickup.

When Westerholm saw his first example of these shepherd instruments, he was in awe. "I thought it was so beautiful I could never make such a thing. But I tried, and now I have made many, and it is to me still the most beautiful instrument I have seen or listened to."

"There is something in the magic of the five notes," Syrjänen said. "When we started, we were at the zero point. We had very simple sessions. I played recorder and the boys played two five-string kanteles and about three or four months we had a real band going, with concerts and everything, in 1985. That year was the Kalevala Jubilee Year [celebrating the great Finnish epic poem/song cycle], and it was important. There weren't that many bands playing this music, the old tunes with just these basic five notes... We tried to clear our heads of that standard jazz thinking, and that pressure to be like a standard jazz band. We also got away from the frame of changing chords [and went] towards modal improvisation."

Syrjänen says there have been many exciting moments of discovery, new things like the first time he found he could expand the range of the instrument by using an overblow technique. He demonstrates, forcing the instrument from its basic notes into a powerful, windy upper octave. "There was always something new as we made and learned the instruments. And there are some old shepherds, in heaven, I guess, who give me some information at night that I use." The result of this work and intuition has been a challenging series of concerts and recordings. The band (at the time of writing, 1994) consists of Westerholm and Syrjänen, with Markku Penttilä on drums and Olli Penttilä (electric bass) Jussi Mansikka (sound engineer in chief), Pertti Hannus *, Janne Kankaanpää (vocals). All have jazz backgrounds, but all have moved with a passion towards a more Finnish base that still never sacrifices any outside influence that might add to their sound. Their music includes Cuban percussion riffs, funk bass lines, European and American folk touches, and above all, an energetic sense of humor; not a slapstick shtick but a dry, wry sense of the world that comes through all of their work. Rather than spend their lives trying to be American-sounding jazz artists, they have chosen their own path. "I tried to play saxophone as well as the great American players, but I could not," said Westerholm. "I know I have something to say and wanted to say it in my own way. I listened to Jan Garbarek in Norway, a great saxophonist. I realized that the American way was not the only way to improvise, that you can improvise like a Finn, or like a Norwegian, and you need not many tools. Only five strings on the kantele were enough to make this music."

*Pertti has since left the band
---
Recording reviews:
Eke (1997)
Thauma (1999)

The band's CDs are available online at cdRoots, where you can also hear samples of their music.
---
Return to The Finn Page or RootsWorld

All text is copyright 1995, 2000 Cliff Furnald