Finn Found in Lake: Arto Järvelä
by Niles Hokkanen

"I like to play in these various bands because all the music is different!" says Finland's Arto Järvelä of Järvelän Pikkupelimannit (J.P.P. for short). Well... nice work when you can get it, and Arto is certainly keeping occupied these days, playing and recording in a half-dozen different folk or folk-oriented groups.

Arto Järvelä and JPP CDs can be purchased at cdRoots

If you're lucky, you'll get a chance to check out J.P.P. at the Lake Champlain Festival in Vermont on Aug 6 & 7, and witness the multi-fiddle extravaganza. Arto was a founding member of J.P.P. way back in 1983 when he was only 17. The band expanded to seven pieces (five fiddles, bass, harmonium) within a couple of years and became the most influential Finnish folk band of the '80s. Performing Finnish tunes from all over the country as opposed to one region, J.P.P. began multi-part arranging of the traditional stuff in addition to writing originals. Polkas, romantic tangos, and waltzes are all included in their repertoire, but it's the wild minor-key polskas which are their trademark.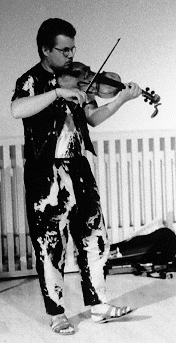 While Arto was in the Folk Music Studies program at the Sibelius Academy in Helsinki, students were required to form ensembles, and Niekku was the group of original students. They ended up recording three great albums before disbanding, but Niekku accordionist Maria Kalaniemi leads another of the groups, called Aldargaz, with whom Arto performs. The Maria Kalaniemi CD is a killer record of superb accordion playing with various instrumental backing.

At present, the 28 year old Järvelä specializes on four instruments -- fiddle, mandolin, octave mandolin, and nyckelharpa (keyed fiddle). Unlike a lot of the younger folk musicians, Arto came from a family that could trace its fiddlers back over 120 years, giving Arto the advantage of learning the folk styles while simultaneously developing advanced digital technique through classical studies, and not being "ruined" by the latter.

Arto tends to play a lot of mandolin in the Pinnan Pojat duo, which pairs him up with a harmonica player. The five-man Koinurit ("The Fuckers") are a raucous band with a Pogues-ish energy level (antivocals). This group does a lot of Finnish-American songs and tunes, and has three CDs out in Finland so far.

Salamakannel ("The Lightning Kantele") was formed to perform old and new music for the Finnish zither. Though they have two albums out, rarely performing live except for the occasional summer festival. This is an interesting four-piece band (with electric guitar and electric bass) in that it seems to fuse the Finnish folk with an American string-band delivery. Sometimes they go the folk-rock direction as well, with admirable results.

Still yet another of Arto's groups is Ampron Prunni ("Ampro's Well"), a trio that concentrates on music for the harmonium (foot pumped reed organ) and Arto's nyckelharpa.

However, J.P.P. commands the most gigs, 50 or so a year, with most being at festivals outside of Finland. When the festivals slack off, he goes back to the Sibelius Academy, though now on the teaching end. In terms of record credits, Arto's almost a Finnish Mark O'Connor, appearing on at least two dozen Finnish folk albums. All the aforementioned bands have one or more records out, plus he's done some sessions with Americans of Finnish extraction: Diane Jarvi's Foreign Winds CD and a forthcoming solo album by Minnesota's Eric Peltoniemi (who leads the band Trova).

From Dirty Linen #47 (Aug/Sep '93)

Read reviews of many of the records Arto has played on.


Arto Järvelä and JPP CDs can be purchased at cdRoots

Return to the Finn Pages or RootsWorld