Kimmo Pohjonen

Like Maria Kalaniemi, Kimmo Pohjonen plays 5-row chromatic accordion, and though he's part of the same musical milieu as Kalaniemi, his path through it has both paralleled and diverged from hers.

"I was ten when I started. My father, who was my first teacher, plays piano accordion; he bought me a button one because he thought that piano accordion was more difficult. I come from a small village, where there was an accordion club. When I came to Helsinki I studied classical music. I was very deeply involved in it; that was my dream, to become a classical musician. I was aiming to go to the classical department at Sibelius Academy, but then one day I accidentally went to a concert where Niekku was playing, and I noticed their attitude to the music - it was something like I'd done when I was young, something much more, something I couldn't imagine at that time that you could do. So I realised "Hey, I want to go to that department!" It was the whole group's attitude, but even more it was Heikki Laitinen, their teacher; it was what Heikki had in his mind. When I went to the Academy I straight away wanted to get him to be our teacher. Since then I've done lots of work with Heikki, and his influence in my music is very big."

On 5-row chromatic, melodeon, harmonica, and sometimes, as on Maria's first album, gogo marimba (a large mbira), Pohjonen shows up in bands and as a session musician throughout current Finnish roots music. He and Arto Järvelä are the droll song and tune duo Pinnin Pojat, and he was a member of the now quiescent Ottopasuuna, which latterly comprised Pohjonen, Petri Hakala, percussionist Kristiina Ilmonen and Värttinä's Kari Reiman and Janne Lappalainen. Recently he's been playing in the band of very popular singer-songwriter Ismo Alanko, who after a punkish start is now discovering and drawing on aspects of his Finnish roots and collaborating with Hedningarna's Sanna Kurki-Suonio.

Kimmo began exploring ways of processing of the accordion's sound during five years with pop-rock band Toni Rossi & Sinitaivas. "The other guys in the band said to me 'Don't play like accordion players, that humppa style!'. I couldn't hear myself, I had to play very loud, I broke my bellows - that's how I got a very physical style. And then I put microphones in the accordion. We always had to wait for the guitar player to get the right sound, so I started to try the same things for the accordion, to use effects; I used Leslie speakers and so on."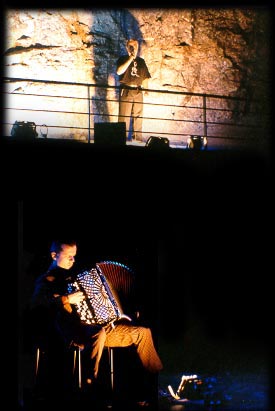 Over the last few years he's been involved with Heikki Laitinen (top, right), and often also modern dancer Reijo Kela, in profoundly compelling performance-art shows, unfolding works of runo-song, tango, growling, roaring, rose-strewing beauty and sinew-stretching physicality, exploring the sounds of the voice and progressing Laitinen's aims of crossing and colonising the debatable land between folk culture and "art". Pohjonen wrestles with the accordion as if it were an alligator, generating waves of rolling, swelling, wheezing, clattering live-sampled sound, building to a churning climax in which the music becomes almost detached from the man and his instrument.

Recently, helped particularly by lighting designer Valo Virtanen, he has developed a powerful solo show, not a gig set of individual tunes but a performance piece exploring and projecting the essence of the accordion itself. At an early performance at the Norrsken conference in Sweden a couple of years ago the audience of dining and chatting roots-music-biz people generally ignored the solo accordionist on the stage for the first few minutes, but as what had started as lapping wavelets of sound became huge churning seas, one by one forks paused on the way to mouths, until, with the room still full of sound and smoky light, at last the accordion was still, and all attention was focused on Pohjonen's wide eyes just visible over its open bellows.

"Every day I find something new. I want to show people there are lots of things they haven't heard from the instrument - it's a kind of orchestra in one instrument. I'm always trying new effects, but the main thing is I want to develop the accordion's own sound; I don't want to go into the MIDI world yet. I think it's very important when you go into the technology to keep the acoustic side there too. With both accordion and drums it really matters how much power you put in. If you hit a drum hard, you get a particular sound, and if you draw the accordion bellows hard you get a big sound. There's an acoustic soul to the music because you use bellows and acoustic sounds.

"I want to go slowly and make better tunes, better sounds, then maybe slowly add more people. If there's a week or a month when I haven't found anything new, then I can ask someone to come and play with me, and maybe after that somebody else, maybe electric guitar or percussion. But now I don't want to take it too fast because I'll stop finding so many new things if there are other people making noise too. I don't have as good tunes as I'd like to, but this is a really new thing for me, and I feel that it's just the beginning. I feel I'm going to be doing this for the next twenty years, so I don't want to hurry it." -Andrew Cronshaw

Audio is from the album Kielo, © 1999 Rockadillo Records, Finland
Used by express permission of the publishers.

Available at cdRoots

See also: Finland, Maria Kalaniemi

(This interview originally appeared in Folk Roots magazine Jan/Feb 1999; used by permission)
Photos: Cliff Furnald at Kaustinen Festival 1999