Maria Kalaniemi
"Of course, it's great to play big and powerful, but there's also this quiet level. I like moving between these levels. There's a groove in slow and quiet music too. On radio they don't play music where there's no drums, and I think that's crazy. The media thinks it knows what people want."
Maria Kalaniemi's style on 5-row button-key chromatic accordion, for which the Finnish name is 5-rivinen haitari or harmonikka, has an aura of quiet intensity, a very Finnish characteristic. She isn't aiming to present a specifically Finnish music, though. "I don't try to do anything, I do music that feels right. Folk musicians today don't live in isolation; they pick up influences without even realising it. I don't think 'Now I want to do a Balkan-style piece'. I start to play, and a theme comes, and maybe it sounds Balkan. I love this rhythmic stuff, so why not do it? It's just one great style I like. Of course all the music I do is Finnish because I'm from Finland, and in Finland there are roots that aren't in other cultures - for instance Kalevala, and the runo singers and kantele players. Because I've heard them I have a kind of idea somewhere in my head; this quiet, beautiful, sensitive thing is near my heart, as it was also for runo-singers and the singers of itkuvirret, the crying songs."
Though she had been playing folk dance music since she was a child, her first encounter with these other aspects of Finnish traditional music came when she went to study at Sibelius Academy's then new folk music department, where she and several other now leading Finnish roots musicians comprised the first intake, together forming the band Niekku in 1983. "It was a new world opening. There weren't so many choices when I was in music school. Classical music was the only type that was 'good' enough. Of course I liked it too, and I did classical music for many years, but I also played dance music. I was a little girl, eight or nine, when I played my first dances. I love old Finnish dance music." Her family are Swedish-speaking Finns, so Swedish music is also part of her culture and her repertoire.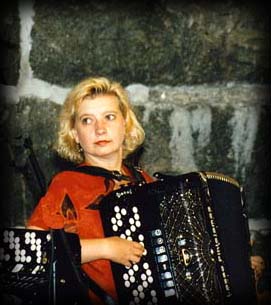 "In a way I've been a little disturbed by this 'classical' thing. It was just one part, I'm not a 'classical accordionist'." She does, though, sometimes use a technique found more often amongst classical than folk accordionists - that of free-bass, in which each of the left hand buttons produces not a fat chord but a single note, opening up possibilities of counter-melodies and a greater harmonic freedom. "In some tunes I use free-bass, in others I use standard accordion. So I change accordions. I can switch to standard chords on the free-bass, but it's so much heavier than the standard accordion if you want to do much with the bellows; it's much easier to do with the other one." Both instruments bear the rhinestone-studded logo of Lasse Pihlajamaa. "He designs them, but they're made in Italy; we have no accordion factory in Finland any more."
There are echoes of French musette style in her playing - indeed in 1989 she spent some months in Paris studying with Marcel Azzola - and of course it would be virtually impossible to play chromatic accordion in Finland and not have some relationship with tango. The lead instrument in Finnish tango is accordion, not bandoneon, but the subtle lyricism of the great Argentinian bandoneon players has crossed over. Astor Piazzolla is the name that springs to mind. "Yes of course he's an influence. I think he's been important for very many accordionists. But there's also one I love very much, Dino Saluzzi. On his CDs he plays alone or with just a few musicians, and there's a lot of improvisation, like painting. I like that; I think it's good sometimes to do something small and quiet." "We've just done some gigs with Aldargaz in Sweden, and at Fasching, a jazz club in Stockholm, it was unbelievable, it was packed and I played a very slow, very quiet piece, and all these people drinking were quiet. I think it was a good sign. You can't know what will happen if you don't try."
Aldargaz, her normal performing unit, comprises Maria with her husband Olli Varis (guitar), his brother Tapani (double bass), Petri Hakala (mandolins), Arto Järvelä (fiddle) and, as strong an arranging influence in this band as he is in others such as JPP and Luna Nova, on piano Timo Alakotila. "I think me and Timo have a very good rapport; we think of music in the same ways. He has a jazz background, so he draws on that in our music, and that adds another aspect. Mostly Timo, Olli and I work with the tunes at first as a trio, and then everyone else comes in with their own contributions."
As I found when we were making songwriter Nikolai Blad's 1995 album she's quick to understand and expand the music of others, live and in the studio. In 1996 she, Anna-Kaisa Liedes (with whom she has regularly played since Niekku days), and Heikki Laitinen made the all-vocal music, recently released on Heikki's Hec-Rec label as the CD Pidot, in a forty-day food, theatre, graphic and musical performance-art project, The Banquet.
That same year there was the Accordion Tribe. "It was an idea from Guy Klucevcek, an American accordionist. He had heard my CDs somewhere and he wanted to have me, Lars Hollmer from Sweden, Otto Lechner from Austria and Bratko Bibic from Slovenia do something together. All accordionists who play their own music, and I thought it was a great idea. We did nineteen concerts around Europe, and there's a live CD now. It was great, because all of us are so different. You can't say there's a right or wrong way to play accordion; there are as many styles as there are accordionists."
Recently she's been playing in actor Vesa-Matti Loiri's band, and touring and recording with Swedish nyckelharpa player Johan Hedin. Playing two-row diatonic she's a member of Helsingin Kaksrivisnaiset, demurely translated as 'Helsinki Melodeon Ladies'.
Very few roots musicians in Finland make a living from just playing. Many teach, producing the next wave at Sibelius Academy and also at the regional music colleges which are beginning to sprout folk music departments. Teaching has been a major part of Mia's timetable. "But now I have a very lucky situation - so does Kimmo Pohjonen - I have a three year bursary, so I don't have to teach. My students are very important to me, but I need this time, because I've done a lot of teaching, and now it's time for them to work with someone else."
Her second CD, Iho ("skin") released in Finland in 1995 by Olarin records, was picked up the following year for worldwide release by Hannibal, with which label she now has a five-album deal. A new one is in preparation, but she's not market-driven. "I don't want to hurry; I want to do things in a way I'm satisfied with. I want to make the records as different as possible. I'm not trying to be a big star; when I get letters from people saying they like my music, that's enough for me." -Andrew Cronshaw
More about Maria Kalaniemi (recording reviews, bio and other information)
Maria K CDs available from cdRoots
See also: Kimmo Pohjonen, Finland
(This interview originally appeared in Folk Roots magazine Jan/Feb 1999; used by permission)
Photos:
Top: Furnald, © 1996
Right: Lundberg, © 1998