JPP
String Tease
NorthSide US (www.noside.com) / Rockadillo-Finland (zenmaster@rock.pp.fi)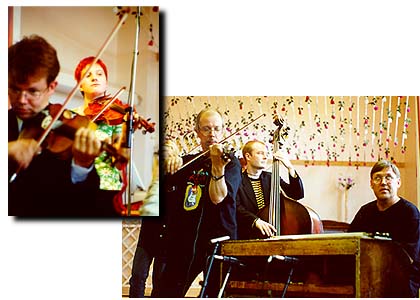 I have heard JPP perform many times and have always had high praise for their performances as well as the talents of individual members of the band. Harmonium player Timo Alakotila is one of Finland's best composers, and an arranger sought after by anyone there looking to add a special character to their work. Arto Järvelä is a master fiddler who has appeared on more records than can be counted. He and Alakotila are integral members of some of the nation's best new folk ensembles. Mauno Järvelä is not only an important performer on the fiddle, but has led a national crusade to make the folk music of Finland part of every day life through his school teaching and the development of a teaching system, a sort of "Suzuki of the north." They have been the core of JPP since its earliest days. The newer members of the group are no less talented; Matti Mäakelä and Tommi Pykönen's violins are flawless, and double bassist Timo Myllykangas can exhibit a jazzy sensitivity or the straight-time thump so critical to the classic Finnish sound.

JPP's recorded output though, has always seemed to be slightly less than the sum of its formidable parts. Save for occasional outbursts, they have kept a pretty straight course, taking the tradition seriously, playing beautifully, even brilliantly, but never really stepping out or pushing the limits. Not so here.

Hale Bopp

String Tease offers a wide variety of feeling for a band comprised of only strings and a harmonium. The Alakotila/Mauno Järvelä song "Hale-Bopp" is a gem, delivering a memorable melody with taunt energy and a restrained elegance. Equally elegant is Arto Järvelä's "Wedding Suite," which not only shows off his fiddling, but gives the JPP wall of fiddles a chance to show their wonder. The traditional "Lundgren" takes full advantage of the fiddles, and gives the listener a taste of the rarely heard full orchestra of a dozen players, usually reserved for special live occasions. String Tease also gives the band a chance to collaborate with Sweden's acoustic powerhouse, Väsen. A Swedish polska throbs with cello, bass and harmonium, driven by the fiddles and Olav Johansson's nyckelharpa. A slangspolska gives Väsen the front seat in a vibrant, lively tune with an abundance of fiddles to rival anything in Texas and adding percussion for an interesting new sound.

With String Tease JPP has really taken the leap. Excellent musicianship and innovative arrangements come together and lead them to produce the recording they were always meant to make. - Cliff Furnald

Photos: ©Cliff Furnald, at Kaustinen Festival , 1998
Sound file: "Hale Bopp" by Mauno Järvelä and Timo Alakotila. Used by permission of composers and publisher.