Bagpipes of the World


Welcome to the world of bagpipe music.
These pages are intended as a resource for the player and non-player alike. We have
reviews of our favorite recordings
, and a
guest book
to share information, ask questions, tell a bagpipe joke (we have gotten hundreds over the years!) or sell an instrument.

Radio Gaita
Bagpipe Music from Around the World
(Real Audio)
A collection of music made on the bagpipes of the world.
Willie Clancy
The Gold Ring: Uilleann Piping from Co. Clare
RTÉ (www.rte.ie)

Two discs released by RTÉ expand the previously released tapes made for Irish radio of one of the greatest pipers ever. This two disc set blends some of these tapes with other unreleased tracks from a widely known yet perhaps under-recorded master of Irish music. Influenced by two travelling players, Garrett Barry and Johnny Doran, this County Clare native epitomizes its often mournful, often celebratory, plaintive style that the combination of chanter, drones, and regulators can make in skilled hands.

Read the complete review and hear a tune HERE
Sweden
Faust
Vildsint
Self-released (www.faust.se)

Dråm
Dråm
Nordic Tradition Records (www.nordictradition.com)

The Swedish group Faust builds their music with instruments of ancient origin: bagpipes, hurdy gurdy, jews harp and key fiddle. These old instruments provide a drive and drone to the melodies and their self-released recording Vildsint has several captivating tunes, mainly from the southeastern part of Sweden. "La grand bete" is a dark schottische from France where the trio achieve a trance-like groove. Anders Ådin's light and airy guitar playing contributes a great deal to the album; it stands very well on its own ("Alla Herrans möjligheter") and also amalgamates nicely with the dark mandola played by Christer Faust and intense bagpipes of brother Alban Faust (although Alban's awkward key fiddle playing is a drawback on some pieces). This combination sounds particularly stong on "Lillebror och storebror/Isdalen," which also features the legendary Ulf Gruvberg on vocals and jews harp. Vildsint is a fresh release, containing exciting music from a part of Sweden that is still relatively unexplored.

Anna Rynefors and Erik Ask-Upmark's duo Dråm is another recent release that showcases the Swedish bagpipe, along with instruments such as rebec, key fiddle and, surprisingly, a European folk harp. It is ironic that the African equivalent to the harp, the kora, found its way to the Swedish folk music scene earlier than its European cousin. Its rich polyphony works well with the bagpipe. When the harp plays alongside the ancient rebec, however, the weaknesses of the latter instrument becomes obvious. Its hissy tone disturbs the ear, regardless of how well it is played. Many of the 14 tracks are slow polskas or polonaises, often with a lyrical quality that suits the chosen instruments. A meditative atmosphere runs through the album. Both musicians are very skilled and play well together, but they need to show more muscle. Two tunes that stand out are the lively "Springlek," a stunning solo by Erik, and the airy waltz "Seglora." A selection of tunes including more brisk ones would also have livened up Dråm. ­ Staffan Jonsson

Faust web site: www.faust.se
Dråm web site: www.draam.com

CD available from cdRoots
Milladoiro
25
Discmedi (www.discmedi.com)

Galicia, the northwestern most autonomous region of Spain, has a Romance language all its own, related to Portuguese more closely than Spanish. Despite not being today a land of Celtic speakers, Galicia often considers itself a proud part of the Celtic world, and Milladoiro celebrates a heritage that survives not in language but in the traditional music of the Galician provinces.

On their 17th CD the band celebrates its 25th anniversary with 15 tracks, primarily instrumental, that feature a sound that owes as much to Irish music as it does to the music of Iberia. Their contemporaries and influences include the Battlefield Band, the Chieftains, Oskorri, and Alan Stivell. Over the years they have changed personnel, but remain vibrant.

This collection is a re-imaginging of some of their most important songs rather than a compilation. It features some solid playing from the Gallego-Celt tradition. With guitar, harp, violin, mandolin, hurdy-gurdy, and gaita, tracks such as the mysterious air "Maruxa" and livelier ones such as "Chouteira" (reminiscent of Barahunda) span the cultural distance.

The current lineup is Antón Seoane on accordion, guitar, keyboard, hurdy-gurdy; Xosé Antón F. Méndez, flutes; Nando Casal, on gaita, clarinet, whistle, and crumhorn; Xosé V. Ferreirós on gaita, uilleann pipes, oboe, mandolin, bouzouki; Moncho García Rey: on percussion; Harry c. on violin and mandolin; Roi Casal on harp, bouzouki, ocarina, and zither; and Manu Conde, on guitar and bouzouki.

Italian singer Claudia Ferronato provides vocals on "Tanote m'ho insogná," where she sounds a bit like Sian James but singing a capella in the local language of Venice. As well, she is featured with the band on the more Iberian-flavored "Voaría a Compostela."

Other prominent guest artists include Irish New Yorker Eileen Ivers, with fiddle on upbeat dance tunes such as "Aires da Farruquiña" and "Lavandeiras de San Paio." Both the American virtuoso Rhonda Larson (flute) and Galician piper Susana Seivane (gaita) feature prominently on "Chouteira," while Anxo Pintos plays hurdy gurdy on "A Bruixa."

A mix of contemplative airs and livelier reel-like tunes, 25 features by turns the melancholy and the more energetic, danceable side of this veteran band, leaving no doubt about the Celtic connections in this part of the world. - David Cox

CD available from cdRoots
Portugal

Gaiteiros de Lisboa

Gaiteiros de Lisboa ("The Pipers from Lisbon") is Portugal's most innovative band in the area of traditional music. Ever since the release of their first album, Invasoes Barbaras, the Gaiteiros have never ceased to amaze us and their albums have always had something new. This one is no exception...
Read our review | Listen!
(CD available at cdRoots)


Listen!
(CD available from cdRoots)


Beltran is a respected composer and folklorist from Spain, and his new redcording focuses on the folk instruments of the Oiartzun valley of Arditurri. This song features not a true bagpipe, but a cousin, the blown ram's horn with reeds, the alboka. The marimba-like sound in the introduction is the two-man instrument known in the basque region as txalaparta. Listen
(CD available at cdRoots)


The Centipedes are a Galician band that plays music both folky and unexpected. A penchant for the slightly bizarre, played out on bagpipes, accordion, percussion and horns takes the tradtion and exposes the roots, twists them about and comes up with something completely unique. Os Cempes are Oscar Fernández Sanjurjo (accordion), Antón Varela (Galician bagpipes and clarinet), Serxo Cés (Galician tambourine, saxophones, Galician whistle, clave, cowbell, vocals), Toni do Jaz (drums, percussion).


"According to the Galician tradition, the boxwood that is used to build the Galician bagpipes must wait for more than one hundred years for an artisan to find its soul and transform it into a musical instrument. Few people know this tradition as well as the Seivane family. Not only is Xosé Manuel Seivane one of the best known and most appreciated builders of Galician bagpipes, but his grand-daughter Susana is becoming one of the best known of a new generation of Galician traditional musicians, having performed in concerts all over the world." Listen to some MP3 samples and read the full review by Joao Maia
Sweden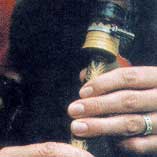 Ulrika Bodén
with Anders Norrude on säkpipa
Swedish singer Bodén explores the ancient roots of Ångermanland, Sweden in her newest recording, Vålje Å Vrake, with Norrude on the bagpipes, plus an ensemble that includes nyckleharpa (keyed fiddle), guitar, flutes and mandola. Listen to "Giftasvisan" and find out more about the ensemble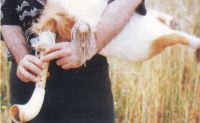 Malta's instrumental folk music has almost been lost, but the members of Etnika are reconstructing the old instruments and reinvigorating the old music. They are rebuilding ancient Maltese folk instruemtns like iz-zaqq, the Maltese version of the bagpipe. Their album Nafra uses both ancient traditions and new compositional techniques to make a new and disctinctive music for their island. Listen to iz-zaqq and then read about the band and hear more music.
CD available at CDRoots.com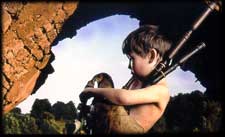 Latvia is one of those places seldom heard from in the music world in general, let alone in the bagpipe scene. DudasLatvija (Latvian Bagpipes) is an excellent collection of folk music from the country that could well change all that. Also read on to hear Ilgi, a folk-pop band that is taking Latvia's traditions (including the duda) to new places.
(This article includes Real Audio and MP3s)
CD available at CDRoots.com
Patrick Molard's latest Breton excursion includes some unique cross-cultural experiments, as shown in "Kalinka" that features the vocals of Bulgarian singer Kalinka Vulcheva.

Listen to "Kalinka"
Read a review.
Buy it at Amazon.com
Séamus Ennis is probably the most important piper in Irish musical history, and the classic recording Forty Years of Irish Piping has just been reissued.
Listen to "The Bucks of Oranamore," recorded by Radio Eireann in 1940, when he was just 21.
Read a review.
Buy it at Amazon.com
Hear the gaita of Alberto Varillas and his band Asturiana Mining Company as they play a muñeira from Asturia, Spain
Listen!
(Read about AMC)
Mac Umba dare to fly in the face of tradition and rationality, to combine the drums of Brazil with the bagpipes of Scotland. Scoff not until you listen!
(Read the review)
Here's a solo by Bulgarian gaida player Alexander Raitchev. Dark foreboding comes from some seriously weird bass tones and Raitchez's skill provides the listener with some unusual melodic and rhythmic surprises here)
Lucilla Galeazzi is a wonderful folk singer from Italy. On her album Cuore di Terre she works with an ensemble of guitar and percussion, accompanied by the launeddas of Carlo Mariani. This track features Carlo. (you can read a review of the recording here)
Gaiteiros de Lisboa combine startling vocals with bagpipes, reeds and other wind and percussion instruments into an artful roots music unlike anything you have heard. read a review of the rec3nt recording Bocas do Inferno
Paris Kyiv is a Canadian based group that focuses on the music of Ukraine, but doesn't hesitate to bring the rest of the world into their music, as in this piece that includes Martin Colledge on Northumbrian pipes
Lúnasa is a young Irish band with a promising future. Great playing, solid arrangments and fine tunes. Just listen!
Italy has a small but rich bagpiping tradition, and some of the classic sound of calabria was caputred by Alan Lomax during his 1954 field trip to Italy. Read all about it and hear the zampogna of Calabria.
BonificaEmilianaVeneta (aka BEV) combine piva with hurdy gurdy, reeds, guitars and accordion for a unique northern Italian sound