Italian Treasury:
Folk Music and Song of Italy: A Sampler
The Trallaleri of Genoa
Calabria
all three titles Rounder (www.rounder.com)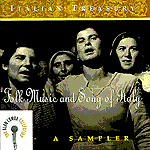 Long before "world music" became the global marketing category du jour, an odd fraternity of folk recordists ranged the planet searching for an elusive musical fix. Among them was Alan Lomax, who convinced the president of Columbia Records to bankroll what would become the massive Columbia World Library of Folk and Primitive Music (recorded 1949-1958). The richly annotated Italian Treasury combines digital remasters of Columbia's two Italian volumes, plus a sampler on Tradition. This is anything but the commercial clichés of "Amore" and "O Sole Mio." Indeed, what Lomax and ethnomusicologist Diego Carpitella documented astounded folklorists back in Rome, and helped to forge a more comprehensive understanding of Italian folk music.
Recorded in 1954-55, the Treasury is sweeping in range and conception, reflecting the vocal and instrumental diversity of a rural, pre-industrial Italy at a moment when rapid socioeconomic change was fundamentally transforming the communities and people among whom these vital oral traditions are now largely a memory. The 22-track sampler is representative of more than 100 field sessions logged in many of Italy's 21 provinces: Abruzzo, Apulia, Basilicata, Calabria, Campania, Emilia Romagna, Friuli Venezia Giulia, Lazio, Liguria, Piemonte, Sardegna, Sicilia and Toscana.
Calabria was Carpitella's home, a fact that produced an entire volume of Calabrian music, which had been little documented prior to their effort. In the mid-1950s Calabria was a zone of high unemployment and intense poverty on Italy's southern periphery, making it, in Lomax's view, an ideal place to capture still-vibrant folk traditions little colored by commercial stimului. The repertoire included work chants of fishermen and peasants, love songs, courting and wedding tunes, tarantellas, religious and pastoral songs, and lullabies. Perhaps the most unusual tracks reveal the heterophonous vocal polyphony and vocal drone of the province's Albanian villages (e.g., "Alla campagnola," "Ce lu toccamu lu peduzzu a rosa," and "Pumellu russu e bandera de nave." See Rounder's Northern and Central Italy and the Albanians of Calabria). Where used, instruments include diatonic and chromatic accordion, zampogna (bagpipes, of four distinct types), harmonica, various flutes, shawm (an oboe-like woodwind), guitar, chitarra battente, mandolin, lira (a pear-shaped fiddle), violin and a variety of percussion.
In what would become the Italian Riviera, Liguria's trallalero tradition emerged as an improvised five-part male a cappella polyphony whose voices range from falsetto to tenor, chitarra ("guitar"), baritone and bass. In the wine shops where Genoese longshoremen gathered after work, Lomax documented a liquid, contrapuntal vocal style traced to Alpine Europe. This was modern urban music not averse to combining the folk repertoire with popular strains garnered from radio and phonograph. Lest anyone think Lomax invariably imposed a folk-purist embargo against the insurgency of popular influence, check out the boogie-woogie chops of Genoa's trallaleri in a remarkable a cappella rendition of Glenn Miller's "In the Mood." This previously unreleased track underscores American popular culture's impact in post-war Italy, an early predicate of a now worldwide process of cultural hybridization in which no tradition can now claim dominance. - Michael Stone

All titles are available at

cdRoots