Carlos Nuñez talks with Christina Roden about the new traditions of Galicia

The reedy, haunting sound of the bagpipe is heard all over the world, from the Celtic nations to Eastern Europe. One of the most fascinating traditions has developed in Galicia on the north-western coast of Spain. Their version of the instrument is called the gaita and Carlos Nuñez is its acknowledged master.

Galician music evolved partly from being geographically cut off from the rest of Spain. Whether this green and hilly land is actually a Celtic nation is debatable, but Nuñez is philosophical about the controversy. "It's more like a common dream." he says slowly, "One thing that is important to consider is the sea. In early times, to go to from Galicia to Ireland in a boat was easier than going to Madrid or Barcelona by horse. Even today, Galicians go to Ireland to fish." Whatever the truth of the matter, Galician music is remarkably compatible with Celtic styles. The muiñeira is the Galician equivalent of a jig, and alalás resemble slow airs, so players from any of the Six Nations (Ireland, Scotland, Isle Of Man, Wales, Brittany, Cornwall) can find a common thread and join in. Asked which Celtic styles attract him the most he replies, "I think they are all interesting. Years ago, Scotland was the best known in Galicia; the whiskey, the kilts, the pipes. No one knew about Ireland 15 years ago. Now, they know about the Chieftains - and Guiness!" He diplomatically admires several bagpipers. "When I started to play, I thought the best pipers were Scottish, but then I discovered the Irish players... and the players from Bulgaria!"

Modern Galician tunes harbor intense medieval echoes, which in turn contain Arabic traces from the Crusades, the conquered Moorish kingdom of Granada and an ancient pilgrimage route that terminates at the Cathedral Of Santiago de Compostela in Galicia. "There was always a special feeling for early music in Galicia." Nuñez agrees, "Before I discovered rock n' roll, I loved medieval music and early music. I started to play the recorder before the pipes. My 'two girls' are the pipes and the flute." he pauses with a mock-sultry grimace, "The flute is more platonic but the pipes can be pure sex!"

Nuñez was born in the coastal town of Vigo and fell - literally - in love with the gaita as a child. "The first time I heard a gaita, I fainted!" he recalls with a grin. Despite the fact that he probably looked like he was wrestling with an octopus, he was already a notable performer by his early teens, when he was invited to play with the Lorient Festival Orchestra in Brittany. "I was with a pipe band from Galicia and they traveled to Lorient. Then, I was invited to play with a Breton pipe band and a symphony orchestra in Lorient. Nobody could believe it!" Not that it was all work and no play - "I had two important experiences in Lorient." he says impishly, "I drank Guiness for the first time and I blew on a bombarde (a notoriously skittish Breton double reed)! It was a perfect combination!"

The youthful virtuoso soon came to the attention of Paddy Moloney of the Chieftains. "I first met Paddy in Vigo when I was 13. Then, when I was at the conservatory in Lorient, I played something Galician and something Irish on the pipes for him. Two years later we met again in Galicia and he asked 'Would you like to play with us tonight?' So, I chose a Galician jig. Five minutes before the concert, Paddy asked me, 'Carlos, please play the tune for us a couple of times.' Then we went onstage and played it together. It was fantastic, a very special moment - and my eighteenth birthday!" Nuñez often tours and records with Moloney and The Chieftains, who refer to him as their seventh member. He was the inspiration for and sat in on their lively, Grammy-winning foray into Galician music, Santiago (RCA Victor), which also featured Linda Ronstadt and Los Lobos.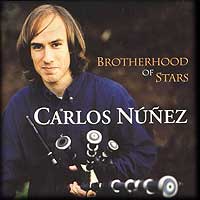 The Chieftains returned the favor on Nuñez' first solo record, Brotherhood Of Stars (RCA Victor - 1997), along with Triona and Michael O'Domhnaill (Ireland), the ubiquitous American guitar whiz Ry Cooder, the Basque accordionist Kepa Junkera, and the Portuguese new fado star Dulce Pontes. Nuñez' second album, Os Amores Libres (RCA Victor - 2000), is even more geographically far-flung, featuring personalities from Ireland, Brittany, Israel, Spain, Morocco, Rumania. The result is as truthful and focused as it is erudite and entertaining. He has also recorded and toured with the Swiss New Age harpist, Andreas Vollenweider and his haphazardly international back-up crew and the varied influences seem to have liberated Nuñez' creativity. "When I first started to play, I was more rational. Now, especially after working with flamenco, I discovered this whole wild side. I improvise a lot now, but I didn't years ago."
He plans to further explore North African music, although this has sometimes created controversy at home. "At first, I was only interested in the Celtic world." he says, "The Chieftains, sometimes they told me, 'Carlos, that sounds almost like flamenco' and I would say 'This is NOT flamenco! This is Galician!' This was like comparing Irish music with English! Then, I discovered flamenco; Paco de Lucia and Carmen Linares. I think now Galicians understand that we have something in common with flamenco. If there is a Latin Celtic music, this is Galicia, a place between both worlds." He is eager to focus on South American music, a process that began with Santiago. "This is another connection - Cuba, Argentina, Venezeula." he explains enthusiastically, "In Latin America, there are Galicians everywhere. In Buenos Aires, Argentina, there are 1 million Galicians. The father of Fidel Castro was Galician - Castro is a Galician name!"
Does he think that the current trend toward cross-cultural experiments in world music are moving too fast ? "This is something very old." he muses, "Galician music is already a fusion. We have waltzes, rumbas from Latin America, tangos from Argentina, and fandangos and jotas from flamenco. Each kind of music is like a cathedral, with different styles superimposed over the centuries; the romantic, the gothic, the baroque, the neo-classical. A cathedral is the work of many generations, so is traditional music. The experiment that works is the experiment that happens naturally."
Listen to Carlos Nuñez on CBC's Global Village
RootsWorld Reviews:
Os Amores Libres
Santiago (Chieftains)
Read more about the music of Galicia