Kepa Junkera's name pops up in a lot of reviews here on RootsWorld. As a folk music icon in the Basque region of Spain and as an innovator on the diatonic accordion known in the region as trikitixa, he has made his mark as a unique young musician. He's willing to try anything, and yet never seems to lose sight of the roots of his music and his instrument. Bilbao 00:00h is an album that will make the case for his artistry and his expansive viewpoint. In two CDs with 23 tracks, he tackles traditional Basque folk music, lush Spanish ballads, blues, rock, jazz and Malagasy pop, joined by an impressive cast of musicians from around the world, from the best of Spain's new folk literati to stars from Ireland, Sweden, Madagascar and America.

The opening track is a hummer, with a flashy trad accordion line that bursts into a roaring adventure with the Quebecois band La Bottine Souriante. In four short minutes it touches on Basque tunes, La Bottine's classic foot-stomping rhythms and a full throttle, folk-horn section. Dulces Ponces joins him on the romantic "Maitia Nun Zira," accompanied by Paddy Maloney on flute, and touched by piano, guitar and synths. Another ballad is the instrumental "Gesala" with Liam O'Flynn on bagpipes and Alasdair Fraser on violin, and again, the lush becomes lovely at the hands of master musicians.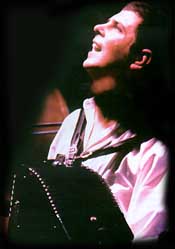 "Bok-Espok" finds him in the hands of the Swedish trio Hedningarna and Basque alboka (ram's horn played with a circular breathing technique) player Ibon Koteron. It is cold, dark and eerie, as much for its insistent lack of "place," its defiance to the idea of locating specific roots of the tune. Is it Sami? Is it Basque? Yes. No.

"Bok-Espok"

(excerpt)

with Hedningarna (

Sweden

)

Perhaps the most striking collaborations are the half dozen tracks that feature Malagasy valiha man Justin Vali. The amazing "Fali-Faly" is going to be remembered as one of those classic collaborations as Vali sings and plays a folk song from Madagascar that expands with an acoustic jazz bass, followed with a slow build of trikitixa, accordion (Mairtin O'Conner), flute (Manuel Budi�o), fiddle (Fraser), more accordion (Phil Cunningham), banjo (Bela Fleck) and footstomps and voices from the La Bottine front. The arrangement shows a beautiful sense of timing and mutual understanding, and it's just plain fun and exciting.

Vali enters the scene regularly throughout the album, lending unique touches to Basque tunes, and offering Malagasy tunes for radical changes and ideas from the other musicians. This typifies the entire album, where Junkera's high musicianship is always at the center, but where the music is never sacrificed to make him the star. These musicians from three continents seem to understand Basque music and Junkera's vision, and he seems to understand theirs. What results are collaborations that really matter, not merely the music-minus-one approach so common in these days of modern recording. Bilbao 00:00h is about the artist whose name is featured on the cover, but it is also about the future of world music, where musicians (and maybe eventually listeners) come together to share on another's cultures rather than devour them. - CF

(Resistencia, San Isidro Labrador 19, 28005 Madrid, Spain / fax: 91.364.21.10 )
Sound files © 1999 and used with the permission of the publishers
---
Ibon Koteron & Kepa Junkera
Leonen Orroak
Elkar Triki KD-449

There's an outbreak of albums from Euskadi which are truly, deeply Basque but also accessible to non-Basques, and I've a feeling that this album could become the one to click, the access point for many new listeners.

Alluding in title (which means "The Lion's Roar") to renowned alboka player Le�n Bilbao (d1990), it combines the traditions of alboka (the high-sounding, duophonic double reed pipe with a horn at each end), played by Ibon Koteron, with that of driving trikitixa (diatonic accordion) from one of its very finest exponents, Kepa Junkera, and of txalaparta (horizontal planks hit with vertical sticks) and the chattering, trilling pandero (tambourine) (both the latter played by Kepa, plus a contribution from great panderojole Leturia), and some vocals (from Maixa ta Ixiar and Oskorri's Natxo de Felipe and Bixente Martinez), in a way that brings out the essential unifying character, in terms of tune-shape and rhythm, of the Euskal tradition.

The balance is just right; there are tranquil moments, where Tom�s San Miguel's piano and Luis Delgado's Arabic and other percussion rise to the surface, but it never becomes even remotely floaty-new-age; it's immensely robust and it always knows where it's going.

I reckon one listen to this album and anyone with half an ear would recognise what makes Basque music distinctive.

Most of the tunes are by Kepa; a couple, and the melodies of two of the three songs, are by Ibon Koteron; this is traditional music but the word "herrikoia" (traditional) doesn't appear - it's a living tradition. - Andrew Cronshaw (Elkar, Igara Bidea 88 bis, 20009 Donostia, Euskadi, Spain. +943-310-267, fax -310-216 )
(This review originally appeared in Folk Roots magazine, March 1997; used by permission )
---
You can listen to an "Audio Postcard" from Kepa Junkera produced by Global Village, the CBC radio program devoted to the world's musical events.

Spain, Free Reeds
---