The Prince Edward Island Styles of Fiddling
Rounder (www.rounder.com)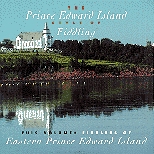 Prince Edward Island is the smallest Canadian province, located in the Atlantic Ocean between Nova Scotia and New Brunswick. The Prince Edward Island Styles of Fiddling anthologies testify to a still-living tradition of fiddling as an integral part of the culture.
The albums are divided into Western (#7014) and Eastern (#7015) styles and repertoires. The former evinces the influence of Franco-Canadians living to the south of the Island in New Brunswick, while the latter has more of a Scottish bent, probably due to nearby Cape Breton in Nova Scotia. The French impact manifests in syncopated bow rocking. The Scottish fiddle style sets slower tempos with more ornaments.

None of the approximately 25 fiddlers on these recordings are professionals. This is certainly not concert music, but it cannot be beat for dancing. The bowing fairly explodes off the strings on occasion, seemingly aided by the rhythmic stomping of musicians. Each album contains fascinating local versions of war horses like Saint Anne's Reel, East Newk of Fife, Money Musk, and Liberty as well as a cross section of Canada's fiddle repertoire. There are a total of 61 cuts on the two discs, mostly reels with some jigs, waltzes, strathspeys, and two steps
These albums are a continuation of Ken Perlman's Master's Thesis that led to an excellent book of transcriptions of Prince Edward Island music with accompanying cd (distributed by Mel Bay Publishing). The book documents the Perlman's collecting in the early 1990's. The albums described here are the result of a more recent excursion. It features some of the same tunes but different versions of them and performed by other fiddlers.
(Sound sample is "St. Ann's Reel." Dennis Pitre plays the fiddle, with Vincent Doucette on guitar and Irene Gallant on piano. Song is public domain.)
---
Canadian fiddler OLIVER SCHROER and his band STEWED TOMATOES (Big Dog Music,Canada) promise "full fiddle flavor with our own secret spices" and deliver an aromatic mix of tunes that would make the Mustaphas envious. Cajun and Arcadian, pop humor and global verve keep every tune on this record fresh and table-ready. Take the fiddle, add a dash of sax, a dollop of dumbek, a hot chile of trumpet and a filé of bass and drums and somehow you end up with "The Yodeller From Guadalajara." It all down hill from there as this Irish dance band plays a Jewish wedding, play a square dance in Soweto and go how-down with a sur-reel called "Hello Dali." Such disrespect doubtlessly will not go unpunished in the crazy world of Oliver Schroer, but let's hope it's in another lifetime, because I want to hear more before the final judgement. "Love them crazy little things!"


---
---
Kate and Anna McGarrigle
Matapedia Rykodisc

Matapedia is just what we've come to expect from the sisters McGarrigle, a dreamy set of songs, punctuated by pain and angst that never slides into the maudlin, try as it might sometimes. This is an adult album, in every sense of the word. It is sexy and sexual, tender and mature, nostalgic to a fault. It is not the youthfulness of earlier records. They are older, alive and still kicking with a defiance, and the themes of the songs show that there is life after twenty-something, and it can be the stuff of stirring music. They investigate their longing for youth and their coming to terms with middle-age without remorse. They study relationships with the wit that only comes from adulthood, and look to death for the first time without a glossy romanticism. Their songwriting is precise and measured, as always making each word count, each note ring clearly. I admit to a total bias when it comes to these women and their music. Matapedia is everything I love about a McGarrigle album, which is in fact everything I love about music. (Read Bob Franke's excellent in-depth review of this album, too.)

---