Natalie MacMaster
In My Hands
Rounder (www.rounder.com)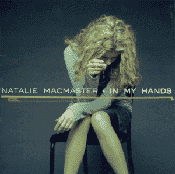 The promo sheet warns of "major potential to cross over into the larger pop music market." Sigh. Just what music lovers need: another unique, tradition-based musical talent sacrificed to sacred crossover. Fortunately, it doesn't happen on this recording. There are a pair of vocal performances on In My Hands, including MacMaster's own light profession of affection for her fiddle on a techno-Celt title track, but this is primarily and gloriously an instrumental recording, and firmly tradition-based at that.
"Welcome to the Trossachs" is representative of the many medleys on In My Hands, tunes skillfully chosen to lead the listener through a self-contained instrumental drama. It begins with a calm, bouncy beat, introducing MacMaster's offhand, almost playful style in the fiddle's lower registers, moves into a slower, more deliberate form allowing for greater melodic elaboration, through quicker, more syncopated and jerky playing, and finally into a celebratory abandon, drum thundering, fiddle effortlessly trilling impossible scales. "Flamenco Fling" is bright and percussive, fiddle confidently intoning Celtic patterns in a novel context, the best song on the record. MacMaster's alternating smooth slides and choppy stops play excitingly off a brass section, and Jesse Cook's acoustic guitar solo set to flamenco clapping leads to a climax in which it is anyone's guess how the ensemble keeps up with MacMaster's eccentric, breathless timing.
MacMaster's fiddle mastery expresses itself in a fine fury and an elegant sensitivity to melody, mood, and rhythm. With the help of an excellent supporting cast, In My Hands presents her music with a vividness that would scorch the pop mainstream. Later for crossover. - Jim Foley
Ms. McMaster's web site: http://www.macmastermusic.com