| | |
| --- | --- |
| | Music Through the Walls was created artists by Romain Bly, Simone Bottasso and Tijmen Veelenturf, who share a home in Rotterdam-West, in the Netherlands. Their project - creating music videos with a house orchestra - is dedicated to the idea that by bringing musicians together from all walks of life, in their communities, they will create greater interaction, goodwill and exchange of ideas. Their first project is now finished, a recording of a very original arrangement of "Good Vibrations" scored for a small orchestra. It is presented as just the audio, and also as a video that includes some of the behind the scenes moments, as well as the song. I have also included a little commentary from Simone Bottasso to give you a little more insight into the creative process behind the project and the recording. Watch, listen and read in RootsWorld |
| | |
| --- | --- |
| | Bachata Haiti may be the first recording of its type. It offers14 representative tracks by noted contemporary Haitian-descent artists in the Dominican Republic. Guitarist-singer Joan Soriano plays lead guitar behind Franklin Medina "El Zorro Negro" (the black fox), Tomas Pérez Zenón "Toni Tomas," Hector Ventura "El Gavilán" (the sparrowhawk), Willy Sánchez, Fritz Sterling "Felix Cumbe," and Tony Sugar. One hears the occasional strain of Cuban guaracha and son (as on Soriano's "Si un amor se va," Felix Cumbe's "Adónde vas?" and El Zorro Negro's "Tounen nan vim"), but overall, the interpretations are in keeping with the topical, instrumental and vocal conventions of bachata... Read Michael's full review and listen to some of the music. |
| | |
| --- | --- |
| | Chris Wheatley looks into the recent work of former Public Image Ltd bassist, cockney mystic and world music pioneer Jah Wobble in his reviews of three recent and very different releases. Dream World is abrasive, exhilarating and hypnotic, a wild serving of electro/acoustic, largely instrumental tracks, with plenty of global pepper and cinematic salt... The Butterfly Effect, in contrast, is a pure post-punk riot, seven tracks of visceral and cerebral band-workouts over which Jah Wobble declaims on everything from Margaret Thatcher to the Zen concept of unity and post-modern angst... Maghrebi Jazz does what it says on the tin. He and members of his Invaders of the Heart team up with Moroccan musicians MOMO for lengthy tracks of sublime North-African dub-jazz. Read Chris' complete review and listen |


All over the world, independent artists and journalists are being harrassed, insulted, jailed and even murdered for doing their job, speaking truth to power. While occasionally one of these men or women becomes a cause célèbre in the global media, so many more slip under our collective radar in the daily onslaught of news we endure each day.

One such case is that of Halil Karapaşaoğlu, a poet and activist in Cyprus. He was arrested this month for refusing to serve in the Turkish Cypriot military. He will serve jail time instead of paying a fine, stating, "If tomorrow there is a war, we as anti-militarists, will not fight... Our grandfathers and fathers had fought in the past, we will not make the same mistake. Our duty towards our country is peace."

Antonis Antoniou, a member of the ensemble Monsieur Doumani, offered his personal commentary and a song in solidarity with the peace movement in Cyprus.
| | |
| --- | --- |
| | The seventh album from Indian/Canadian singer Kiran Ahluwalia is a bright and shimmering affair... with a mix of traditional Indian, European jazz and hints of a desert blues and rock style. On a blind listen, one might puzzle over exactly where on earth the music of 7 Billion came from. The production is light and airy with plenty of space for individual musicians to perform. Ahluwalia's voice is never less that note-perfect; it is strong but never overpowering. The tracks make use of acoustic and electric guitar, synths, drums, hand-percussion and accordion. While the song is at the center, the assembled musicians create a sound with delicate highlights and subtle shadows. Read Chris Wheatley's review and hear some songs from the album. |
Composer and musician Basel Zayed presents music with deep roots in Arabic history and Sufi culture, but shown through the lens of a classically trained artist and conductor in Europe and now the United States. The Ayn Trio is his a vehicle for the expression of that global vision - Zayed on oud, buzuq, and vocals, Layth Sidiq on violin and Naseem Al-Atrash on cello. In his interview with Tyran Grillo, Basel says, "Since moving both to a different geographic location and a different mental and spiritual state, I have entered a new cycle in life that makes me feel more grounded, supported, and free."

In his review, Tyran writes, "The musicians work together like the past, present, and future of a protagonist whose narrative journey from 'pain and loneliness to connection and joy' makes catharsis seem like an understatement." Read the full review and a full track and samples.

Basel Zayed's Ayn Trio is our first selection for 2019's Music of the Month series. Find out more and subscribe.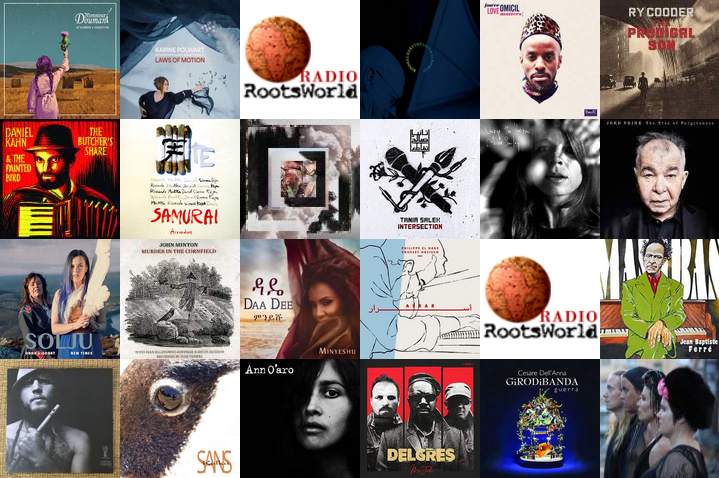 So much great music passes through our door every year, and in the magazine and on the radio, I try to sort it out as best as I can, with the help of a very dedicated group of volunteer writers. So this year, with the input of some of those writers, I am presenting a series of radio shows picking out some of our favorite songs from the last year. They are not ranked, simply presented in a mostly uninterrupted hour of music. I hope you enjoy them as much as we do. - CF
Listen and read more about each artist.
| | |
| --- | --- |
| | The Furrow Collective is an English/Scottish quartet. Their recording Fathoms might very well be one of the best folk recordings from the Brisish Isles in 2018. I emphasize folk, because this quartet focuses on tradtional story telling, from classic to lesser known, performed with a lot of spirit. The arrangements are personal and direct, with few contemporary embellishments. I chose to feature the song "Davy Lowston" because it strikes such a deep chord of humanity and despair, in a tale about whale hunters stranded in New Zealand by their captain. Listen! |
| | |
| --- | --- |
| | Paris Combo is a group that is tough to pigeonhole, but that hasn't stopped folks from trying to do so for the last 20 years. Often described as a Gypsy swing band in the style of Django Reinhardt, the group has always kept a recognizable core sound but pushed out into other territory. This year, they defied expectations again with Paris Combo Remixed, composed solely of remixes as they gear up for a North American tour. As founding member David Lewis told Marty Lipp, "It just sort of snowballed." Vocalist Belle du Berry added, "It's a little bit of French culture meeting a little bit of American culture….For us it's always interesting to meet new people in the audience... the way they feel the music, the language – it's always very interesting and precious." Read Marty Lipp's full interview and listen to some of the music. |
| | |
| --- | --- |
| | Alba Griot Ensemble is an intriguing collective that connects musicians from Scotland, Belgium and Mali to create a blend of Celtic folk music with rock, blues and jazz undertones, woven together with a strong Manding influence. Scots Mark Mulholland and Craig Ward feature on guitar, while Belgian Hannes d'Hoine provides the foundation on double bass and Malian Yacouba Sissoko adds ngoni, calabash, yabara and karanya to the mix. All four members sing and add their harmonies to the project with fine guest appearances from Tony Allen, Toumani Diabaté, Madou Sidiki Diabaté, Pamela Badjogo, Lassana Diabaté, Jean-Philippe Dary, and Ruth O'Mahony Brady... On The Darkness Between the Leaves the quartet works seamlessly, spinning their acoustic instrumentation into a natural, harmonious style that is full of depth. None of the separate elements sound out of place and the performances draw from the strength and support of the ensemble. Hear samples of many of the tracks and read Alex Brown's full review. |



Two new albums by prominent figures on the Salento music scene display the sonic diversity of that small but culturally fecund territory of Italy's Puglia region. Guerra, by trumpeter, composer, and bandleader Cesare Dell'Anna and GirodiBanda, is an expansive offering; its eighteen tracks, in various styles and multiple languages, total more than an hour's worth of music.

Di zampogne, partenze e poesia, by Giulio Bianco, the utility player of Salento's best-known group, Canzoniere Grecanico Salentino (CGS), is a more modest affair, comprising six tracks and clocking in at twenty-six minutes. Dell'Anna's record ranges widely, with Salentine idioms in the mix but also Neapolitan and other Southern Italian traditional music, Balkan, jazz, reggae, and European classical elements. Bianco's album keeps a tight focus on pizzica and tarantella. Both are first-rate offerings that will delight southern Italian music fans, whether seasoned cognoscenti or newcomers who caught the pizzica bug. Read George De Stefano's full review, listen to the music and see some videos from both artists
Music of the Month for December



The categorical declaration that "jazz is America's classical music" expresses a curatorial certitude and sense of exclusiveness that denies the authenticity of improvised music produced or rooted anywhere else on the planet. Paradoxically, this frees overseas devotees of the canonic straitjacket that fetishizes pedigree and technique, and an obligatory nod to New Orleans and formulaic invocations of an over-determined musical past... Three recent recordings suggest that, as jazz evolves in a global milieu, the music's rooted certainties are giving way to approaches that take the North American formulary in very different directions.

Arturo O'Farrill and the Afro Latin Jazz Orchestra: Fandango at the Wall
Jowee Omicil: Love Matters!
Sons of Kemet: Your Queen Is a Reptile

What unites these recordings is not so much their ease with jazz as defined by the North American canon, but their independence from its received norms, and a readiness to experiment and draw from myriad sources, reflecting the cosmopolitan character and globe-ranging experience of the artists themselves. These titles convey a pervasive sense of cultural and political intentionality, an inclusive conception of world musics, a contrarian sense of world history, and a conviction that music can bring people together in inspiring and powerfully enlightening ways.
| | |
| --- | --- |
| | Once producers Tim Cole and Bao Bao Chen learned how potentially damaging climate change could be to the Pacific and Indian Ocean regions, they set about recording music from those areas so that the musical connections binding the whole could be spotlighted and raise awareness. It was in Australia, where such connections are known as songlines, that the idea came about. The interestingly packaged and impressively diverse 18 tracks of Small Island Big Song are the result of their labors, and the oceanic songlines they present will fill your ears with some of the most heartfelt and evocative sounds imaginable... Everything from water percussion to rapping is employed by musicians representing Australia, New Zealand, New Guinea, Taiwan, Borneo, Tahiti, Madagascar, Easter Island, Bali, Bougainville (Papua New Guinea), Hawaii, Vanuatu, Malaysia and the Solomon Islands... Read Tom Orr's review, hear the music, and watch some videos showing how the process evolved. |
| | |
| --- | --- |
| | Karine Polwart is a Scottish songwriter, musician, storyteller, poet and performer, among her very long list of credits and skills. She delves into ancient folk music, modern popular song and pretty much everything in between. Her new album is both theater and song, a thematic look at refugees, immigrants, emigrants and other people on the move in the world, from both historical and modern perspectives. Laws of Motion is a powerful piece of work: sympathetic, loving and angry, artistic, political and raw in equal measure. We'll have a full review of the new album soon, but "Laws of Motion" struck such a chord with my radio listeners that I felt I wanted to share it in the moment we most need it. Co-written with Martin Green, its musical setting is a tense bed of electronics and acoustic instruments, with multiple, layered voices singing of the grace and strength of displaced people. Listen! |
| | |
| --- | --- |
| | On Fenfo, her third album, Fatoumata Diawara starts with just her sweet, fine-grained voice and drums, laying down a groove as if to tip her hat to the wellspring of traditional music she draws from. Then the song picks up an electric guitar and bass, segueing into a marriage of past and present, setting the stage for the rest of this fine album. Like fellow Malian singer-songwriter Rokia Traore, Diawara plays a personal distillation of her multi-cultural life. Her soulful voice has a hint of rasp in its silky flow, and the instrumentation liberally uses modern and global elements, though she sings in Bambara rather than English or French. Read Marty Lipp's full review and listen to some of her music (two with great videos). |
| | |
| --- | --- |
| | Suistamon Sähkö started as part of a multi-performance series of works for music, dance and visual arts called Suistamo - The Laboratory of Tradition by Finnish composer and accordionist Anne-Mari Kivimäki. In a number of journeys to the Russian-Finnish border region of Karelia, she explored both the traditions and modern realities of this multi-national territory. Etkot, ресторан ja etnoteknoa marks the band's first fully independent recording, free from the laboratory and open to anything. It's a project rich in contradictions and full of energy (the band's name translates as Suistamo Electricity)... There are two full songs with commentary. Tuomas Juntunen talks about the beauty and dilapidation of Jyskyjärvi. Eero Grundström explains how a project with 800 folk dancers evolved into rap song about the Finnish civil war and the dangers of hate speech. Please meet Suistamon Sähkö |
Music of the Month for December

"To talk about it, to sing it, to make music, is to learn to think."

Today I have the privilege to introduce you to the stunning and challenging music of Ann O'aro from the island nation of Réunion. O'aro is a poet, dancer, singer and composer who dedicates this album to the lost and abused of her island, the victims of violence and sexual assault, incest and rape, not in the tone of hopelessness and despair, but in a defiant survival and healing. As Bruce Miller writes in his RootsWorld review, "Musically, Ann O'aro is breathtaking. Her voice is as sinewy as it is soothing, as if she needed to calm all of us so that we'd be OK. But she's also clearly insistent... if she's not showing her anger in more typical fashion- smashing things, getting into fights- she's letting it out without compromise in music that turns torture into art." Read Bruce's full review and listen to the music.

This is our pick for Music of the Month for November. Get a copy of the CD and support RootsWorld.
| | |
| --- | --- |
| | Kyab Yul-Sa means 'the land of exile.' Certainly for Tibetans and for many others in this world exile is the reality. Kyab Yul-Sa's independent debut production is the work of a talented trio - Tibetan exile Lobsang Chonzor (vocals, dranyen lute, gyumang dulcimer) and Europeans Margeaux Liénard (violin and buzouki) and Julien Lahaye (percussion) - who work the Tibetan sounds into a stirring melange on Résonance d'Exil(s). Chonzor's powerful and evocative voice joined by the diverse experience of two very skilled musicians makes the recipe for a gentle, but not anodyne, recording bringing together traditions and sounds from across Europe and Asia. Read David Cox complete review and listen to some of the music online. |
| | |
| --- | --- |
| | The latest release from Minyeshu Kifle Tedla showcases her broad, inventive blend of contemporary music rooted in the traditions of Ethiopia. This compelling set of songs explores Minyeshu's past while looking forward with a dynamic ensemble that is steadfast and expansive. The blend of traditional and western instruments give Minyeshu a range of musical options to support her rich vocals and personal lyrics. The title of the album, Daa Dee, refers to the sound of encouragement an Ethiopian mother gives her baby as they learn to take their first steps. Minyeshu draws inspiration from this idea of a newfound independence... Read Alex Brown's review. |
In an uneasy era of peace in Central America, where memories of Maya genocide remain strong, a new generation of artists has emerged, often with a pointed consciousness of historical subjugation, and identification with other oppressed peoples across the globe. Born in Quetzaltenango, Doctor Nativo (Juan Martínez) worked in his father's restaurant from a young age, imbibing the reggae, cumbia, salsa and bolero that blasted from its speakers. His father Arturo, a native of Cuba, welcomed the Guatemalan guerrillas who would slip into town from time to time; hence, in 1990 the regime assassinated his father, along with five of his friends. Doctor Nativo left to travel in Europe, India and Latin America, Cuba and Barcelona before returning in 2010 to Guatemala. On a spiritual quest, he took part in a Maya ceremony under the tutelage of an indigenous elder, encountered his animal spirit or nahual, and began seeking to incorporate Maya culture and cosmology into his music. Guatemaya is a play on the country's name ­ a pointed assertion of the indigenous presence that long preceded the Spanish conquest. Read Michael Stone's article, listen to some songs from the recording, and see a recent performance video.

Guatemaya is our October 2018 pick for Music of the Month. These recordings were donated by the artist and Stone Tree Records. Read more, listen and subscribe or buy the CD.
| | |
| --- | --- |
| | A hurricane came through Somerville, MA this month, in the the larger than life person and persona that is Sona Jobarteh. She is one of the very few female kora players in her native Gambia, and comes from a line of West African griots, including her grandfather Amadu Bansang Jobarteh and her cousin Touomani Diabate. With her was a five piece ensemble, The Sona Jobarteh Band, that at one point included her young son. The entire show was a dynamic blur, with interesting jazz-like cross currents and a happy, beaming band. It all flowed seamlessly, making it impossible for the audience to stay seated as the band played. David Smith was there to tell you about it. |
Music of the Month for December

| | |
| --- | --- |
| | Vigüela's A Tiempo Real (ARC Music) is a double CD recording which looks at traditions from the oft-forgotten heartland of Spain, Castilla La Mancha, located primarily to the south and east of Madrid but also southwest of the capital... La Mancha is a more typically "Spanish" area and part of the Castillian heartland, albeit with stronger Arabic traditions than many parts of Spain... Vigüela is a six-piece band with a multitude of singers who also play a variety of traditional instruments. Accordingly rural preoccupations and village life make up the subject matter in many of the songs performed. Read David Cox' full review, watch a live performance and listen to some of the music from the CD. |
Intersections of cultures – rural and urban, national and foreign, ancient and modern – are found in many parts of the world but are especially fascinating in Africa. A continent of great cultural diversity to begin with, where some 2,000 languages are still spoken today, Africa has also received visitors from other continents over the ages, though seldom by invitation. Invaders, slave-raiders, plunderers, missionaries and colonialists have meted out far more harm than benefit to Africans, and yet the history of African interaction with the rest of the world has not been entirely dismal. Enslaved Africans brought their music to the Americas, where it took root and flourished, developing into the hybrid styles that in modern times became popular not only throughout this hemisphere but around the world as well – most profoundly at their source, where contemporary Africans recognized their ancestral sounds and rhythms and were inspired to reclaim and remake them anew.

Such cultural intersections are explored in Listen All Around: The Golden Age of Central and East African Music, the latest of Dust-to-Digital's estimable presentations of historical recordings. Two CDs encased in a hardcover book, this album resurrects field recordings made in Africa by Hugh Tracey, an Englishman who emigrated in the 1920s to the British colony known at that time as Southern Rhodesia. Tracey was a farmer with no academic credentials in anthropology or musicology, but he was enthralled by the songs his Shona field hands sang and by the instruments they played, and when tape recorders became practical in the late 1940s, he started recording their music. Soon he was hauling his recorder around Rhodesia and then leading expeditions as far as the Belgian Congo and Uganda. The more music he heard, the more he wanted to hear, and over a span of thirty years he made thousands of recordings in twelve African countries. Read all of Ken Braun's commentary and review in his article in RootsWorld.
| | |
| --- | --- |
| | Born in Paris with family roots in Guadeloupe, pianist-composer Jean-Baptiste Ferré cites Bill Evans, Herbie Hancock, Keith Jarrett and Brad Mehldau as major influences, although his playing is unlike any of his idols. Ferré entered the conservatory at age six and also drew on the musical mélange of the eclectic Paris bar and club scene... Mambas is the pianist's solo debut. The repertoire and additional instrumentation (oud, kanun, double bass, percussion) owe as much to the traditions of Andalusia and the Maghreb as they do jazz improvisation. Read Michael Stone's full review and hear a few songs from the album. |
| | |
| --- | --- |
| | Jean-François Bélanger is a composer and multi-instrumentalist whose work is greatly influenced by his other career, as a psychiatrist. He is a meticulous and thoughtful artist whose work is imbued with a variety of moods and feelings. In the last few years he has recorded and released a pair of truly interesting recordings that explore Nordic roots with a keen ear. He says his album Les vents orfèvre, "tries to comprehend the things of the mind. Intuition, meditation, hope were my tools of exploration." The second part of this Nordic diptych is Les entrailles de la montagne, which takes bigger leaps into the modern world without ever losing its origin story. Bélanger says that it "tries to evoke the forces of nature and celebrate the strength of the material. I hope I managed to mobilize this brute force graciously." Read Cliff Furnald's review of the albums and listen to a few full tracks and extracts. |
"I didn't have anything to prove anymore, and wasn't looking for anything I didn't already have. As a result, there's a freedom in the record that mirrors what I felt throughout this experience. And luckily, Lee [Townsend, his producer] was with me on all of this. As soon as we got into the studio, everything felt so right. At some point I just had to look around and tell myself that I didn't regret anything." - Rinde Eckert

Rinde Eckert's The Natural World was the result of a two-month period during which, under the auspices of a Doris Duke Performing Artist Award, he gave free performances around the country, spanning the gamut from living rooms to festival stages. On the album, he plays all the instruments, including guitars, piano, accordion, South American wood flute, and percussion, and provides all the voices. As Tyran Grillo writes in his interview and review, "His voice is indeed the alpha and omega of The Natural World. Whether rowing Indian classical waters or gilding the edges of a fantastical Americana, his throat is an entity unto itself. The arrangements themselves are artful and adaptive to the needs of every lyric."

See what both Tyran amd Rinde Eckert have to say about the album, and listen to some of the songs.

The Natural World is our September 2018 pick for Music of the Month.
Support RootsWorld and subscribe now or make a one time donation and receive the CD.
| | |
| --- | --- |
| | The positive power of music is expressed in full on the debut, self-titled release by Nsimbi. The group features GNL Zamba from Uganda and Miriam Tamar from the USA, a married duo who met in Uganda years ago where they first collaborated on a track together to raise HIV awareness. In Uganda, Zamba is better known as a hip hop MC, dubbed the "ghetto storyteller." He brings those skills to this record where his voice is balanced by Tamar's clear, uplifting vocals. The pair are joined by US-based Ugandan multi-instrumentalist Herbert Kinobe and the Congolese guitarist and singer Jaja Bashengezi to form a solid ensemble. Nsimbi's sound is filled with traditional East African instrumentation, but takes a modern approach. Their songs are based on Swahili and Baganda proverbs, which work well with Zamba's fluid storytelling style. Lyrics are sung by Zamba and Tamar in English, Luganda, Lingala, and Swahili. The proverbs serve as a source of inspiration and knowledge, two aspects of music that Nsimbi try to promote with an eye on appreciating and understanding different cultures... Read Alex Brown's review and listen to some of the music. |
| | |
| --- | --- |
| | SANS is an impeccable combination of musicians and influences, formed in the wake of Andrew Cronshaw's 2011 album The Unbroken Surface of Snow. For that outing, Cronshaw, long known as a multi-instrumentalist and master of the electric zither, was joined by reed player Ian Blake, Armenian duduk maestro Tigran Aleksanyan, and the superb Finnish singer Sanna Kurki-Suonio . The chemistry evident on The Unbroken Surface of Snow coalesced into the group SANS. Convening in a Suffolk barn to record Kulku during the winter of 2017-18, Kurki-Suonio's daughter Erika Hammarberg joined the band. Scottish musician Jim Sutherland served as producer... SANS achieve a rare thing: a fusion of musical cultures that makes you believe you are hearing one thing when in fact you are hearing something different and new. Read Lee Blackstone's review and listen to some tracks from the album. |
| | |
| --- | --- |
| | Djénéba Kouyaté and Fousseyni 'Fousco' Sissoko both hail from the Kayes region of Mali. The married couple struck up a musical alliance after Djénéba became a sensation on the national TV talent contest 'Tounkagouna.' With her dynamic voice she carries on the long-standing tradition of her griot family. Fousco is a distinguished guitarist, vocalist and songwriter who first learned his craft from his father, a composer and arranger himself. Djénéba and Fousco proudly sing for their homeland and present an ensemble that respects traditional music while adding nice contemporary touches on their debut international release Kayeba Khasso. Alex Brown takes an in-depth look at their new recording. |
Pizzica has become synonymous with Salento, but the music of the southernmost part of Italy's Puglia region encompasses much more, as Massimo Donno demonstrates on Viva il Re! The latest release by the guitarist, composer, and vocalist celebrates banda music, that is, the marching bands he heard while growing up in Corigliano d'Otranto, a small town in the heart of Salento.

As Donno told Rootsworld, the album combines the "sounds of the south of Italy, of Salento in particular, and of the Mediterranean" with "the sounds of symphonic band, like fanfare." Symphonic bands have similar instrumentation to marching bands, with woodwinds, brass, percussion, and, in this case, guitar. But they generally perform concerts, and they have a broader repertoire. Viva il Re, with its varied styles and compositions, offers a greater sonic richness and variety than most marching bands as Donno explores the music with La Banda De Lu Mbroia and a number of other guest performers. George de Stefano digs into this rich and complex recording.
"It was like a journey," says Pascal Danaë of how Delgrès, his 3-man band of guitar, percussion, voices and tuba, reached fruition from a seed that was planted in the ancestral soil of the Caribbean island cluster of Guadeloupe and watered variously in Paris, West Africa, the Mississippi Delta, and more. As he tells it, Danaë was living between Amsterdam and Paris, where he was born, knocking around as a session musician, when, "I started playing a little bit of blues just because it was a hard time in my life, and I started strumming the guitar, the Dobro guitar, playing a little bit of slide, and I just closed my eyes. I let things come out, and I started singing in Creole. I grew up listening to my parents speak Creole all the time, and it was in my culture. It was part of my blood…" But, he had never sung in Creole before, nor considered his own culture integral to his music.

From that discovery he would form his own band, named after Louis Delgrès, a Guadelupean Creole colonel in Napoleon's army who martyred himself, in 1802, resisting France's attempt to retake the territory and reinstitute slavery less than ten years after it had won independence. Read Carolina Amoruso's interview with the artists, and read her review of their new album Mo Jodi.
| | |
| --- | --- |
| | The midsummer night began with a lone voice. At first it seemed to be emerging from a distant wilderness behind us, and then did an aural sleight of hand to our right before the source of the voice stepped into view. Moira Smiley made her way to the microphone slowly, cooing and warbling in tones somewhere between a Baka lament and a cedar flute greeting a Sonoran sunrise. By the time she reached front and center, it was apparent that this performance to mark the release of her radiant new album Unzip the Horizon wouldn't be a typical hey-it's-great-to-be-here affair. Musically, Smiley has irons in so many fires that no category can hold her. I knew as much from the scope of album and felt more than an inkling that even further delights were to be had from experiencing her as live, direct and intimately as possible, in a home in Nichols Canyon, in the hills above Los Angeles. See Tom Orr's story about this concert, and hear some songs from the performance |
Balani Show Music in Mali
Malian music has a claim to be the best represented African tradition on the world music scene, with artists such as Salif Keita, Ali Farka Toure, Fatoumata Diawara and Oumou Sangare achieving international recognition. In fact, Malian artists often dominate the world music charts single-handedly. However, despite the widespread attention on Mali's musical landscape, the music known as balani show is almost entirely unknown outside the country. Making use of new technologies and mutating in interaction with global influences, the music has shifted from a rural tradition to an urban electronic dance music in recent decades. Read an overview by Adam Rodgers Johns and listen to some of the music.
Dimma is a label that has been releasing a host of terrific Nordic folk recordings. This review covers three recent releases: all are very different duos that highlight diverse approaches to fiddle playing.

Ånon Egeland and Mikael Marin: Sorpesoll
Ulf Nilsson and Örjan Hans-Ers: Helsinge Storpolska
Storis Limpan Band: Patina

Lee Blackstone reviews the three duos and you can listen to a few songs.
| | |
| --- | --- |
| | Les Tambours de Brazza have the complex job of representing a cross section of Congolese rhythms as well as figuring out ways to entertain increasingly global audiences as an ensemble with a focus on drums... They incorporate precision dance moves and deploy all manner of vocalists, bassists, guitarists, and trap kit players to offset what might get same-y for listeners who don't understand that every aspect of musical sound can exist in the hands of ensembles containing nothing more than a variety of expert, creative percussionists... They are a pop band, something made increasingly clear on Kongo. From growling vocals and repeated guitar figures to sinewy South African Zulu-influenced harmony vocals, or the almost Sanatana-esque six-string licks, this is a polished, produced ensemble with an army of Ngoma players underpinning whatever direction a particular track calls for. Read Bruce Miller's review and listen to a few tracks |
Joined by percussionist Youssef Hbeisch, singer Houry Dora Apartian-Friedli, flautist Ramy Maalouf and electric bassist Ognjen Beader, Paris-based Lebanese pianist-composer Philippe El Hage invokes a range of eastern and western influences on Asrar. Recorded in Lausanne and Dubai, its nine originals range from traditional regional leitmotifs to western classical and jazz. El Hage finds inspiration in the memories of his youth in Lebanon, and in regional history and modern politics. Read Michael Stone's full review, listen to some pieces from the recording and watch a live performance

Audio feature: In the artist's own words
I asked Lebanese born pianist Philippe El Hage to share and talk about some of the songs he and Palestinian percussionist Youssef Hbeisch created on their collaboration, Asrar. "When I recorded the Asrar project with Youssef, we met directly in the recording studio in Lausanne. I did not have any previous stage experience with Youssef, but the recording process was very natural... I find the combination of piano and Oriental percussion very interesting but also very challenging and intriguing. Youssef used a very rich setup of different percussions performed with a great sense of musical colors (Arabic and contemporary) and a great sense of dynamics."

Listen to the the songs he chose and read his comments on their history and meaning.
Angathin (translation: 'thorn') is Monsieur Doumani's third record. The Cypriot trio is comprised of Demetis Yiasemides (trombone, flute, and vocals), Angelos Ionas (guitar, vocals), and Antonis Antoniou (tzouras a bouzouki-like instrument; stomp box, and electronics), but Angathin finds the group inviting in a host of guests, ranging from Cypriot songwriter Alkinoos Ioannides and folk singer Michales Terlikkas, to Cyprus rapper Juaio, and Cypriot composer Andreas Kameris. The result is music that is eclectic and richly textured, with a spine that runs deep into Cyprus' traditional music to deliver startling new compositions.

Throughout the album, the music reflects Cyprus' history of both Greek and Turkish influences. When Monsieur Doumani are in full flight, the tunes and singing can be delivered at a breakneck speed, but the threat of derailment never occurs and the listener is left gasping at Yiasemides, Ionas, and Antoniou's technical skills. Angathin is an album that mixes echoes of Cyprus folk music, rembetika, flurries of strings and growling trombone, dirty drones and unison singing... Read Lee Blackstone's full review and listen to some of the music.
| | |
| --- | --- |
| | The kora, that 21-stringed harp wielded by West African griots, is expertly plucked by so many people surnamed Cissokho that it's impossible to keep track. But one thing's for sure: if you've got a Cissokho and a kora, you've got beautiful music. Diali Cissokho's lineage is traceable to 16th century Mali and he's a Senegal-born player who presently calls North Carolina home. His latest work is named Routes, even though "Roots" would have been just as suitable. Cissokho took Kaira Ba, his Tar Heel State band mates, to his Senegalese hometown of M'dour to lay tracks for this album, and then went back to North Carolina to finish things up. Esteemed players on both sides of the water had a hand in what results, and while this sort of hemisphere-crossing project is not new, the outcome is first rate. Read Tom Orr's full review and listen to the music. |
| | |
| --- | --- |
| | Sure, folks all over the planet know about widespread Brazilian music styles like samba and bossa nova. But choro, which apparently preceded those other two in popularity, is another matter. Having come about in the mid-to-late 19th century, choro was, like so much music of the Western Hemisphere, a combination of European and African influences. In the beginning, sprightly rhythms played on guitar and ukulele-like cavaquinho provided the fuel for melodic topping most often rendered on a flute... A recent resurgent interest in choro brought new possibilities, and American cellist Catherine Bent is intent on exploring them. Despite her chosen instrument being well outside the choro norm, Bent found favor among Rio de Janeiro's finest practitioners of it, who were quick to spot the commitment and skill of someone who, quite against the odds, spoke their musical language. Ideal is Bent's first choro release, and seldom has an album title been more appropriate as to how well a musical leap of faith pays off. All the tracks are Bent's own compositions, and all have an instantly classic sound that'll get you swinging and swaying Read Tom Orr's full review and listen to the music online now. |
Two of the latest in our series In The Artist's Words

I asked Italian musician and band leader Massimo Donno to talk about some of the songs on his latest release, Viva Il Re! . He wrote, "The album represents a journey to the South, from which we leave but must always return to. The concept of travel finds its centrality throughout the narration; this way the South itself stops being simply a well-defined physical and geographical place. It becomes a metaphor of landing and departure, which symbolically embraces Africa, Latin America and the East. Migration, in all its most minute details is the central theme of the album. " Read about the songs, and see and hear two short films.

The second comes from Finnish composer and accordionist Anne-Mari Kivimäki, who shares a song from the 5th and final recording in her Suistamo Suite: The Laboratory of Tradition. Read what she has to say about some of the latest songs in the series.
| | |
| --- | --- |
| | Kepa Junkera, the prolific Basque diatonic accordionist, has put together another work of great breadth, this time exploring the folk music of the Catalan-speaking lands of Western Mediterranean. Over the past 30 years, Junkera has released or been featured on about two dozen recordings, collaborations and special projects, not to mention his appearances with other musicians. Certainly his overall oeuvre is somewhat uneven, perhaps by design, however his most important and lasting works do constitute quite a legacy. Fok's 34 tracks explore a wealth of music across Catalonia itself, and also the Valencian Country, the Balearic Islands as well as Alguero (L'Alguer) a Catalan-speaking city on the island of Sardinia... David Cox digs deep into this varied 2 CD exploration. |
Read more reviews from
2018
2017
2016
We Interupt Our Regularly Scheduled Magazine For This Important Announcement.
RootsWorld cannot survive without the support of our readers. If you want to hear great music and read great writers, then we need each listener and reader to contribute just a little to make it happen. Please join us!
Make a One Time Contribution Today!
| | | |
| --- | --- | --- |
| $5.00 | $10.00 | $20.00 |
| $40.00 | $70.00 | $100.00 |
,
This web site is optimized for any good browser.
Notscape and Internet Exploder will also work well here.
We won't make that choice for you.
The Hollow Ear: no roots, new routes
Featured CD link: Lodging... food... gas?: travel reviews
Hear.cc: Hearing Health Information
---
Please contribute to our survival.
About RootsWorld: RootsWorld is a world music magazine started in 1993, pretty much at the dawn of the term "world music" as well as the pre-dawn of internet publishing (I suspect this was the first music magazine of any sort published on the www). Our focus is the music of the world: Africa, Asia, Europe, Pacifica and The Americas, the roots of the global musical milieu that has come to be known as world music, be it traditional folk music, jazz, rock or some hybrid. How is that defined? I don't know and don't particularly care at this point: it's music from someplace you aren't, music with roots, music of the world and for the world. OK?
All pages at RootsWorld are © 1992-2018 RootsWorld/ Cliff Furnald / FNI Multimedia Publishing, New Haven CT
The RootsWorld name is protected by US trademark law.
All picture and sound images are the property of the artists and record labels, and are protected by copyright. No file or part of a file may be used for any purpose, commercial or non-commercial, without the express written consent of RootsWorld or the other copyright owners.
About the use of sound files and copyright protections at RootsWorld