Mary Jane Lamond
Lan Duil (Full Of Hope)
BMG Wicklow (www.wicklowrecords.com)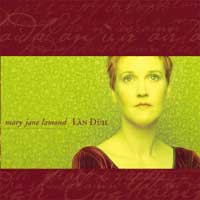 This is Lamond's second album for Wicklow and her third overall. She remains an exacting, thoughtful curator and champion of the fascinating Cape Breton branch of the Scots-Gaelic tradition. Her interpretations are miniature epics of cultural empathy and musical intuition wedded to a steely modern intelligence. Her radiant, flexible voice creaks like an old woman's or soars like a young girl's as she goes within each song and reports back like a time traveler.
If Lamond's singing never, ever disappoints, the instrumental settings are another story. The trap drums and electric bass are often distractingly loud and placed too far forward in the mix, while the synthesizers tend to be distressingly facile and wide of the mark. There are enough excellent racks to warrant making the purchase, such as the mournful "Cha Tig Mor Mo Bhean Dhachaidh (The Widower's Lament)" and "Mo Ghille Mor Foghain'Each (Charles Street Reel)," with its percolating tabla, electronic mouth music conceits and jaunty fiddling, but getting to them might take a bit of patience. This is especially odd as Lamond's revelatory first album for Wicklow, Suas E!, had the same production team and took even more chances with sampling and other seemingly unlikely clubby effects and made them work brilliantly.
Obviously, a third outing will no longer have the shock of the new. What is wanted is a deeper insight into the artist's vision, direction and purpose, but Lan Duil sometimes obscures more than it reveals. It is understood that a tradition must grow and adapt if it is to survive and that acoustic instruments do not guarantee authenticity any more than the use of electronic sounds heralds a lack of it. The point is that Lamond's tremendous gifts deserve worthier and more sympathetic creative back-up than she receives here. - Christina Roden
Read Chistina Roden's 1998 interview with Mary Jane Lamond: