La Bottine Souriante
Rock & Reel (orignally released as Xieme)
Hemisphere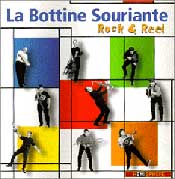 Other than 1988's La Traversée de L'Atlantique, the infectious, celebratory music of Quebec's La Bottine Souriante hasn't been available in the U.S. Hopefully, their latest, the award winning Rock & Reel, will change that, only because their grand music deserves widespread recognition. La Bottine Souriante are to Quebecois music as the Chieftains are to Irish, the only difference being these guys are still fresh and not riding on celebratory status. Since La Traversée de L'Atlantique, the band has added horns and has shifted from a folky, acoustic vibe to a highly-charged, contemporary dance band sound. The best part is that it isn't a sell-out, an ethnic dilution or a cultural blue light special that often occurs when roots groups take their indigenous music to higher grounds. While the springy Jew's harp and foot rhythms aggressively push the tempos, the four-piece horn section and keyboards dance around the core fiddle-accordion tandem who are flawless in their jigs and reels.
Several songs ("Yo-Yo-Verret," "An Air So Sweet") are sung a cappella with a projective vocal leading the call-and-response parts answered by a smooth backing chorus. About the time you think you have a handle on their sensibility, that's when they throw ya a curve. The traditional ballad epic "Mathurin's Song" borrows from the middle east and New Orleans second-line parades; "Alice in the Land of Arto" begins as a surreal piano composition before the rest jump in and overturn the calm affair into another frolic. "Metis Suite" is an intoxicating 6/8 reel from the French-Native Americans. It's the kind of breakthrough disc that could make you a convert, a disciple and even an addict if you could get more of this. Until then, this one throttles like there's no tomorrow. - Dan Willging