---
---
---
---
---
---
-))) Radio Planet Finland (((-

by Cliff Furnald

Something is afoot in Finland these days. As Europe tries to become more and more homogenized, as American culture invades the airwaves of Helsinki and beyond, and as Euro-TV, Euro-fashion and Euro-music begin to dominate the marketplace, there seems to be an amazing grassroots reaction here. All over the country, those least likely to be part of a folk-rooted cultural revolution are taking up the cause. Middle class farmers, white collar academics, purple mohawk'ed teens are all showing up together at places like the Kihaus Festival in Rääkkylä and the Kaustinen Folk Music Festival. Each in their own way is expressing a pride in being Finnish by playing and listening to music that has roots in the past but is triumphantly honing a sharp contemporary edge to cut into the future.

An American roaming the countryside for a month, with a few dozens phrases and no familial ties to the culture, can enjoy but hardly comprehend what is happening. As I talked to more and more people, I also discovered that living there, being there, breathing the music day and night gives those active in this revolution only a vague idea of what is going on around them, as well. There is an excitement in the music world that few people ever get to live through, and most of the artists I spoke with were too busy living it to analyze it. But we got together and tried to explain the hows and whys of this new national spirit that is best expressed through the language of music.

Hannu Blommila is a longtime folk music fan and a programmer at YLE1, part of the national radio system. "The first Finnish folk revival actually started in the late '60s with Konsta Jylhä and Purppuripelimannit. The whole outfit was very popular, they played something like 250 gigs a year, and Konsta Jylhä himself, a legendary figure in Finnish folk music, received various gold discs. But eventually the whole promising scene kind of died. The main reason for this was that the Finnish folk scene in the late '60s totally excluded the younger generation on the grounds that they wouldn't be interested anyway."

Folk music was gaining stature all over the country in the '60s and '70s, with universities adding courses and festivals popping up everywhere, but it still seemed the domain of an dedicated few. But in 1983 something happened that in some ways changed the musical face of Finland forever. The highly respected Sibelius Academy in Helsinki decided to open a department for folk music as part of its degree curriculum. One of its first students was accordionist and composer Maria Kalaniemi.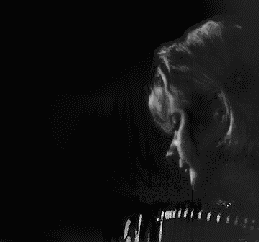 She entered a program with no precedent, and no clear stated mission. Anything could have happened. "When I began at Sibelius, nobody knew what we were going to do, what we were going to study, so it was a very interesting thing. In the beginning, we were very lucky to have Heikki Laitinen. He thought that the most important thing was to create music we had never heard before. After 10 years, I still remember this, that the most important thing is to create something new from the old culture. He loved improvisation and he thought that it was probably the most important thing in folk music. That has been a very important thing for me, as well... those first years at Sibelius, with groups like Niekku and Pirnales, we did a lot of this improvisation and experimenting."
It is the spirit of Heikki Laitinen that pervades almost everyone's view of the current folk revival. As a member of the first wave in the '60s, he became a guiding force in the Kansanmusiikki-instituutti, The Folk Music Institute Of Finland and with the Kaustinen Folk Music Festival. His own group became known for their mix of old and new styles, for creating an original voice within the old contexts. "I began with folk music in the '60s. Why, I don't know. In the '70s we had an ensemble called Kankaan Pelimannitt. We might say that was the only young ensemble at the time. Folk music in the '60s and '70s was more traditional, we hadn't many young people playing."
laitinen was director of the Folk Music Institute for 10 years. Being asked to join the newly established department of Sibelius was an unknown risk. Why did he take it? "Here (at the Folk Institute) I had only courses two days a week, or maybe for two full weeks. Now I had the possibility to work with someone six or seven years."
laitinen was the perfect choice. He is aggressive, talented and witty. Most importantly, he has an ear for the future, a need to create without boundaries. He is as likely to be compared to the New York new music scene as with the old fiddlers and singers of the Finnish countryside. Most importantly, he knows the importance of having as much knowledge of the music as possible. "From the beginning, we had two things to do. We had to study first the old styles, and we are working very hard with things like archives. But the other thing is to do something avant-garde, something modern, something for the future, which has nothing to do with the tradition. I believe that folk musicians must have the same right as art musicians, to work with all the material we have in the world, to make their own music. We must have a very strong tradition as a base, but then we must move on."
That spirit of adventure is translating into a boom of rich, creative music from all parts of the country, from the Karelian folk pop of Värttinä to the classical fusions of the old fiddler's tradition being explored by JPP. Still at the forefront is Maria Kalaniemi and her band Aldargaz. Veterans and now teachers of the Sibelius folk department, Kalaniemi, fiddler Arto Järvelä and piano/harmonium player Timo Alakotila are all having a profound effect on the new music of Finland. Alokatila in particular has been making his mark as a composer and arranger with Aldargaz, JPP and the newly formed Troka.
Fellow Troka fiddler Ville Ojanen praised his older compatriots. "Timo is a very important man for folk music in Finland, maybe along with Arto, the most important. He has studied classical and jazz music, and it is very unique. He uses harmony different from others, he takes chances and makes new sounds. And Arto, he is for Finnish fiddler players, the most important. For me he is, a... a god!"
Another project that Ville Ojanen is involved in is Folkkarit, perhaps the most audacious of the bands currently making their mark. At the Kaustinen Festival, they stunned, pleased and upset a crowd of thousands with a late-night satirical stage show complete with giant American flags, celebrity guests from classical and pop music, a modern dance troupe, a giant bass drum and enough lights and smoke to keep their younger audience enthralled. But the music was straight ahead folk, right out of the Kaustinen tradition. What made Folkkarit different? "There isn't a good thing for young people, who like rock, because they want something more national, more Finnish. We tried to bring that together. We have humor, and that's a very big point of our music. The songs are quick, very fast, and that is also very important. But I don't know, I can't explain it really. People like us, but I don't know why. Värttinä was young women, so maybe it is because we are young men, maybe that is part of it," Ville said with a wry smile.
But only a part. Their energy, and their willingness to laugh in the face of tradition, is an important change in any folk culture. Meri Tiitola, a member of Kangasala's Leuhu-Leevi (and another young artist on her way to Sibelius this year) was one of the many younger members of the Kaustinen audience that night. "Folkkarit is trying to prove that it doesn't have to be so serious that you can't smile. They show that folk music doesn't have to always be the same. You can have fun, and make good music."
Folk music is a small but growing part of the youth culture of Finland. The young bands are proliferating, and each is trying to find its own sound in what is becoming a crowded field. "In the middle of '80s," Hannu Blommila continued, "The Finnish rock scene was somewhat stagnant. Enter Värttinä. The band's line-up featured some very renowned Finnish rock musicians, so that helped younger audiences feel right at home. The ladies' rowdy way of singing did the trick, and the rest of Värttinä's phenomenal success is history."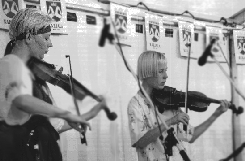 In Karelia, the home of Värttinä, I met 20 year old Pauliina Luukkonen, accordionist and fiddler, who with a group of teenaged women is making musical waves with her band Mimmit, literally translated as "the girls." They have passed on the rock and roll trappings of their more famous neighbors, and have followed Kalaniemi's path of careful dynamics and rich acoustics, adding their voices to the mix in a subtle, yet powerful new folk. On the other side of the country in Pirkkala, another accordionist is also looking to add to the sound of Suomi with the band Spontaani Vire. Anne-Mari Kivimäki leads a quartet of clarinet, violin and harmonium. Both she and harmonium player Eero Grundström are looking to new techniques for their instruments, and each has taken interesting risks in developing a unique sound for themselves and the band. Unlike Aldargaz, they have chosen a rowdier, more intense path, led by Grundström's unusually aggressive, foot stomping style on the pump organ.
The innovations are inevitably coming from outside, as well. The world's music is being filtered through the Finnish folk scene in interesting and sometimes startling ways. The all woman a capella group Me Naiset is not only recreating the traditional songs of many regions of the country, but incorporating music as far flung as the hocketing of the pygmies of Cameroon into their repertoire, integrating it right into Finnish folk song. Irish fiddle tunes, Swedish primitive flutes and many other national styles all meet in Finland. Helsinki is the second home of Galaxy, a group of Senegalese drummers who tour the country, teaching in schools and playing on stages, bringing the music of Africa directly to a regular audience. The highly believable Cajun sound of The Stomping Devils is made by an all-Finnish band from Vaasa, and one of the big hits on Kaustinen's main stage was Steel Pan Lovers, a large gang of steel drummers, all kids from Karjaa. No one will name them as the next kings of the road march, but their mixing of pop tunes, classical calypso and Finnish folk was exuberant, and the crowd loved it.
But there is a little more to the formula than the musicians. Every country has its share of bright, inventive artists, so why does Finland seem to be taking the world by storm? Hannu Blomilla had part of the answer. "One reason might be this so called `world music boom' of late '80s. Balkan and East European music was becoming well known in world music circles, so it could be that Scandinavia was seen something like the last exotic outback in Europe. Finnish folk musicians have also always been something like natural-born globetrotters, ready to perform anywhere on the planet. Timo Alakotila of JPP told me once that they actually have more gigs internationally than in Finland. When a Finnish rock band does a short tour in some foreign country, that is seen as a big event, but to Finnish folk groups that is business as usual."
There are many other reasons, including funding from sources like the Finnish cultural ministry or the financial redistributions of ESEK, an organization whose purpose is to take radio and mechanical royalty money and reinvest it in Finnish culture. There are numerous devotees of folk music at the national radio who bring the music of Finland back to the people. Many primary schools, unlike those in the States, include folk music training that goes beyond the level of learning "Oh Susanna." JPP member Mauno Järvelä also teaches violin in the Kaustinen schools, and teacher/fiddler Leenamaija Raukola of Leuhu-Leevi, brought almost forty of her pikkupelimannit (little musicians) to perform with the band at Kaustinen.
There are the tireless folks at The Folk Music Institute, led by musician/organizer Hannu Saha, who have helped preserve the old culture without shunning the new. Paid staffers and dozens of volunteers have made the Kaustinen Folk Music festival into a million dollar venue without sacrificing the closeness so necessary to the music.
Someone has to sell the music, too, if it is to stay viable and available.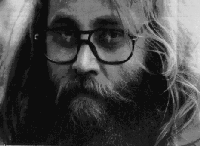 Timo Närväinen has long been both a champion of the old music and a vehicle for the new. Through his years as the sole proprietor of Olarin Music, he has nurtured the old accordion styles and made recordings possible for the innovative sounds of Niekku, Troka, Maria Kalaniemi, JPP and Anna-Kaisa Liedes. After a long career in the major label end of the music business, he retreated to his own love, the business of making the music of Finland first available at home, and now to the world. Without his dedication, and the similar dedication of a very few small labels, this all would never have happened.
Also mentioned often is an American who fell in love with the music and moved to Finland. In talking about how to get the news out to the world, Kalaniemi told me, "There is one important name, Phillip Page, because he does so much for our music. It is very difficult for a musician to sell their own music, or their own country. Philip loves this music, and works very hard." Page has been managing the international music department at Helsinki's best record store, Digelius, and producing a nationally broadcast radio program that features the roots music of the world. More importantly, he has become the driving force behind the international success of some of this music. He is helping to manage foreign promotion and tours, and has been instrumental in the licensing of many artists' work in the U.S.
These people, along with an incredible group of musicians, are making Finland into something unique in Europe, and letting the world know about it. There is an energy, a willingness to explore, and an openness to new sounds that can only strengthen a culture. It is communal but, just as importantly, it is personal. "We have very strong personalities nowadays," says Heikki Laitinen, "and very different kinds of people in folk music. Each has his own thing to do. Each is different. For example, Me Naiset, Maria Kalaniemi and Arto JärvFelä, they are very different from one another, and that is a very good thing." The question inevitably arises; would you still call them Finnish folk music? Replies laitinen, "That is not so important. It is music. If we say `folk music,' that is a little nationalistic, like the formal music with the national costumes. That is over. For me, and for the young generation, that is over."
The Festivals, 1994
July is clearly the time to go musical schmoozing in Finland, with many of it's finest festivals happening in a short span of time.
The Kihaus Festival
My first journey in July took me to 30 kilometers from the Russian border, to the small town of Rääkkylä. This is the Karelian town that is home to Finland's big superstars, Värttinä, who were the original organizers of the festival. This a small, local affair, housed in small tents and outdoors, right in the center of the village. But the music proved global in content, with rave appearances by Four Men and a Dog and the incredible balalaikas and accordions of Russia's Galossa Rossi. International tastes were also indulged by Finnish bands. Pocadan, a group of five women from the area played lively Irish tunes on the small parking lot stage, the Helsinki-based Senegalese drum troupe Galaxy tore the place up with their call and response singing and percussion, and bands like the Progmatics, Maria Kalaniemi and Aldargaz, and The Accordion Ladies of Helsinki all blended international sounds into their mix.

But Finland was always the dominant flavor, and was well represented by master of ceremonies and master of the mandolin, Heikki Lahti and his friends, the master musicians of Rääkkylä. many local ensembles were well received, including children's groups on kanteles, fiddles or vocals. Kalaniemi and company gave the first of many masterful performances I was going to be graced with over the month, and JPP exhibited both finesse and humor on the main stage, and at the midnight tango party. Värttinä was clearly the hometown favorite, and they played to their crowd with a showy set clearly designed to mark them as the pop stars they wish to be. But I think they were clearly upstaged by some of the up and comers like the intense Progmatics, the beautiful, melodious Mimmit and the wildly energetic Folkkarit.
Rääkklya is in a gorgeous part of the country, and accommodations in the area run from impersonal hotels to lots of bed and breakfast arrangements. We were fortunate enough to find a great place a few miles from town. Hirovala Farm is a warm and wonderful little place that grows strawberries, offers saunas by the lake, a quiet respite from the otherwise busy atmosphere of the festival, at an incredibly reasonable price.
---
The Kaustinen Folk Festival
Now in its 27th year, this fest shows no signs of letting up. Located almost in the center of the country, Kaustinen is a small town whose main purpose seems to be to harbor folk music, both the annual festival, and the offices of the Folk Music Institute. To begin to cover all nine days of this mammoth event is impossible. In venues ranging from the comfortably small and crowded Pelimannitalo (folk musicians house) to the 3000 seat main stage, artists from all over the world came together to perform, to jam, and to meet other folks.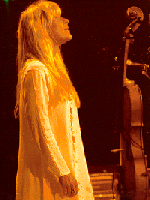 Lena Willemark of Frifot
This year's theme was "The Provinces of Europe," and they came in droves; Taraf de Haiduks, the gypsy band from Roumania and my personal pick for band of the year; Frifot from Sweden, Gabriel Yacoub from Brittany, Ilgi and Grodi, acoustic music innovators from Latvia. The western hemisphere was represented by Terrence Simien from Louisiana, the Atlantic coast of Africa by Cape Verdeans Simentera, and Asia by a marvelous dance troupe from Malaysia.
The Finnish surprises were many, including my first taste of Troka, a band that is sure to make many waves in the coming year, and the official "Band of the year" Pinnin Pojat, the humorous virtuoso duo of Arto Järvelä and Kimmo Pohjonen. Another band to be on the lookout for in the coming year is the highly innovative Väinönputki. There were concerts for every age and taste, with a healthy emphasis on the kids, especially Pentti Rasinkangas and Ohilyönti, who proved once again that children's music should be first and foremost, good music. Kaustinen is surely the landmark concert for any musical traveller to Finland, with reasonable accommodations if you book early, a staff that was particularly friendly to foreigners, and a musical history and lineup unexcelled anywhere.
For information about the 1995 festivals, contact:
Kaustinen Folk Music Festival/ P.O. Box 24/ 69601 Kaustinen/ Finland; Fax: +358-68-611977; phone: +358-68-611252 (also the address for the Folk Music Institute)
Kihaus Festival/ Rääkkylän Kansanmusikki Ry/ Kinnulantie 1/ 82300 Rääkkylä/ Finland; phone +358-73-660-276; fax: +358-73-660-209
Hirovala Farm/ Niemisentie 514/ 82290 Nieminen/ Finland
---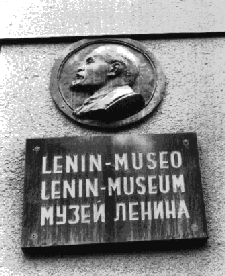 Special thanks to The Lenin Museum, Tampere
---
This article was originally printed in Dirty Linen Magazine and is used here by permission.
Text and photos copyright ©1994, ©1995 Cliff Furnald
---
Further adventures? How about the primitive folk/jazz of EtnoPojat?
Return to The Finn Page or RootsWorld