See also:
Sephardic and Other Jewish Music
North America, Europe, Gipsy , Hungary

Recent reviews

Many good klezmer titles are available at
cdRoots
---
The Klezmer Music of Europe and North America

---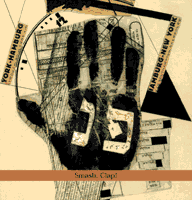 Naftule's Dream Smash! Clap!

Tzadik (www.tzadik.com)

Named after the venerable klezmer clarinetist Naftule Brandwein, this Boston based band lays down a sound that is a century beyond Mr. Brandwein's wildest dream. In a frenzy of free jazz, post-punk rock, evocative film music and weird, wired New Orleans funeral procession, the group is a high wire act; everyone's amazed at the skill, but secretly waiting for the big fall. They are one of the tightest of jazz ensembles, with daring compositions like "Yid in Seattle" that are full of near impossible twists and turns. But they are willing to throw it all to the wind, too, and pieces like "Free Klez" show just how far they are capable of tossing their riffs. Somewhere between Sun Ra's Saturn and Dave Tarras' earthy moan lies a place that is inhabited by aliens who live in Naftule's Dream. - CF
---
The Klezmatics And Chava Alberstein
The Well
Xenophile (www.greenlinnet.com)
A Guide For The Perplexed
J.A.M./Knitting Factory (www.knittingfactory.com)

One of this year's great musical moments for me was discovering that Marc Bolan -- whom I both love and find incomprehensible -- was, like me, Jewish. I would have believed that the founder of T. Rex and writer of such pseudo-mystical songs as 'Bang a Gong' and 'Spaceball Ricochet' was Venutian -- but Jewish? Who knew?
Of course, that doesn't make glam-rock Jewish music, just as Sandy Koufax's presence didn't make baseball a Jewish sport. There is, however, music that both inhabits and has grown out of the Jewish religion. The most recognizable style is klezmer, the secular instrumental music born in the 19th-century Jewish ghettos of Eastern Europe. In recent years, Klezmer has undergone a rebirth; young musicians -- in addition to re-examining the traditional repertoire -- have tweaked and prodded klezmer into cross-breeding with everything from New Orleans jazz to heavy metal.
One of the leaders of the renaissance has been The Klezmatics, who have released a record that redefines Jewish music. The genesis of The Well was a documentary on Yiddish poets made by Chava Alberstein, a long-reigning folk-pop star in Israel. Alberstein was inspired to put some of the late poets' work to music and sought out the Klezmatics as arranger-collaborators. The result is a singular creation that brings the old world into the present.
Given the poems' rueful themes, the music is also darkly lit, particularly with Alberstein's deep, world-weary voice. Even when the music occasionally swings, it has the feel of a smoky cabaret, reminiscent of the songs of Edith Piaf or Marlene Dietrich.
Despite the sad heart that the poems carry, the group's beautiful articulation of the emotions described feel quietly triumphant, and so the music can still lift a listener's spirits. The elegant playing and arrangements make this a record that can be enjoyed by 'serious' listeners as well as their dear old bubbes.
One epicenter of the Jewish music revival is the Knitting Factory, which has created the Jewish Alternative Movement -- or J.A.M. -- label. The downtown venue has organized a 'Jewsapalooza' festival that has included several of the artists on its sampler, A Guide For the Perplexed. Your bubbe may recognize some of the tunes, but she may think the avant-garde treatments are as meshugah as jalapeño bagels.
The compilation, unfortunately, has no liner notes, therefore one doesn't find out that Yosi Piamenta is the 'Hasidic Hendrix,' who kicks out rock riffs for his audiences of religious Jews. He sometimes performs with Matt Darriau's Paradox Trio. Darriau, one of The Klezmatics, entwines his sinuous sax and clarinet solos with an electric guitar to a percolating Balkan beat that recalls klezmer's eastern influences.
Another Klezmatic, trumpeter Frank London, is a founder of Hasidic New Wave, which is on A Guide and has its own J.A.M. release, Psycho-Semitic. The group's cut is not a good representation of its sound, which runs traditional Hasidic songs through a Zappa-esque filter of fast and furious avant-garde jazz.
A Guide has spoken-word pieces by a dour Steve Dalachinsky and a wry Judith Sloan. It also has cantorial melodies processed by synthesizers, and straight-forward folk-pop from Neshama Carlebach, daughter of the beloved singer-songwriter Rabbi Shlomo Carlebach. In addition, there is the herky-jerky rhythms of Naftule's Dream, Anthony Coleman's spare solo piano rendition of 'Hanukkah Bush' and Andy Haas's readings of the Hebrew alphabet using the Australian aboriginal didgeridoo.
---
The Soul of Klezmer: Rêve et Passion
Network (Network Medien GmbH, Merianplatz 10, D-60316 Frankfurt)
From the deepest traditional roots to the most frivolous of pop fronds, Soul Of Klezmer offers the listener a truly inspiring look at the Jewish music of this century. Earlier theatrical performers like Dave Tarras and veritable godfathers of klezmer like Naftule Brandwein (playing here with the Abe Schwartz Orchestra) show the early days of the music. Clarinetist Max Epstein shows the improvisational beauty of the doina in its traditional form, while The New Orleans Klezmer All Stars' play the "Downtown Doina" as a roaring, Crescent City second line. Most of the album focuses on currently well know revivalists and innovators like Klezmatics, Andy Statman, Frank London, Kapelye and Brave Old World. Perhaps the biggest bonus of the recording is a chance to hear other European bands not at all known in North America, like Poland's Kroke and Germany's klez-balalaika demons Kasbek. Hungary's Musikas has done a lot with the Jewish music of their country, and has a track here, as does the Budapester Klezmer Band, who offer the show tune chestnut "Fiddler on the Roof." With excellent notes, some glorious pictures and good references for finding more music, this set is a perfect introduction to the music, and a well designed addition to those who have already had their appetite whetted and want to know where to go for further adventures. - CF
---
Klezmatics
Possessed
Xenophile (www.greenlinnet.com)
Klezmer has been referred to as folk music, as theater music, as Jewish jazz. It is that enigmatic quality that has brought it to such prominence in the last decades of the 20th century. It is all things to all people, it crosses borders and boundaries, appeals to believers and non-believers alike, for reasons neither can share. It has found followers in the folk community as much via its instrumentation as its content: fiddles and accordions cry out "folk" and get that vital ear tuned in. But it has always attracted the jazz ear as well, again at first for its tools: clarinets and saxophones and pianos for the more settled bands. It also has been given a comic, theatrical element, an offspring of not only its inherent humor, but of the work of musicians like Spike Jones, who understood its musicality and exposed its raw roots with crazy interpretations and hybrids, and Don Byron, whose clarinet has found the deeper connections between the Jewish music of Europe and immigrant America as a whole.
Klezmatics came along and changed the rules again. Their potent mix of jazz, folk, rock and Jewish roots tore a big hole in most folks presumptions about the music. As you roar through their latest album, you are on a train, roaring through the wilderness without guidance of tracks. You can't get off, but unlike the usual express, this train goes all over place, makes unexpected stops, occasionally hits a tree and leaves you a little dazed. The band dazzles you at one station with roaring dance music like "Sirba Matey Matey," your feet move in spite of your determination to stay calm and listen closely to each complicated phrase. At the next stop, they tear your heart out with "An Undoing World," an ode to exile, loss and travel composed by Tony Kushner, playwright and "half-baked, half-former, re-formed, dummermann kind of Jew." Kushner also wrote one of funniest, saddest and most pointed set of liner notes to an album I have read in quite awhile.
Possessed is a wild ride on The Wall Of Death and The Tunnel Of Love. If you are listening, you will be terrified by what you hear, thrilled by what you feel, and ready to pay your money and ride again.
- Cliff Furnald
---
Zmiros
Cholent with Huckleberry
Global Village
A short CD by today's standards, "Cholent" clocks in at less than thirty-four minutes. The Zmiros quartet of musicians, however, makes each second count, wringing from the klezmer tradition the aching joy and sadness one would expect. Wedding tunes, nigunim (wordless melodies), and folk dances make up the bulk of Zmiros' material. Yale Strom on violin, Fred Benedetti on guitar and mandolin, Steve Rose on clarinet and dumbek, and Jeff Pektrek's thundering contrabass manage to sound like a much larger ensemble of musicians; on "Yuval Skocm" (Jubilee Dance), you could almost swear that there is a cymbalom in the group! And while the arrangements are tight, there is also a looseness to Zmiros' playing -- witness the unusual "Ukranian Cake Walk" that is a real meshing of Eastern European and American influences. Pektrek also offers a killer bass solo on "Tate Ikh Glabestu" (Father I Believe You) that leads the band into its whirling melody. Overall, "Cholent with Huckleberry" is a solid reaffirmation of the klezmer tradition, not wildly experimental, yet never dull. - LB
---
The Andy Statman Quartet
Between Heaven and Earth
Shanachie
Bluegrass, avant garde and mainstream jazz, Yiddish theater music and Jewish spirituals; these are all just the elements that have brought Andy Statman to where he is today, a musician of many influences, a one-man melting pot of American music. While he is best known these days as a champion of klezmer music, he has been advancing the relationship of Chassidic and jazz roots for a while in his live performances, and with Between Heaven and Earth he brings it to fruition on CD. The quartet is Statman on mandolin and clarinet, Kenney Werner on piano, Harvie Swartz on bass and Bob Weiner on drums, assisted on record by Béla Fleck and David Grisman. They take the music of Jewish tradition, the deeper religious music rather than the more popular, secular theater and dance music of most klezmer bands, and take it through a filter of jazz spiritualists like Coltrane. What results is neither the klezmer or jazz you expect, not a fusion but a synthesis of four artists' personal vision. It moves from hard edge to lush expanse, hinting at but never mimicking any of its roots. This is probably Statman's most intimate, effective album to date. - CF
---
Naftule Brandwein
King Of The Klezmer Clarinet
Rounder
Want to know where everyone from The Klezmatics and Andy Statman to Spike Jones got their best licks? Look inside the life and music of The King Of Clarinet. Brandwein is the godfather of klezmer, and he along with Dave Tarras made it (alongside the blues) into one of the most influential musical styles of music in America. You hear it in Tin Pan Alley, in jazz of all stripes, and in the various forms the klezmer revival has taken over the last three decades. These 25 pieces are taken from old 78s recorded between 1922 and 1944, and exhibit both the vitality of jewish life and the exuberance of American urban music in the early part of this century.
---
The New Orleans Klezmer Allstars
The Big Kibosh
Shanachie
It seems only fitting that klezmer, often referred to as "Jewish Jazz" should have proponents in New Orleans, and it has passionate advocates in The New Orleans Klezmer AllStars. Spiritual kinsmen to New York's Klezmatics, this band kicks out all the stops and makes a Spike Jonesy noise on The Big Kibosh. They can play it straight or manic, soulful or funny, and often it's hard to tell which it is ("Transition to Buffet"). Solid musicianship, ace arrangements and plenty of creative new songs make this one hard to resist. If you like a good New Orleans romp and a good Jewish wedding band, then this record will pull it all together for you.
---
Brave Old World
Beyond The Pale
Pinorrekk Records, Hallerstrasse 72, D-20146 Hamburg, Germany
Collectively, the members of this band represent decades of klez experience. You can hear klez-ish licks on some material bassist Stu Brotman was playing in Kaleidoscope, with David Lindley, back in the Sixties. Other members of the band have been through many of the original klez revival bands. This is the band's second recording as Brave Old World. (There was a Joel Rubin album, also called Brave Old World that set the spark for this particular ensemble, but Joel and the band have now gone separate ways). I think this is probably the deepest, near-tradition, exploring of what klezmer means this year. Brave Old World isn't as flashy or exciting as the Klezmatics or the Flying Bulgars ("we don't like to play loud"), but this band is very, very satisfying. We'll be listening to this album for a long time. - Ari Davidow
---
KlezRoym
CNI / Italy (www.cnimusic.it)
The klezmer revival continues unabated throughout the world, and this Italian entry into the scene is a notable one. KlezRoym is a standout for their aggressive use of Gipsy, Arabic Mediterranean and jazz motifs in their music. There is nothing or particularly innovative about these elements in klezmer, but this band unites them with such a lack of effort or pretension. Singer Eva Coen leads the songs with a natural, open style, the reed/horn section is tight, with arrangements that defy categories, and the strings (violin, guitar, bouzouki) lend a dry authenticity, augmented by an often funk-driven electric bass. Leonardo Cesari is superb in his use of both traditional percussion and kit drum. A clear, winning example of the bands ability to do it all at once is "Danza Immobile," a moody soundtrack piece that reaches deep into the tradition and comes out far removed from it, punched up by a distant sounding flugelhon and a contemporary rock groove. They play old freylachs with verve, traditional slow dances with grace and energized originals with passion. - CF
---
See also: North America, Europe, Gipsy , Hungary
Back to the top