---
See also:
Klezmer

Newest reviews:
---
Jewish, Sephardic and Other Traditions / Israel

---
Yair Dalal and the Al Ol Ensemble
Silan
Amiata (www.amiatamedia.com)

Silan is the Jewish-Iraqi honey extracted from dates. Yair Dalal and his ensemble make very refined music of a mixed ethnic heritage all its own, from a sector of the world looking for the prospect of a pleasurable life. On Silan, there is a spirit of peace, antiquity, what is shared as opposed to what is contested between cohabitant peoples of the Middle Eastern deserts. Diverse instruments including the oud, the sitar, the guitar, the violin, the clarinet, tabla and African and Middle Eastern percussion commingle so naturally here, sounding the same ancient tongue of recognized blessing, of cups half full, that one forgets the scarcity of such consonance in that part of the world. Silan epitomizes the phenomena of true world music in our time. Here we have an Israeli consort with ambitious interests in Arabic, Balkan, Indian, and Jewish forms, relating them all by way of excellent improvisational skills, recorded in a state of the art studio in Norway and produced and released by an Italian label. A set of astonishing depth and fantastic sound. - Steve Taylor
---
Maurice El Médioni
Café Oran
Ruth Yaakov Ensemble
Shaatnez: Sephardic Songs of the Balkans
both Piranha (www.piranha.de)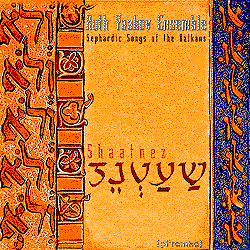 As a direct consequence of human migration and the forced cultural engagement of warfare, "world music" has constituted an everyday process of expressive artistic exchange long before its emergence as a global commodity in the late 20th century. Consider the 700-year cultural encounter between Muslim, Christian and Sephardic Jew in the Iberian Peninsula. Consolidated Catholic Spanish rule set off a pan-Mediterranean diaspora in 1492 of Muslim and Sephardim, one whose cultural traces persist in the musical traditions of Andalusia, North Africa and the former Ottoman Empire, from Egypt to Palestine, Turkey and the Balkans.

Pianist Maurice El Médioni was born in 1928 to a distinguished Jewish musical family in Oran, Algeria. Self-taught on the keyboards from the age of nine, El Médioni began to assimilate American boogie-woogie in local cafés frequented by U.S. servicemen after they landed in 1942. His style - seasoned through a subsequent sojourn in France - combines North African, Andalusian, Jewish, Cuban and western jazz and pop influences with his own singular, rapid-fire keyboard technique. No latecomer to global fusion, in a 60-year career El Médioni has a crafted a driving percussive attack and a fluid blend of myriad stylistic elements.

The ensemble comprises an equally stellar lineup: searing Moroccan singer Michel Rebibo, Americans Frank London on trumpet and David Krakauer on clarinet (both of the Klezmatics), Indonesian bassist Sabah Habas Mustapha (of 3 Mustaphas 3), Egyptian master percussionist Mahmoud Fadl, and Marco Maimaran, whose precise, jazz-shaded drumming and percussion articulates the rhythmic inflections of the music's many tongues. Simply said, Café Oran is one of the most original, unpretentious and organically compelling recordings to emerge from the extended encounter between Spanish, North African and Sephardic musical influences.

The Ruth Yaakov Ensemble, named after its Israeli lead singer, is backed by Albanian violinist and accordionist Shkëlzen Doli, Turkish percussionist Levent Tarhan, and Armenian-Uruguayan lutist Juan Carlos Sungurlian (on saz, oud and bouzouki). Reflecting the cultural mix of the musicians and their music, the album title is ironic: Shaatnez is a derogatory Hebrew term for the combining of things that do not belong together. Yaakov brings a wanton vocal intensity to the music, tastefully interweaving lyrical, melodic and instrumental traditions from Israel, Turkey, Greece, Bulgaria, Bosnia and medieval Spain. Singing in the Ladino (Judeo-Spanish or Sephardic) language, Yaakov projects a knowing melancholy, a world-weary vocal edge that draws the listener in, coursing through a spare instrumental exploration of Turkish and Arab-Andalusian modes whose hovering lyrics contest the religious censure of Sephardic women's earthly passions throughout diaspora time and space. This is an essential title for those attentive to contemporary interpretations of a cardinal influence in pan-Mediterranean musical traditions. - Michael Stone
---
Emil Zrihan
Ashkelon
Piranha / Germany (www.piranha.de)
In 1492, Ferdinand and Isabella drove the Moors from the Iberian peninsula, and then followed up by expelling the substantial Sephardic Jewish population, whose 15-century presence dated to the Roman imperial era. The Sephardic diaspora reached Holland, England, Portugal, and around the Mediterranean to Morocco, Algeria, Tunisia, and the Ottoman Empire (including modern-day Turkey, Greece, the Balkans, Egypt, Israel and Palestine). Notably, from the time of Moorish occupation (711 AD) peaceful Sephardic co-residence with Muslims in Andalusia had fostered a dynamic artistic, intellectual and material interaction whose effects remain manifest in the music of Spain and North Africa today.
Such is the music of counter-tenor Emil Zrihan, a Sephardic native of Rabat, Morocco, and presently the cantor of the main synagogue in Ashkelon, Israel. Accompanied by oud, violin, accordion, darabouka (ceramic or metal goblet drum), percussion, flamenco-style guitar and bass, Zrihan exhibits a startling vocal range in an eloquent, rhythmically sinuous repertoire of traditional Moroccan and Judeo-Moroccan songs. Included are several mawal, ardent vocal and instrumental improvisations expressing intense longing, desire, devotion or sorrow. For aficionados of the intersection and diffusion of Arabic and Andalusian musical traditions, Emil Zrihan powerfully conveys a sense of the abiding musical kinship between the cultural legacies of Spain and North Africa, considerably nurtured for over a half millennium through the vitality of the Sephardic diaspora. - Michael Stone
---
Davka
Lavy's Dream
Interworld ([email protected])
Lavy Ben Bezalel's dream was to create a man out of clay, a soulless man with superhuman powers. This Polish scholar and mystic's world view is both a good and bad metaphor for Davka. The band seeks to create a powerful, universal sound out of the clay of their Hebrew roots and the simplicity of their instruments, violin, cello and percussion. What they play is not simple amalgam of predictable forms. Rather, it is something new that still maintains a familiar shape. But what results is far from soulless or superhuman. Their music is an earthy blend of klezmer theatrics and devotional piety that cris-crosses the middle east and eastern Europe with little regard for the transient political boundaries of the last 20 centuries.
Lavy's Dream is also highly diverse. It's an easy target for folks looking for traditional folk music, new classical sounds, worldly jazz and adventurous klezmer. The members of Davka, Adam Levenson (percussion), Moses Sedler (cello), and Daniel Hoffman (violin) are excellent writers and musicians with credits that range from The Berkeley Symphony and the world music/new age ensemble Ancient Future to rock bands and stints with Ali Akbar Khan. This, their second recording together, shows innovation, skill and a unique sense of time and place. - CF
---
Back to the top