Interviews:
Yuri Yunakov
Nicolas Reyes

Newest reviews
Fanfare Ciocârlia
Radio Pascani
Piranha Musik (www.piranha.de/ )

Hailing from the Moldavian region of northeastern Romania, Fanfare Ciocârlia embodies all the bravura and vertiginous speed of Romany Gypsy brass-band music, a tradition sprung from the Turkish military bands that dominated the Balkans under Ottoman rule. Singer, clarinetist and alto saxophonist Ioan Ivancea heads a driving 11-strong cadre of horn and reed players, drummers and singers, ranging in age from 22 to 68. This high-spirited release comprises an agile blend of Romanian, Bulgarian, Serbian, Macedonian, Turkish, Near Eastern and international dances (brîu, doina, geamparale, hora, rusasca, sîrba, rumba and foxtrot, among others). The band's cosmopolitan sensibility also shows the influence of foreign radio broadcasts tuned in surreptitiously, a form of cultural resistance to the heavy-handed Ceausescu regime. (The state apparatus delighted in giving musicians offers they could not refuse, to perform denatured Romanian "folk" music for the glory of the now-departed strong man.)

But musically undaunted by its brush with the quick and the dead, Fanfare Ciocârlia serves up a fresh and knowing blend of rap and Rajasthani Gypsy vocals (e.g., "Hora cu strîgaturii" sound sample), finger-popping Balkan wedding music, Klezmer melodic feeling, and all the soulful swing of a New Orleans brass band and second line. My wife and I had the good fortune to hear Fanfare Ciocârlia perform at the 1998 Bardentreffen festival in Nürnberg, which featured Gypsy artists from Spain, Germany, Hungary, Russia and Rajasthan as well. The ecstatic outdoor crowd -continuously mushrooming throughout the extended set - absolutely refused to let the musicians leave the stage. Among the encores was an astonishing rendition of "Money, Money" (not included on this CD - you had to be there). All the above recommends Fanfare Ciocârlia as just the musical accompaniment for your next life transition, here and beyond. - Michael Stone

Available at cdRoots
---
Taraf De Haïdouks
Taraf De Haïdouks
Nonesuch (www.nonesuch.com)

The multi-generational gypsy group Taraf de Haïdouks hails from Romania and has its own release of traditional and original songs. In a friendly internecine competition, the group alternates between paying homage to their heritage and messing it with it by adding influences from other countries. Although Taraf de Haïdouks (which means 'Band of Brigands') plays in an old style, it is not some dry museum relic. Several of the elders sing with weathered voices, but their life force is as bright as that of their younger bandmates.

The members have a sly sense of fun that animate many of the songs, and all the instrumentalists play with a buoyant, infectious energy -- which is not surprising since these are guys who have kicked up dust at more than their share of country weddings. Breakneck instrumental numbers such as the zany 'Rustem,' or 'Briu' -- which features a Looney Toons-worthy flute solo -- make the group sound like the Marx Brothers reborn as wedding musicians.

While this is not folk music in the Bob Dylan mold, these are songs whose goal is to entertain or comfort folks who don't have Dolby sound systems and 56K fax modems. That this music is presented so well is a pleasant reminder of the rewards of simple pleasures. - Marty Lipp

(photo © 1999 Cliff Furnald)
---
Various Artists
The Gypsy Road
Alula (www.alula.com)

Gypsies have been so mythologized it almost seems as if they don't really exist, as if they lived in the same world as leprechauns and forest sprites. However, the recent success of The Gipsy Kings and the movie 'Latcho Drom' have been a vivid reminder that the formerly nomadic people called the Roma still live among us. Now, with the recent release of several CDs and the national tour of the 'Gypsy Caravan,' Americans can hear the traditional music that has been handed down for generations throughout the Roma diaspora.

The Gypsy Road is a compilation of performers from a dozen different countries, reflecting the gypsies' movement from northwest India to Southern Spain and even to Russia and Eastern Europe. Gerardo Nuñez and Ramon El Portugues team up for a powerful flamenco performance, showing the roots of the Gipsy Kings' now-famous sound, while Energipsy whips through a number that would make the Kings proud - or maybe litigious.

Though there are musical commonalties among the various gypsy communities, the difference are even more striking. The compilation shows how gypsy musicians have absorbed influences from the countries in which they live. Kocani Orkestra from Macedonia combines brass and drums for a sound typical of the Balkans, while Musafir, composed of musicians from various cultures, has a distinct flavor of India. It is the creation of Hameed Khan, a Paris-based musician from Rajasthan, India, which is the birthplace of the Roma.

Overall, the sound here is a bit rough-hewn for those used to polished mainstream pop -- there is no studio prettifying here -- but the songs are often sweet and charming. With its consistently entertaining lineup of songs and excellent liner notes, this collection is a perfect place to start your own gypsy wanderings. - Marty Lipp
---
Taraf de Haidouks
Dumbala Dumba
Cramworld / Crammed Discs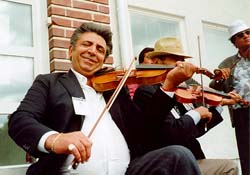 Musician from Taraf de Haiduks
photo: Cliff Furnald

The Taraf de Haidouks' first two CDs went far to bring both current and traditional Romanian Gypsy music into the public spotlight. This CD, while still reflecting both approaches, also introduces some fresh voices: Napoleon of the ursari (Rom bear trainer caste) of Clejani, Viorica Rudareasa, and lautari (professional folk musicians, like the Taraf de Haidouks) from the neighboring village of Mirsa. Viorica has a powerful midrange and her two contributions to this CD are impressive--from the frisky title track to the primal "Mesteru Manole." Both are rendered with throaty intensity and precise phrasing.

The tracks on which Napoleon sings reveal the extraordinary possibilities of great music sans instruments--indeed, there are reports that date back hundreds of years by travelers in Europe noting Gypsies playing music for their own amusement by hitting cans or jugs, but most often by clapping or slapping various parts of their bodies and singing- so these tracks are by far the rarest, as they are performed by Roma for Roma, in Romanes. The Taraf de Haidouks themselves deliver a top notch performance, with great playing and singing all round. The CD is well paced, threading through romping instrumentals (Rustem, Terno chelipe, Tot taraful) and more rhythmically complex ballads (Foti dea prun si foii de praz, cintece de jale).The booklet is full of beautiful photographs, and some poignant stories, but explanations and lyrics for each song would make for a less cryptic package. - Michal Shapiro
---
Various Artists
Zingari: Route of the Gypsies
New Earth Records (www.newearthrec.com)
The notes tout this album as an earlier edition of the recent striking documentary about the world of Gypsy music, "Latcho Drom." Like the latter, is laid out in travelogue style. It was recorded by a native Indian, Deben Bhattacharya, and interestingly, omits the Indian and West Asian connections to European Gypsy music included in "Drom." There are examples from Greece, Yugoslavia, Romania, Hungary, Bulgaria, Spain and France recorded between 1955 and 1965.
These are field recordings with low fidelity, but they are full of pizzazz and the beauty of real music.
One of the Romanian cuts features a clarinetist that sounds amazingly like a klezmer musician in the Dave Tarras mold. The similarities and deviations from "Drom" help remind us that there is a lot more Gypsy music out there that any two albums can hold. - Stacy Phillips

---
Band leader and fiddler Pera Petrovic and his group Rromano Centar live now in Austria, but all come from Vojvodina, a region of the former Yugoslavia tucked in between Croatia and Hungary, at times the possession of both Hungarian and Turkish/Ottoman regims. It shows clearly in the music. His playing is the first thing that will strike you as you start to listen to Pilem Pilem (Opre/Switzerland). It is exquisite and at times only maniacal can describe it. The rest of the band are guitars and tamburitsas (small 4-string guitars) and a bass player who uses both plucked and bowed lines to underscore the music. The music is not the hyper-speed rhythm of its Serbian and Romanian neighbors. It is more noble, akin to some of the dance house music of Hungary, but it can break into passionate bursts of violin and voices when it needs to. Rromano Centar are true folk musicians. They know their roots and they want to expand not only their use of them, but the world's understanding of them.

Opre is a small label devoted to the Rrom culture, the Gypsy, Gitano, Manouche, the people who migrated from northern India to populate and educate the whole of Eurasia over the ensuing centuries, bringing stories and art and above all, music, and influencing what has become some of the best known "folk" music in Arab and European countries.

A positively unique experience is offered by Taraf de Haidouks, Romania's reigning Gypsy roots-show band on Honourable Brigands, Magic Horses and Evil Eye (Cram World/ Crammed Discs - 1994). Best known for their pyrotechnic playing (referred to once within earshot as the Jimi Hendrix' of Rrom music), this album offers not only all of their stellar playing and outrageous musical antics, but also a different, more introspective side. It's the slower numbers on this album that really dig in and hold on to you. Romania has not been the happiest of places in the late twentieth century, and the sorrow of the social and political world there comes through on many of these numbers, songs about prison and lost love and hard work and misery, all given a strangely up-tempo twist that keeps them confusing. The band has 22 members playing cimbaloms (hammer zithers), fiddles, accordions and bass. The liner notes are laid out as conversations among the groups members. They are confrontational, personal and often beguiling. And they don't let you forget what is really at the root of the hardest working band in eastern Europe. Says violinist Costica, "I must admit, I mainly sing them (Gypsy songs) because it pays." True, but underneath the cynicism there is no denying the potency of this music, and these musicians epitomize it.
Thierry Robin is an oud and guitar player, a member of the incredible Trio Erik Marchand, and a musician who understands that at the heart of every tradition lies all the traditions before it and all the contemporary world that touches it. Gitans (Silex/France, via Harmonia Mundi, US) explores the Gipsy music of a hundred cultures, past and present, and while it seems to be bits and pieces of flamenco, Gipsy and Arabic music, what it really is a map of the world, a music that has ties to Europe, Asia and Africa while owing allegiance to none of them. He has pulled together an impressive group for this album: Paco Lobo on guitar and voice, the stunning "Mambo" Saadna on male voice and palmas (handclaps), a special appearance by female vocalist Gulabi Sapera, Hameed Khan on tabla, François Castiello on accordion and Bernard Subert on clarinet offer a wide world view. They touch on the sounds of flamenco, klezmer, far eastern and middle eastern modes drifting in and out. Thierry Robin's original tunes and shocking yet caring arrangements of traditional material make Gitans stand-out amongst a crowd of excellent new Gypsy releases this year, as well as an antidote to all the Gipsy-pop-wannabies and new-age-syntho-pap that's pouring in.
The Greatest Living Gypsy Voice (Silex) is a pretty audacious title, but Nicolae Gutsa has reason to believe the claim can stick. Gutsa is a gutsy singer, a real fire-in-the-belly sort of performer who is capable of carrying it over to a recording. He's a Romanian born Rrom from a mining city in Transylvania, and his voice seems to bridge the gap between rural folk-Gypsy music and a more jazzy, urban sound. In fact, some of the cuts could easily be right out of the Django Reinhardt book, with Gutsa passing out staccato lines at a speed even Django would envy. His adamantly modern approach is typified in his band, headed by accordionist Marius Gheorge, that blends reeds, violin and electric guitar into a hearty sometimes hyper sound that never enervates the vocal delivery. At one point they even have the audacity to drive into a rumba and it is brilliant! Poetic, passionate and contemporary; Gutsa certainly deserves to be applauded as one of the greatest.

KALYI JAG is a Hungarian folk group that has been making real, raw Gypsy music there for almost a decade. Their name means "black fire" and their latest album is Karingszo Me Phirav (Where I Come And Go) (Hungaraton 1995). This young quartet is pretty lean, depending just on voices, some small percussion, guitar and "oral bass" for their music, but with a singer like Agnes Künstler in front of three other fine voices, the heart and soul of the music thrives.
All fired up on Gypsy violins, jazzy upright bass and tango accordions, the trio LazarPerry goes far afield and makes its own music on Tangodélic (IMP/France via Qualiton, US). While not strictly "Gypsy," violinist Paul Lazar, reed squeezer Franco Perry and bottom provider Camille Ballon offer up a set of tunes that reflect both the dark humor of new tango (and a number of tunes by master Piazzolla) and the joyous noise (and equally dark humor) of European Gypsy traditions. Just when you think you have them pegged, they toss off a blues line, some funk and plummet into the depths of "world-fusion" a la Mustaphas and Combo. Their covers are disrespectful in the finest nueva tango tradition, their originals are surprising and witty, but never fall into the slapstick of the aforementioned fusers. This is an impressive debut album for any genre, but in a world overloaded with over simplified or over blown Gipsy and tango pop, this is a band that should be nurtured and encouraged to continue down the thorny path of innovation.

Gipsy Cabaret (Editions ARB/France; Qualiton, US) by Polish duo Terminus Gare de L'Est is subtitled simply "Hits" and it is that, a collection of worn out chestnuts from the Russian and Eastern European music world as weathered as "Volaré" and "Danny Boy." "The Eastern Station" are Marian Kurkab on accordion and Marek Czerniawski on violin and voice, and terminus is a proper name for them, because they live right out on the edge, friends of Mustapha, members of their own brave combo. Their prime targets are the songs that made Russia famous: "Volga Boatmen," "Kalinka" "Daroga Dlinnaya" (better known here in the US as "Those Were The Days") and "Kazatchok" are all given insane treatments that bring out not only the original but long lost beauty of the original songs (they didn't become classics because they were bad, after all) but they also skewer them in loving, manaical style. As a duo they don't approach the complex, Spike Jones-like attitude of The Mustaphas or the electric/eclectic power of Brave Combo, but they display humor in abundance and phenomenal skill as musicians, and both their parodies and their tributes (often hard to tell apart) ring with clarity and energy. Again, not strictly Gypsy, but with roots and fronds of the tradition that make them irresistible.

If you come across Gipsy Music From Hungarian Villages by Kalman Balogh and Meta (ARC) you might have the impulse to flee. An incredibly hokey cover gives a mixed impression of what's inside. Balogh is a noted performer on the cymbalom (Zsarotnok, Musikas), and his contributions are strong. Meta offers many good tunes on this two CD set including some fine vocalists, but with so much playing time, much of it is filler, full of cliched phrases that live up to the cover's promise. After you have all the rest in your collection, you might want this for a few of the tunes contained inside.

---
---
The Incredible Istanbul Gipsy Band
Feuer and Eis und Eis, Fuldastrasse 40m, D-47443 Moers 1, Germany 2841.50.30.35 fax:2841.54.7.54

While the output from this German label has been small, it has had a major impact on the world music scene. Bossman Birger Gesthuisen released 4 of the earliest internationally available compilations of Malagasy music, and was a guiding force in the Kaiser Lindley project that has given a big push to the music of that island. But there's another more eastern side to this label. They have had a major interest in the Gipsy and Jewish music of Turkey, and here, on their third foray into Istanbul, they present a full measure of one great band. The Incredible Istanbulk Gipsy Band is no revivalist outfit cranking out the old tunes for the old audience. They are energetic seekers of new sounds from old roots, and they incorporate jazz, a little funky, bluesy mood here and there, even a wierd turn on Tchaikovsky's "Swan Lake" theme. Save for a little distorted electric guitar, this is an acoustic ensemble to be reckoned with. Oud, kanun, kaval, zurna, davul, strings and reeds are pulled into interesting combinations, giving rise to an international Gipsy sound that's fresh and innovative but never trite or cheesy. They have an effervesence that's funny, soulful and wild. - CF
---
THE Erkose Ensemble
Tzigane
CMP

Tzingane is the Gypsy music of Eastern Europe, but the Turkish version offered here is actually a glimpse at what could be seen as an earlier, more rootsy style. The Gypsies migrated out of India, and through the Ottoman empire on their way to Europe. The music they brought with them and developed along the road to Hungary has influenced the folk and popular music of almost every culture in Europe, right out to the English coast. The Erkose Ensemble plays this music with an exuberance that is hard to relay on paper. The sweeping, lush stokes on the kanun (zither), the searing slides of the violin and the hot clarinet notes in these tracks is as free as any jazz ensemble, and as full of virtuosity as any classical chamber group. The seemingly endless lines of melody, the incessant percussion and the improvisational chances taken make this essential listening. - CF
---
---
Paco El Lobo
Cante Flamenco
(Buda)

Djeli Moussa Diawara
FlamenKora
(Melodie)

No, the Culinary Institute of America does not give out Gipsy King CDs along with its diplomas, though it certainly seems that way at times. Spanish restaurants, Italian, whatever, they all want the smoldering feel of the Gipsy Kings to give their candle-lit interiors an exotic, erotic air. And that has helped make the Kings the most successful world-music performers in the country. While their music is not authentic flamenco, the success has kindled interest in the real stuff: the gut-wrenching, throat-ripping music that first boiled up from Andalusia in the 1600s.

Flamenco was brought to southern Spain by gypsies, carrying with it elements of Indian, Middle Eastern, Jewish, and Northern African music. Centuries later, it was cross-pollinated and reinvigorated by Cuban rumba. In its renaissance of the past two decades, it has been fused with rock, jazz or even African music.

Towards the more traditional side of the spectrum is the singer/guitarist Paco El Lobo. His raspy, beseeching voice will be immediately familiar to Gipsy Kings fans, but his recording is sparser and more free-form. Traditional flamenco emphasizes emotional improvisation -- the exact opposite of the rhythmically driven Kings. The ultimate goal of flamenco is to achieve the spontaneous moment called "duende," when the performer helplessly unleashes his deepest, inchoate emotions. This obviously can get sort of messy by Western pop standards. While Paco El Lobo can explore this kind of high passion, his songs are also, to a lesser extent, structured and accessible like the Kings, propelled by his flashy guitar work, as well as rapid-fire clapping and the staccato heel tapping of Marisol Jimenez.

The iconoclastic Djeli Moussa Diawara attempts to reclaim some of the African roots of flamenco. This Guinean singer/songwriter plays the kora, which is a traditional African instrument that is like a cross between a harp and a lute.

On the title cut, he is accompanied by a strummed guitar and most strongly re-creates flamenco. Elsewhere, he plays solo or overdubs the kora, drifting farther afield from the rough-edged sounds of Andalusia.

Again, the ambiance here is moody and a bit melancholy, but Diawara's voice is sweeter and purer than a flamenco "cantaor." In Diawara's hands, the kora can sparkle and sound like the true instrument of the heavens; at other times, he can pick and pluck it like a backwoods blues guitarist. - Marty Lipp
---
A highly recommended film is Latcho Drom, an 1992 movie by Tony Gatlif that traces the Gypsy culture from its Rajasthani roots into southern Spain. Gorgeous cinematography and excellent music! The soundtrack was published by Le Bande Son and distributed by Virgin Records in Europe only.

Some Addresses for music:
Opre, Höschgasse 54, 8008 Zurich, Switzerland,
IMP, 5 Passage Saint-Sébastian, 75011 Paris, France
Editions ARB, 46 rue Ste Anne, 75002, Paris, France
Qualiton, 24-02 40th Avenue, Long Island City, NY 11101





see also: Europe

Other resources
Patrin
An excellent page on Rom culture
Explore the Romani language

Buy Roma Music from cdRoots.com