Goran Bregovic and Kayah
Kayah and Bregovic
Zic Zac Records/BMG (www.kayah-bregovic.com.pl)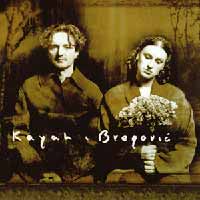 This collaboration between two Slavic superstars is an entertaining and intriguing blend of pop and folk elements. It went platinum in Poland almost immediately upon release. Although Goran Bregovic may be somewhat better known here in the US for his soundtrack for "Time of the Gypsy," Kayah bears scrutiny as a singer and lyricist.
All the songs on this CD have been translated from their various languages into Polish by Kayah. "Spij Kochanie Spij" is a setting of lyrics by Andrew Marvel and the strength of Kayah's singing is immediately apparent. She has a dark, smoldering voice that is utterly seductive, and is in total control of her instrument. "To Nie Ptak," with lyrics by Iggy Pop, is actually a tender and mysterious ballad with a brooding choral backup. This sets up the next tune "100 Lat Mlodej Parze" and now we are in Bregovic territory, swept up in the sound of a Serbian brass band in full tilt. This track rocks and is the least rarified on the CD. It is also the track where Kayah gives us the most energy. Both "Bylam Roza" and "Prawy Do Lewego" show a strong Polish folk flavor, with declamatory male singing in the choruses, reminiscent of Gorale music. A discordant note is hit with "Caje Sukarije" where Kayah tackles a song that is really the sole possession of Esma Redzepova. Oddly enough, it is not Kayah who lets us down here, but Bregovic. He has had a great deal of success lately in the dance-mix world, and he chooses to intersperse the song's verses with obnoxious child-rapping. The only merciful change is that the cheesy male chorus of the original has been replaced with a horn section.
The references to Gypsy music continue to the end. "Nie Ma Nie Ma Ciebie," better known as "Ederlezi," is practically an anthem for Gypsies, and was the focal point of "Time of the Gypsy." It sounds wonderful here, with no alteration of the basic arrangement, and Kayah renders it faithfully. - Michal Shapiro