Two new albums by prominent figures on the Salento music scene display the sonic diversity of that small but culturally fecund territory of Italy's Puglia region. Guerra, by trumpeter, composer, and bandleader Cesare Dell'Anna, is an expansive offering; its eighteen tracks, in various styles and multiple languages, total more than an hour's worth of music; Di zampogne, partenze e poesia, by Giulio Bianco, the utility player of Salento's best-known group, Canzoniere Grecanico Salentino (CGS), is a more modest affair, comprising six tracks and clocking in at twenty-six minutes. Dell'Anna's record ranges widely, with Salentine idioms in the mix but also Neapolitan and other Southern Italian traditional music, Balkan, jazz, reggae, and European classical elements. Bianco's album keeps a tight focus on pizzica and tarantella. Both are first-rate offerings that will delight southern Italian music fans, whether seasoned cognoscenti or newcomers who caught the pizzica bug.
Cesare Dell'Anna's Guerra has affinities with another album by a Salentine musician and bandleader released in 2018, Massimo Donno's Viva il Re. Donno's record, made with the nineteen-piece Banda De Lu Mbroia, celebrates the music of the marching bands he heard while growing up in Corigliano d'Otranto, a small Salento town. Social and political themes infuse the nine Donno compositions but they're mostly expressed in poetic and allegorical language. Guerra likewise draws upon southern Italian brass and symphonic band traditions, and the songs also voice sociopolitical themes, but much less obliquely than Donno's.
A good example is "TRUMP@, cavallo di ritorno palestinese," a protest against Israel's treatment of the Palestinians and the current American president's moving the US embassy from Tel Aviv to Jerusalem. The album's title (War) refers not only to such instances of state-inflicted violence but also to what Dell'Anna calls "our daily war" against powerful interests that wreak environmental damage in the name of profit and treat refugees and migrants as existential threats. As Dell'Anna observes in an interview with the Italian magazine BlogFoolk, "there is a lot of politics in this album, but there also is our freedom, that of not bending to the market or to fashion."
"The album's tracks are dedicated to a variety of human concerns that demand our attention," he says. "It's definitely an eco-pacifist album."
| | | |
| --- | --- | --- |
| | | "Dannatamente bella" |
GirodiBanda comprises thirty musicians, most of them from Puglia but also several members of the radical Neapolitan folk band Gruppo Operaio di Pomigliano d'Arco/E Zezi; the veteran Salento reggae band Sud Sound System; the Albanian cellist Redi Hasa; the Romanian cymbalon player Mŕrian Serban; and Hossein Emadi, on the Iranian baglama, a type of long-necked lute. Dell'Anna also enlisted members of Opa Cupa, the marvelous Balkan-Rom-Salento band he has led for twenty years. (If you haven't heard their most recent album, 2015's Baluardo, you should, if only for the Balkanized remake of Amy Winehouse's "You Know I'm No Good.") Joining the musicians are no less than 11 singers, including three of Salento's leading voices, Enzo Petrachi, Enza Pagliara, and Maria Mazzotta, formerly of CGS. Petrachi, son of the late folksinger Bruno Petrachi, gets two of the best solo spots – "Dannatamente bella" (co-written by his father) and "La sigaretta elettrica," which he co-wrote with Dell'Anna.
| | | |
| --- | --- | --- |
| | | "La sigaretta elettrica" |
Southern Italian banda and folk music are the foundation of Guerra, but Dell'Anna approaches tradition by untraditional means. "Carminuccio" is rendered as a rollicking Balkan dance; "Giro di Banda" and "Suona chitarra" draw on reggae and dancehall; "Bolero di Aradeo" marries pizzica to Ravel; "Pizzica di San Marzano" layers brass on top of tamburello beats; Norbert Glanzberg's "Padam padam," which he wrote for his lover Edith Piaf (who saved the Jewish composer from both the Nazis and the Vichy police), is arranged by Dell'Anna as a Balkan waltz.
| | | |
| --- | --- | --- |
| | | "Opapo" |
"Opapo," the only track written solely by Dell'Anna, opens with Mŕrian Serban soloing on cymbalom, followed by the full ensemble, led by Gino Semeraro's guitar, cooking up a kind of Salento-Balkan reggae jazz. The eclecticism can get a little dizzying over the long haul (66 minutes), but track by track, Guerra is a remarkable achievement, and, despite its title, not only life-affirming but jubilant. As Dell'Anna says, it's the sound of struggle, and of freedom, too.
*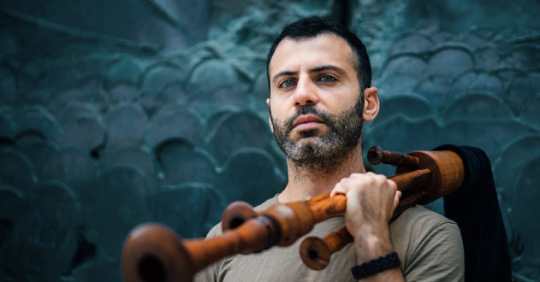 As fans of Canzoniere Grecanico Salentino well know, multi-instrumentalist Giulio Bianco is an essential element of the band's sound and success. He began his career when he was in his early teens, first joining the Salentine band Aioresis and going on to play with the folk ensemble Modena City Ramblers and touring with the Orchestra della Notte della Taranta, the house band for the La Notte della Taranta annual festival held throughout Salento. He joined CGS in 2008 and has played on every album the band has made since 2010's Focu d'amore. All the members of CGS are stars, accomplished players with distinct musical personalities and charisma: leader Mauro Durante, the earnest and intense violin and percussion virtuoso; Giancarlo Paglialunga, a vocal powerhouse, topnotch percussionist, and, with his leonine looks, a visual cynosure; Massimiliano Morabito, who looks like a scholar (which he is, of Salentine culture) but onstage becomes a wizard of the diatonic accordion; sultry vocalist and percussionist Alessia Tondo, the band's newest member; and Emanuele Licci, a singer, guitarist, and bouzouki player steeped in Salento's ancient Griko language and music.
Giulio Bianco is no less an eminence; he supplies so many of the colors and textures that make CGS unique, in the studio and in concert. Onstage, the darkly handsome Bianco toggles among zampogne (double-chantered southern Italian bagpipes), recorders and flutes, harmonica and fretless electric bass. His dazzling harmonica solo on one of the band's showpieces, "Pizzica Indiavolata," always brings down the house. On his first album, Di zampogne, partenze e poesia (Of bagpipes, departures and poetry), he's accompanied by all of his CGS bandmates, along with accordionists Rocco Nigro and Giuseppe Anglano. (Alessia Tondo doesn't sing on the mostly instrumental album; she and Giancarlo Paglialunga play tamburelli on all but two tracks.) Bianco plays two types of zampogne ("zoppa" and "a chiave"), guitar, and electronics. Like CGS, he is faithful to traditional Salentine and other Southern Italian music but brings a modern sensibility to it.
| | | |
| --- | --- | --- |
| | | "Trainieri" |
"Trainieri" (Cart drivers) features the sampled voices of the late, beloved Salentine singers Uccio Aloisi and Uccio Bandello set against a wash of electronics, Mauro Durante's percussion, and a string section, but it's Bianco's zampogna, cutting and plaintive, that is the main narrative voice, and a captivating one. "Cirano," composed by Bianco, features superb work by Nigro on accordion that at times reminded me of Astor Piazolla, the Argentine tango composer and bandoneonist. "Tarantella di San Filippo," based on a traditional Sicilian theme, would have fit nicely on CGS' 2013 album, Pizzica Indiavolata. "Ronda," a fast and lively pizzica, closes out Bianco's beautifully and lovingly crafted debut recording. I just wish it had been twice as long. - George de Stefano
Find the artists online:
Cesare Dell'Anna and GirodiBanda
Giulio Bianco
Further reading and exploring:
An interview (in Italian) with Cesare Dell'Anna in BlogFoolk
Canzoniere Grecanico Salentino - Canzoniere (review)
Massimo Donno - Viva il Re (review)