Pizzica has become synonymous with Salento, thanks largely to the global success of Canzoniere Grecanico Salentino, the Salentine band that specializes in tradition-based but modern interpretations of the venerable folk idiom. But the music of the southernmost part of Italy's Puglia region encompasses much more than pizzica, as Massimo Donno demonstrates on Viva il Re . The latest release by the guitarist, composer, and vocalist celebrates banda music, that is, the marching bands he heard while growing up in Corigliano d'Otranto, a small town in the heart of Salento.

As Donno told Rootsworld, the album combines the "sounds of the south of Italy, of Salento in particular, and of the Mediterranean" with "the sounds of symphonic band, like fanfare." Symphonic bands have similar instrumentation to marching bands, with woodwinds, brass, percussion, and, in this case, guitar. But they generally perform concerts, and they have a broader repertoire. Viva il Re, with its varied styles and compositions, offers a greater sonic richness and variety than most marching bands. Donno, with the nineteen-piece Banda De Lu Mbroia, reinterprets compositions from his two previous albums, Amore e Marchette and Partenze, along with several written for Viva il Re . He and the band are joined by saxophonist and flautist Emanuele Coluccia (who also arranged), and two illustrious guests, folk singer Lucilla Galeazzi and clarinettist Gabriele Mirabassi.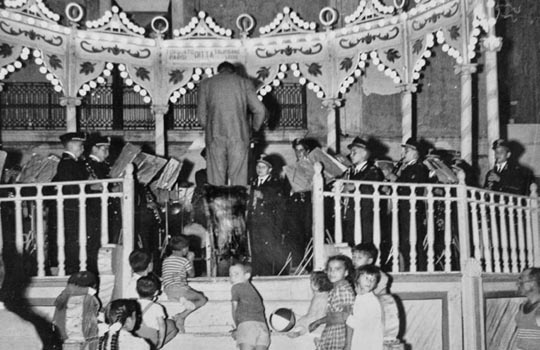 Viva il Re has been conceived less as an album of songs than as a project, an ambitious, thematically coherent artistic statement. Its packaging drives that home: the CD comes in an elegantly designed booklet that includes brief essays, commentary by Donno, Galeazzi, Mirabassi and several other musicians, evocative black and white photographs, and the lyrics to the nine songs. (The text is in Italian and French.) The cover photograph, featuring Donno and the members of Banda De Lu Mbroia, pays homage to a storied but fictional band: Sgt. Pepper's.
"The album represents a journey to the South, from which we leave but must always return to," according to Donno. "The concept of travel finds its centrality throughout the narration; this way the South itself stops being simply a well-defined physical and geographical place. It becomes a metaphor of landing and departure, which symbolically embraces Africa, Latin America and the East. Migration, in all its most minute details is the central theme of the album."
Migration is, of course, an urgent issue in Italy today; the new right-wing government led by the northern-based Lega came to power in 2018 by exploiting fear and loathing of non-European immigrants. But Donno also conceives the music itself politically, as an expression of "a musical world that, rooted in collective memory, tenaciously resists any attempt at official ratification." Donno wants to "revive the enchantment of those sounds and the magic of those moods" in the context of an updated "canzone d'autore," Italy's singer-songwriter movement of the 1960s and early 70s that combined folk traditions with social and political commentary.
"Viva il Re!" translates as "Long Live the King," but the title track doesn't praise monarchy; instead it decries the many distractions of contemporary society that cause people to lose touch with cultural roots and memory. They are our rulers, the "king and queen" who are happy if "we distract ourselves" and become, like the narrator, an "orphan of my present."
In "Tienimi la mano," ("Hold My Hand") which first appeared on Donno's Partenze, a businessman recounts his life to a psychotherapist, from when he was a "promising kid who did well at school" who went to university where he studied, "as a manager, the sciences and politics." He achieves success in business but at the cost of love and sustaining relationships. Seeking human contact — "hold my hand"— he finds that his hands are "cold," as he sits alone in front of the TV, an "incapsulated self."
As a lyricist, Donno is ironic, allusive, metaphorical. Marvelous turns of phrase abound in his songs, many of which, unfortunately are not easily translatable. "Roma (F. Fellini)," a duet between Donno and Lucilla Galeazzi that features Mirabassi's sprightly clarinet, conjures up the Eternal City in a succession of images that are precise and abstract, loving and harsh. Rome is a dream, yet it is torment. It is "the cradle of a Pasolinian worldliness" with "theatrical suburbs of rich poverty."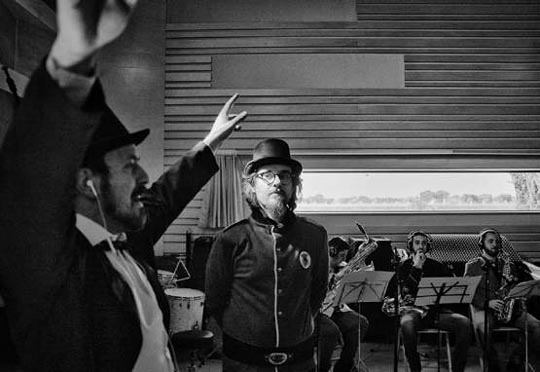 Emanuele Coluccia & Massimo Donno
As a vocalist, Donno serves his texts well; he sings in a conversational, intimate style reminiscent of Peppe Servillo of the soigné pop band Avion Travel or singer-songwriter Vinicio Capossela. Donno found a dream arranger for his distinctive material in Emanuele Coluccia, whose charts deploy the polyphonic density of the Banda De Lu Mbroia to give the music heft and drama. But Coluccia also knows when to leaven the album's sound with passages that highlight the lighter textures of voice and solo guitar. With Viva il Re , Massimo Donno and his collaborators have made an album that realizes its ambitions and qualifies as one of the most noteworthy expressions of southern Italian musical culture in recent years. - George de Stefano
Further reading:
Massimo Donno: In The Artist's Own Words Mauro Durante of Canzoniere Grecanico Salentino: 2012 Interview
Mimmo Epifani: 2014 Interview
Rosa Paeda: 2002 Interview