"Pizzica can transcend linguistic and temporal borders."
George de Stefano talks with Mauro Durante of the Salentine ensemble
Canzoniere Grecanico Salentino.
Canzoniere Grecanico Salentino, founded in 1975, spearheaded the revival of pizzica tarantata, an ancient folk music born in Salento, the southernmost part of Italy's Puglia region. Pizzica originally was played in rituals meant to cure peasants of tarantismo, an illness purportedly caused by tarantula bites. In the healing rites of tarantismo, music, dance, and colors all were employed to relieve the distress of the afflicted.
Tarantismo died out decades ago, but its music not only has survived but is thriving, both in Italy and on the international world music scene. In its homeland, there are hundreds of bands playing pizzica, in both rigorously traditional and updated styles. Pizzica is the main attraction at the annual La Notte della Taranta festival held in the Salento town of Melpignano. The event has become one of Europe's major music gatherings; the 2011 edition attracted a quarter-million attendees from the continent and beyond. Canzoniere Grecanico Salentino have performed at La Notte since its inception in 1998, and the band's leader, Mauro Durante, has co-led the festival's house band with Ludovico Einaudi.
Last fall, CSG embarked on their first North American tour, performing in 11 cities in the U.S. and Canada. I caught the tour's first gig, at Drom, an East Village venue. The band was electrifying, a whirlwind of rhythmic power and soulful melody. Their performance opened the New York Gypsy Festival, an annual conclave centered on Rom music that casts a wide net, encompassing Balkan brass bands and klezmer, as well as Turkish and Indian acts. Pizzica hasn't been in the mix of past festivals, but if it was unfamiliar to some at Drom, it hardly mattered. Under the spell of CGS, waiters beat their trays in time to the band's surging rhythms, bartenders danced as they served drinks ("I don't know what this music is, but it's fantastic!" mine exclaimed), and the patrons left their seats to pack the dance floor. How amazing, I thought, that the centuries-old music of a peasant folk ritual could work its magic in this setting, so distant in time and place from its origins.
Canzoniere Grecanico Salentino return to New York on January 8 to perform at GlobalFEST, an annual showcase for international music held at Webster Hall. I interviewed the band's leader Mauro Durante in late December via e-mail, before they left Italy. We talked about the band's history and current configuration, their experiences during the 2011 tour, and their approach to composing, recording, and performing pizzica.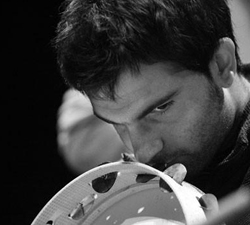 Mauro said he and his bandmates were ecstatic over the reception they received on the tour. "We will never forget the images of people dancing, singing and participating in all our performances in North America. Their great enthusiasm and interest gave us an incredible energy and conviction. Now we are very committed to being more present in the US and Canada."
He noted that although the recent tour was the band's first, an earlier incarnation of CGS performed in America in 2007, at Yale and Cornell universities. Those were the last shows with Mauro's father Daniele, a guitarist and singer, at the helm. The senior Durante founded CGS with his cousin, the late Rina Durante, a scholar of traditional Salentine music; Mauro's mother, Rossella Pinto, also was in the band. ("Yes," Mauro notes, "you can definitely say CGS is the band of la famiglia Durante!") Mauro, a conservatory-trained violinist and percussionist, joined in 1998, when he was fourteen years old.
"We remember our first American experience very well, everybody has good memories. The audience's welcome was really warm. That's one of the reasons why I worked so hard to arrange a new, really big tour of North America in 2011."
In 2007, Daniele Durante relinquished the leadership of CGS to his son. "My father told me about his idea to leave me the band some time before then, so I had time to think and prepare the new version of CGS. My decision was to totally refresh the band, involving the best young musicians from Salento, recreating the same situation of 1975, when the band was intellectually formed and led by Rina Durante, a well known writer and scholar." The current version comprises musicians who came on board since 2007, with the exception of vocalist Maria Mazzotta, 29, who joined in 2001, and guitarist Emanuele Licci, 40, who played in an earlier version of CGS when he was a teenager and who returned in late 2011.
The other members that Mauro recruited are guitarist Luca Tarantino, 42; diatonic accordionist Massimiliano Morabito, 37; percussionist and singer Giancarlo Paglialunga, 36; multi-instrumentalist Giulio Bianco, 26, and dancer Silvia Perrone, 29. Mauro is thrilled to be playing with these first-rate performers, and doesn't hesitate to sing their praises.

"Maria Mazzotta has been one of the trait d'union between the old and the new versions of CGS," he says. "She is one of the best singers in Puglia. She has studied ethnic and traditional vocal techniques, including Balkan, Rom and Bulgarian song. She even performed a duet with Bobby McFerrin when he came to Puglia."

"Luca Tarantino is one of the most complete musicians in Puglia. He plays classical guitar, chitarra battente [a four- or five-string guitar indigenous to southern Italy], lute, oud, and bass, and he has degrees in classical guitar, lute and electronic music as well. Besides that he helps me arrange some of the songs and to create our live performances."
"Giulio Bianco plays flutes, recorders, zampogna [Italian bagpipes], harmonica, bass and whatever instrument a song needs, since he is really an incredibly quick learner." Massimiliano Morabito "is a scholar of pizzica, a researcher and one of the most brilliant pizzica performers. He is considered the best traditional diatonic accordionist in Puglia. "

Giancarlo Paglialunga "is one of the best tambourine players and singers in Puglia," Mauro says. "His particular style is much connected to the roots of the traditional music from Salento. You can feel in his voice and playing the sound of the past, but modernity at the same time."

Emanuele Licci is the son of Roberto Licci, a member of the first edition of Canzoniere Grecanico Salentino. "Having been part of CGS when he was really young, about 18, he brings his experience and great qualities as a guitarist, bouzouki player and singer. He also is one of the main representatives of the griko or grecanico [Greek] tradition in Salento's music."

Silvia Perrone "started to dance as a child, attending pizzica fests and concerts, learning the moves and styles. She puts her own creativity and sensibility in the traditional dance, underlining its elegance, sensuality and intensity. She is the soloist dancer at La Notte della Taranta, representing pizzica dance at home and abroad."
Mauro says that he "was born in the extremely stimulating ambience of CGS, always very close to oral musical traditions. I learned very early to love this music and I still get excited when I listen to the old ethnographic recordings. I learned the tambourine with my father, with the other musicians that were part of CGS and by studying with such important teachers as Alfio Antico [a Sicilian percussionist], Arnaldo Vacca [who plays jazz as well as traditional Italian music] and Zohar Fresco [from Israel]. I've also studied classical violin at the conservatory. Those are two different approaches and training channels: the oral training in the traditional music and the methodical study in the classical music, also learning theory and composition. These two channels have been equally important, giving me the opportunity to work with various instruments and kinds of music."
On CGS's most recent album, Focu d'amore, there are selections that are not strictly pizzica; they use different rhythms and song forms. On a number of them, brass and reeds augment the core ensemble.
"The use of trumpets, horns or brass instruments is another important tradition in Southern Italy," Mauro observes. "Brass bands have always been part of all the religious feasts and processions. Focu d'amore is an album that put together many different types of Salentine music, to celebrate the 35th anniversary of CGS in 2010. That's why you find different instruments, arrangements and styles on that album. Our philosophy is always about putting our ideas and feelings in the music we perform, without being afraid of the border between traditional and not traditional."
Mauro is excited and proud "to be one of the most active representatives of the Salentine culture all over the world. Pizzica has this magic; people can naturally get it. In our concerts the audience gets captured by the energy of this music and led 'somewhere else.' We can't forget that this music originally had a therapeutic, exorcistic function, in the ritual of tarantismo."
"Pizzica can transcend linguistic and temporal borders. I hope that through the immediateness of pizzica, people can get closer to our whole culture, and discover the other treasures, like the places, the history, the food and the other beautiful traditions."
Under the leadership of regional president Nichi Vendola, and at a time when the national government has slashed spending on culture, Puglia promotes its cultural assets. Vendola's leftist administration, Mauro notes, created Puglia Sounds, "an agency that is committed to supporting artists in Puglia, providing funds and structures that meet various needs."
"Our North American tour last autumn and also our participation in the 2012 GlobalFEST were made possible by the support of Puglia Sounds, which is covering a big part of the travel expenses. Our regional government and Puglia Sounds firmly believe that culture and music create work, and can be a driver for the economy."
Performing music like pizzica, with its long established traditions and deep roots in local history, poses an artistic challenge: How does Canzoniere Grecanico Salentino remain faithful to the music's traditions and yet keep it fresh and up to date? How do they balance authenticity and creativity?
"This is always a tricky subject! Balancing authenticity and creativity is always hard, and in the end only one's personal taste can be the real judge. CGS has always been very respectful of the traditional repertoire. We always try not to betray the nature and the message of the songs by using overwhelming arrangements or interpretations. On the other hand, we truly and deeply believe that popular/folk/world music should answer some immediate, urgent need. That's why we write our own lyrics and compositions, speaking about the present days and performing with our own musical sensibilities. This music is important now, it's not just a postcard from the past, and we have to keep it fresh and alive."
Find our more about the ensemble on their web site: www.canzonieregrecanicosalentino.net

Buy the new CD at cdRoots