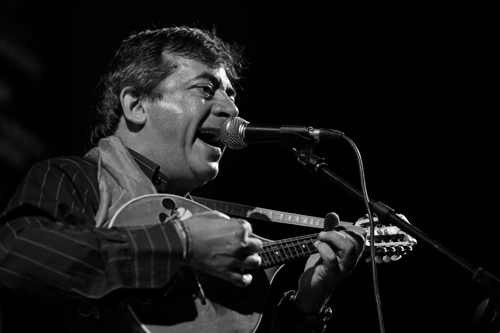 "My first real school was the barbershop."
George de Stefano talks with Mimmo Epifani.
Listen to "Pizzica mbriaca"
Salento, the sub-peninsula in Italy's Puglia region that forms the heel of the boot, is an agricultural area that produces much of the country's wheat and olive oil. But its cultural terrain is as fertile as its land, and especially its music scene. Salento is the birthplace of pizzica, which originally was the music of tarantismo, a cultural phenomenon steeped in pre-Christian mythology and peasant folk tradition. Bands such as Canzoniere Grecanico Salentino and Nidi d'Arac, who play updated pizzica and other folk-based Salentine styles, have become acclaimed and popular world music acts, performing internationally and winning rave reviews from critics.
Mimmo Epifani, a mandolinist and singer from the Salento town of San Vito dei Normanni, should be next in line for wider recognition. With three outstanding albums to his credit – Marannui (2004), Zucchini Flowers (2008), and his latest, Pe i ndo', released late in 2013, Epifani has established himself not only as a virtuoso instrumentalist but also as a leading interpreter – and re-interpreter -- of Salentine music.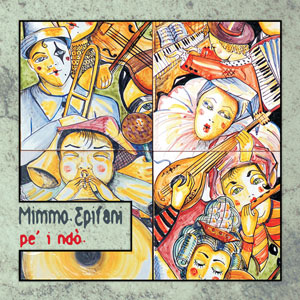 Early in his career, Epifani worked with some of Italy's leading folk and neo-roots artists, including Eugenio Bennato, with Bennato's band Musicanova and his Taranta Power project, and Media Etas, founded by the renowned Neapolitan musicologist and educator Roberto de Simone. In 2004, Epifani formed his band, the Epifani Barbers, the name a tribute to his first teacher, Constantino Vita, a barber and musician. After his apprenticeship in Vita's barbershop, Epifani earned a degree from the University of Padua, where he studied classical mandolin.
Mimmo Epifani's mastery of Salentine idioms is so thorough and confident that he can adapt influences from other musical cultures without compromising either his native traditions or those he incorporates. An artist who loves to collaborate and travel, he's played with musicians from varied backgrounds, both in Italy and abroad.
On Pe i ndo', he blends pizzica with Brazilian forrò, fado, klezmer and qawwali ("Scaminante," "Imu Vinuti"); "Pasquella" is a happy marriage of southern Italy and West Africa; "Mosse mosse mosse," in two different versions, is bhangra-pizzica, as is "Corre core." The instrumental "A Nott" is a showcase for Epifani's mandolin mastery and "Pizzica mbriaca" ("Drunken Pizzica"), the latter more straightforwardly Salentine, highlights his zesty singing, in an earthy style full of quavers and bleats.
Epifani's music always has had a great sense of humor, and "That's Tarantella" is a case in point. Epifani comes on like a dance instructor teaching a multilingual class about "this lovely dance from southern Italy." The instructions are in Italian, French, English, Spanish and German; it's a hoot to hear him count off "ein, zwei, drei, vier!" in stentorian German. But there's some bitter irony amid the comedy. The lovely dance also is a "musica maledetta" (cursed music); having originated in poor, rural southern Italy, it has been subjected to the same scorn and condescension as the people of the Mezzogiorno.
Shortly after the release of Pe i ndo', I interviewed Mimmo Epifani (via e-mail) about his latest album, his musical education, and his approach to pizzica and Salentine music. He said that the album's eponymous track, which he wrote with Sasà Flauto of the Epifani Barbers, takes its title from a poem by his late friend, Raffaele Marchetti, a lawyer from Giulianello, a small village on the outskirts of Rome. "He was a lover of music and folk traditions, a master of conviviality and popularizer of rural traditions," said Epifani. "The title means, 'to go where?' It is a sort of message for the youth of his land, urging them to stay to keep alive their traditions and not abandon them to seek their fortunes in the big cities."
Other than that, Epifani said he did not have a specific concept in mind for the album. "I felt the need with my musician friends, Giandomenico Caramia and Giuseppino Grassi, to make a new record different from the earlier ones. Then one night in Giulianello, talking to my friend Raffaele, I mentioned to him that I would like to record in Giulianello. He was very enthusiastic about the idea so we realized my desire."
The musicians playing on the record are the current Epifani Barbers, with, he noted, "the addition of Sasà Flauto, who has handled the arrangements, played guitars and other various traditional instruments and wrote some songs with us." Several singers and a percussionist from Giulianello join Epifani and the Barbers on a few tracks.
But as he was recording the album, both Giandomenico Caramia, the band's accordionist, and Raffaele Marchetti died, within six months of each other. "Giandomenico is on the CD, he does the rap on 'Mosse mosse mosse,'" Epifani said. "We have dedicated the album to both of them as a sign of eternal friendship and brotherhood."
Speaking of that track, what does its title signify?
"In Italian, 'mosse, mosse, mosse' is said of someone who throws tantrums, or who complains about this or that thing without thinking that in some countries of the world, some of our problems would be a dream. For example, we can afford to say in industrialized countries that I do not like this bread and instead I want another. In some countries less fortunate than ours, to have a piece of bread every day would be a dream, and this more or less is the sense of the words, 'mosse, mosse, mosse.' You don't lack for bread in the Mezzogiorno [southern Italy], and by the grace of God you have water, but still you do 'mosse mosse mosse.'"
(And with that I suddenly understood the meaning of an expression I had heard many times from family members when I was growing up. My Italian American parents and relatives often would criticize a whiny, complaining person by saying, "stop the mosses" or "enough mosses." I got that they were not talking about herbaceous plants, but the word puzzled me. Thanks, Mimmo, for clearing that up!)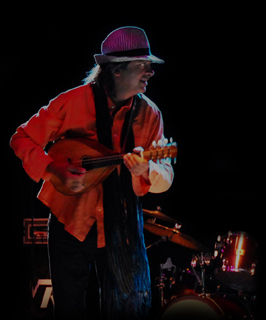 Epifani, though from Salento, noted that other parts of Puglia have their own musical traditions. "Puglia is a region geographically quite extended, from Santa Maria di Leuca up to above Foggia, with different styles of music and different dialects. Canzoniere Grecanico Salentino and Nidi d'Arac have spread in a really sublime way the traditional music of lower Salento. But equally important is the music from the Appennino Dauno area, in the province of Foggia. There is a town, Carpino, where they play a tarantella different from ours harmonically and melodically, less-known worldwide than Salentine pizzica, with much slower but beautiful rhythms."
Epifani and his Barbers have introduced their version of Salentine music to audiences beyond Puglia and Italy. "We play outside of Italy when they call us," he said. "We're often in Portugal where we often collaborate with Jose Barros da Silva, one of the greatest exponents of Lusitanian traditions and popular culture. And we have played throughout Europe and in the Mediterranean countries. In May 2013, we were in Mexico for two concerts at the festival in Aguas Calientes de San Marco -- a beautiful experience. It's a festival that lasts thirty days -- thirty days of live music. You play day and night, putting together little bands made up of musicians who don't know each other and sometimes speak different languages. But this is the power of music -- we made everyone dance to pizzica and our music, paying homage to them by performing some of their popular songs like "Noche de Ronda" and "Solamente una Vez," in our way, with excellent results."
Is there, I asked, a "correct" way to play traditional music?
"I don't think there is a correct or incorrect way to play traditional or other kinds of music," he replied. "There must be respect for what you play, and according to my point of view, everyone can use music to communicate. But certain types of instruments are sometimes the most easy to learn badly. It's not enough just to take a tambourine in hand, beat it and say that you're making traditional music. No, you have to understand how and why you're playing it. I spent a year just tuning the instruments of the other musicians. My teacher [Costantino Vita] used to take me with him when he went to play but did not let me play even though he knew that I knew how and was ready to perform. But first I had to learn how to tune the instruments and after that I could perform. Obviously tuning the instruments meant remembering the sounds of the barbershop because there were no electronic tuners or tuning fork -- everything was by ear."
"My teacher used to say there were musicians who could read music but did not know how to play it with expressiveness because they were so intent on following the score. Later, I studied classical mandolin at the Conservatory of Padua where I graduated. But my first real school was the barbershop."The tonsorial parlor of Costantino Vita was, said Epifani, "a great university." - George de Stefano
Further adventures:
Mimmo Epifani online
See a live performace
Nondas Kitsos' review of Marannui
George de Stefano's review of Zucchini Flowers
More RootsWorld interviews