S

o proclaimed Sicilian trumpeter, bandleader, and vocalist Roy Paci on Facebook in response to journalists asking why he writes and sings in the Sicilian language. Dialects—more accurately described as regional languages—need to be protected because, as Paolo Coluzzi observed in a 2009 article in the journal "Modern Italy," Italian is "a secure and vital language, spoken by almost the entire Italian population," but many of "the other varieties present in Italian territory are endangered…and are at risk of extinction."

Paci added that Marxist theorist Antonio Gramsci influenced his thinking about language. For Gramsci, it was inextricable from culture, politics, and society. In Gramsci's lifetime (he died in 1937), the "language question" was a critical issue for southern Italy, Sicily, and Sardinia, whose regional idioms were radically distinct from Tuscan, and especially Florentine, which became the basis for the Italian national language. Gramsci, whose native tongue was Sardinian, advocated a national idiom. But he did not want it imposed on Italians, nor did he believe that Italians should relinquish their regional languages to achieve national linguistic unity. "I agree very much with what Gramsci was saying about language and power," Paci said, "and how language can be an instrument of domination, but also resistance."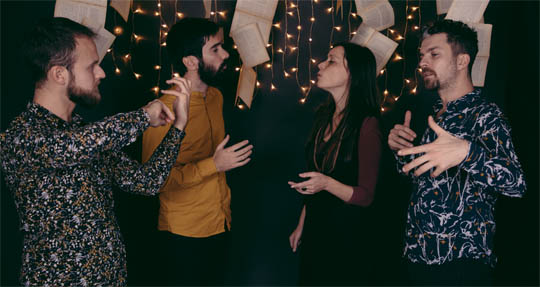 Paci's words could serve as a statement of purpose for Linguamadre. This new Italian group has released its first album, Il Canzoniere di Pasolini. All but one of the nine tracks have been adapted from among the 800 poems and traditional songs collected by the poet, novelist, and filmmaker Pier Paolo Pasolini and published in his 1955 collection, "Canzoniere Italiano" (Italian Songbook). Pasolini compiled them when Italy was on the threshold of an "economic boom" and when Italian was becoming the dominant language in a nation of regional languages. Collecting and publishing these poems and lyrics was a way to preserve traditional cultures and resist the homogenizing effects of industrial mass culture disseminated by national media.
Pasolini's songbook included only texts; he did not transcribe the music of the traditional songs. Linguamadre sets the poems and song lyrics to new music composed by the band, a quartet comprising the Duo Bottasso (the brothers Simone and Nicolò Bottasso, on diatonic accordion, flute, violin, and trumpet), from Piemonte; Elsa Martin (vocals, electronics), from Friuli; and multi-instrumentalist Davide Ambrogio (guitar, zampogna, lyra, percussion), from Calabria. On their debut album, recorded live in Rome late in 2019, Linguamadre eschews the folkloric, instead drawing on Italian folk music, jazz, and electronics to create contemporary arrangements that are as mysterious, unpredictable, and often as strange as the poems and lyrics themselves.
Following Pasolini, who traveled from the north to Sicily to collect the texts for "Canzoniere Italiano," Linguamadre's album comprises one selection each from the northern regions of Piemonte and the Veneto; one from Molise, in south-central Italy; two from Calabria, in Italy's deep south; three from Sicily, and one bi-regional selection that combines poems from Piemonte and Sicily.
The album begins with the one selection not taken from Pasolini's book, "Lingua e Dialettu" (Language and Dialect), a famous poem by Ignazio Buttitta from Sicily, recited by Davide Ambrogio with violin accompaniment by Nicolò Bottasso. One of its best-known lines—"A people becomes poor and servile when they are robbed of the language of their forbears"—links Gramsci and Pasolini, and also Paci, who has claimed Buttitta as a significant influence in his use of lu sicilianu (Sicilian) in his songwriting.
Buttitta likens Sicilian language and culture to a mother who "had breasts like fountains of milk from which everyone drank, but now they spit it out." Regardless of region, Italian culture was strongly masculist when Pasolini compiled Canzoniere Italiano while exalting women as mothers. Popular sayings such as "you only have one mother" and "the mama is always the mama" express a matrifocal concept of family. But it was one rooted in rural, agricultural life and its patriarchal system of production (and reproduction). As post-World War II Italy became increasingly industrial and peasants and agrarian laborers left the land for cities, the old patriarchal system began to break down. But even when they entered the workforce, women were still expected to be "la mamma," the nourishing heart and emotional center of la famiglia.
| | |
| --- | --- |
| | |
Linguamadre acknowledges the language-as-mother metaphor in its name—"mother tongue." But, in compiling their own songbook more than five decades after Pasolini's, they don't attempt to recreate what the songs would have sounded like then, since the world they sprang from is gone. "Nina Nana," from Venice, is a lullaby, but Nicolò Bottasso's trumpet and Elsa Martin's vocals and electronics make it a very hip one, for twenty-first-century bambini.
"Traguda!" with Davide Ambrogio singing lead and backed by guitar, violin, diatonic accordion, electronics, and zampogna (Southern Italian bagpipes), is ethereal and earthy, a captivating blend of traditional and exploratory. "Sur Capitani" (live video performance below) which combines a bizarre lyric about a dying military officer from Piemonte with a simple, rustic one about a Sicilian farm boy who cultivates fava beans, is reminiscent of the folk-jazz collaborations of saxophonist Gianluigi Trovesi and accordionist Gianni Coscia. Elsa Martin delivers a terrific vocal performance that reaches its apex toward the end of the song, as she sings to the rhythms of Southern Italian frame drums.
They set the lyrics of "Kadi Kadi," a lament in Arberesh, an Albanian-derived language once spoken in Molise and other southern regions, to Davide Ambrogio's flowing, rhythmically fluid arrangement. Ambrogio and Elsa Martin, backed by Nicolò Bottasso's trumpet, duet with deep but restrained emotion on the World War II partisan song "Boves." The lyrics recount the terror and violence inflicted by German forces on the titular Piemonte town, the Bottasso brothers' hometown: "Poor Boves, completely destroyed by the vile invading barbarians."
| | |
| --- | --- |
| | |
"E A La Vo," a Sicilian lullaby that compares a baby daughter to the branches of a pear tree, of an apricot tree, and of a laurel, features the beguiling close harmonies of Martin and Ambrogio. The last track, "Cosmogoya e altre miniminagghie siciliane," combines four Sicilian riddles, one about a boat, another a city with a castle, the third about a basket of flowers that open at night and close during the day, the fourth about an orange that stays with its owner despite being sent abroad. The track is the album's most potent expression of Linguamadre's virtuosity, versatility, and inventiveness. Each riddle gets its own musical treatment, with Martin and Ambrogio sharing vocals. He's vigorous and declamatory on the second riddle; she whispers, does some wordless improvisation, and soars over the bedrock of violin, guitar, and accordion. The riddles follow in sequence then double back, climaxing with Ambrogio reprising the second one. The track ends with him exclaiming, "beddu, beddu!" (beautiful).
Il Canzoniere di Pasolini evokes a lost world but does more than that: Linguamadre's interpretations of the poems and lyrics Pasolini lovingly collected and presented sixty-six years ago gives them new, vibrant life. Whether the group continues to explore "lingua e dialettu" or not, this reviewer looks forward to hearing whatever they do next.
Find the album online for download and streaming
Further Reading:
An interview with Rosa Paeda
Simone Bottasso's Music Through the Walls
Duo Bottasso
An interview with Massimo Ferrante
Photos: Valeria Taccone