"Esperanto is a dream, a wish, a utopia in which all humanity can communicate in a single language,
without linguistic dominance that inevitably involves the subjection, and not only cultural,
of people who are forced to express themselves in a language that is not their own."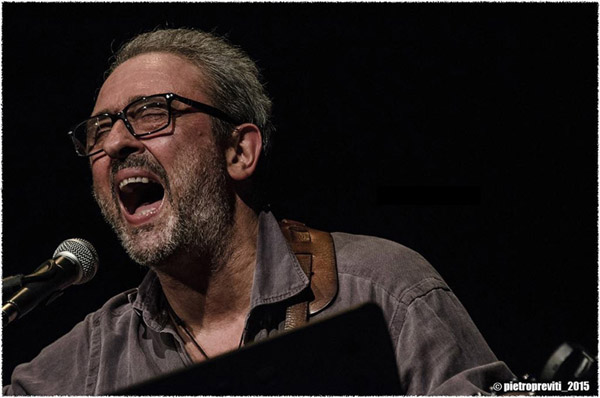 George de Stefano talks with Calabrian singer Massimo Ferrante.
In my Rootsworld review of Jamu, a 2009 album by Massimo Ferrante, I hailed the Calabrian musician as "a premier exponent of southern Italian folk and folk-derived music" who has "great taste, serious chops as a singer, guitarist, and arranger, and a compelling vision." His latest release, Populaj Kantoj, reaffirms that assessment. His fourth recording for the Felmay label since U Ciucciu (2005) comprises songs from four southern Italian regions, Sicily, Puglia, Campania, and his native Calabria. In addition to a half-dozen unattributed traditional songs, the album includes two original Ferrante compositions based on traditional materials ("'A Manu 'Mpettu," "Tarantella Scustumata"), others written by or associated with the beloved Sicilian singer Rosa Balistreri ("Sutta 'Npedi," "Ninna Nanna di La Guerra") and one each by the Pugliese singer-songwriter Matteo Salvatore and Cosimo Papandrea of the Calabrian band TaranProject.

"Arrivaru i Cammisi" (full song)

The song tells the story of the citizens revolt in Bronte, Sicily, in 1860.
As on his previous albums, Ferrante has picked songs that express a politics of resistance to the various powers that have exploited and oppressed southern Italians. Vincenzo Lo Iacono's ballad "Arrivaru i Cammisi" (The Redshirts Came) commemorates an 1860 peasant revolt in Sicily that was brutally suppressed by Girolamo Bixio, a general under Italy's so-called liberator, Garibaldi. "Non Lavoro pił...in FIAT" (I Don't Work at FIAT Anymore), with lyrics co-written by Angelo De Falco of the Neapolitan band E Zezi and by wives of FIAT auto workers, decries the plight of laid-off employees of the northern Italian manufacturer's plant in Pomigliano, outside Naples.

"Non Lavoro pił...in FIAT" (excerpt)

The text for "I Don't Work at FIAT Anymore" was written by the committee of "The Wives of the Fiat Workers of Pomigliano" along with Angelo de Falco and talks of the plight of workers who are maintained on a state unemployment allowance, but kept away from their fellow workers in a "department of confienment" owned by the company.
Populaj Kantoj - the title is Esperanto for "Popular Song" - differs from Ferrante's previous albums, not least in how it was made. Although Felmay released it, Ferrante covered all recording costs through a crowdfunding campaign. The album's sound also diverges somewhat from Ferrante's earlier work, relying more on acoustic instruments - some not native to southern Italy - than Jamu, which featured Lutte Berg's electric guitar. Populaj Kantoj also reunites Ferrante and Daniele Sepe, the intrepid Neapolitan multi-instrumentalist and composer with whom he first collaborated nearly twenty-five years ago.

"Stilla Chjara" (excerpt)

A song of a beautiful young girl who "dances with the wind like the waves of the sea."
I recently interviewed Ferrante about his new album via email. What follows is my translated and edited version of our "conversation." - George de Stefano
*
Crowdfunding has become a very common approach among musicians like you who are not "pop" or in the commercial mainstream. How long did it take to raise the funds to make your new album? Why did you go this route?
I decided to make Populaj Kantoj with crowdfunding because it has become, for someone like me who does not have a production company, very economically challenging to take on the costs of producing a CD, also considering that it is now increasingly difficult to sell records. I quickly met the target I set because given this type of funding mechanism, I kept it low to be sure I'd make it. At the end of the 60 days of the crowdfunding campaign, I had well over double the money I needed. A success!
What was the concept for Populaj Kantoj, and how is it different from your previous albums?
I put it together like a little anthology of popular songs from southern Italy, dividing the CD by regions - Calabria, Sicily, Puglia and Campania - trying to give voice to the subalterns, the dispossessed who have a hard time making it to the end of the month. But also to recover the memory of old and new realities that have, and continue to, darken our South, without overlooking love songs, the serenades and the tarantellas. Populaj Kantoj isn't a huge departure from my earlier albums U Ciucciu and Ricuordi but it does differ from Jamu, which was conceived and realized in a different way, with a team and using instruments like electric guitar and bass and drums that are usually not used in Italian folk music. On Populaj Kantoj, we returned to acoustic instruments, even some not of Italian origin, for example, the duduk [Armenian flute], zabumba [Brazilian bass drum], bouzouki, whistle, and the Indian bansuri [bamboo flute].
Why have you used Esperanto [with Italian translations], not only for the album's title but also for the CD notes?
Esperanto is a dream, a wish, a utopia in which all humanity can communicate in a single language, without linguistic dominance that inevitably involves the subjection, and not only cultural, of people who are forced to express themselves in a language that is not their own.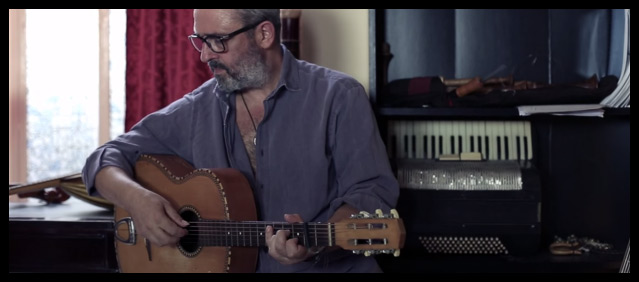 Your new album makes connections between the worlds of rural and agrarian Italy and the industrial proletariat, with songs like ""Sutta 'Npedi" and "Non lavoro pił ... in Fiat."
The connection between the rural and agrarian south and the industrial proletariat definitely exists in practice. Suffice it to say that FIAT's industrial plant in Pomigliano was established to the detriment of the farming areas and the farmers who were encouraged to become laborers (with fixed, stable salaries) even though many of them were forced to buy the "right to work," to pay money to get a job.
The right to a job today increasingly is uncertain - Fiat more and more does business abroad. And then you also have to consider my experience. I was born in a small rural and farming area in Joggi, in the province of Cosenza, and I lived for many years in Naples, where I was in contact with the reality of working class life. I often was involved with the FIAT autoworker union SLAI Cobas Pomigliano D'Arco and with the workers' band E Zezi, which was founded in 1974. So it's natural that my work addresses both realities. It makes me very happy when people feel [in my music] the connection between them.
Who are the musicians on Populaj Kantoj and how did you choose them?
The musicians on the album usually play with me live, like Francesco Manna on percussion and Francesco Di Cristofaro on horns and accordion. The former is an old acquaintance of mine, the latter someone I discovered about three years ago when I heard him play with Mescla, a group of friends with whom I have played concerts abroad. There's also Paolo Del Vecchio, a guitarist friend of mine who will take part in my upcoming concerts. He also helped out with the album's arrangements. There also are some old friends, like Myriam Lattanzio, Lutte Berg, Daniele Sepe, Antonello Paliotti, Lello Petrarca, and others. The choice of musicians is always guided by respect and affection, which obviously isn't just about friendship because they all are excellent musicians. I also relied on Piero De Asmundis, who besides being a good engineer, is also an outstanding keyboardist with whom I shared many stages when we played in Daniele Sepe's group.
A few years ago I read an interview in which Daniele Sepe said that it doesn't make sense to play the old, traditional southern Italian songs in a traditional manner because the rural southern Italian world that birthed those songs no longer exists. Do you agree, and how would you describe your approach to traditional or folk music?
I know Daniele's thinking very well and I find myself in agreement with what he says. It's not by chance that my work is not about the search for "ancient sounds." In fact, I like to use instruments that do not necessarily belong to southern Italian tradition, not only because the world that gave birth to that music no longer exists but also because I believe that using instruments from other cultures stirs the listener's curiosity and encourages sharing of knowledge as well as contact among peoples. I give a lot of importance to the songs' texts and I privilege the content, but without forgetting the pleasure-loving side of popular song. I try to instill my taste, my art, and my idea of beauty in all of my work.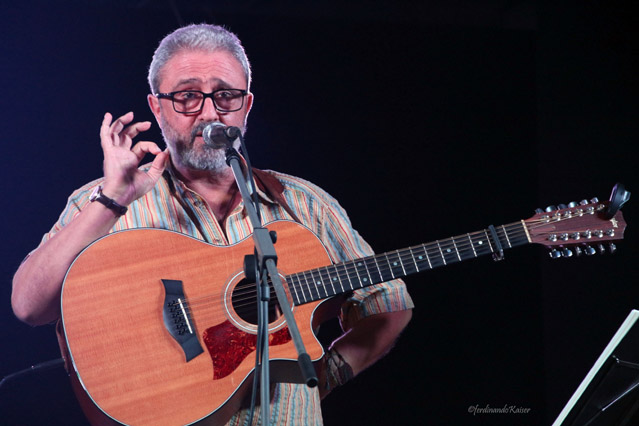 You have collaborated with Sepe for many years, playing on his albums and he on yours. But the two of you seem very different. A lot of his work is experimental, with a strong jazz component. How did you start working together and how would you describe your working arrangement?
I began to work with Sepe on his projects in 1991. I had founded, with Francesco Sansalone, Carlo Lella, and Gianni Carco, the group I Quattro Quatti: four singers and four guitars. The group's repertoire was broad, with blues, gospel, and both Italian singer-songwriter and folk material. Daniele was intrigued by the project and invited us to play on some tracks on his CD Vite Perdite. He then asked me if I wanted to join him on his summer tour but I had concerns about his offer because his music was very difficult for me - jazz, with odd time signatures. But then I thought that if he made me such an offer, he must have had a definite idea about my role in his group. So I decided to accept and I worked with him until 2005, when my first solo album U Ciucciu came out.
How do you publicize and promote your music in Italy, where there isn't much support, and a lot of obstacles?
This is something that I've never figured out. I've never had good management to support what I do, probably because the music I make is not what is in fashion in Italian folk or traditional music - tarantella, tammurriata, pizzica. And then you typically have this sort of trade-off: I organize a festival and I invite you; and you invite me to the festival you organize. But I don't organize any festivals.
Ciro Costabile of Musicaetcetera.it recently expressed interest in my work. He's involved with producing and promoting Italian music abroad. Perhaps one day I'll play in America. If I had more money, I'd hire a big press office. Maybe I'll put together another crowdfunding campaign for that.
Find the artist online: www.massimoferrante.it
© 2016 RootsWorld. No reproduction of any part of this page or its associated files is permitted without express written permission.