Music Through the Walls
Good Vibrations
Music Through the Walls is a community of musicians from Rotterdam. Their project - creating music videos with a house orchestra - is dedicated to the idea that by bringing musicians together from all walks of life, in their communities, they will create greater interaction, goodwill and exchange of ideas.
Music Through The Walls was created artists by Romain Bly, Simone Bottasso and Tijmen Veelenturf, who share a home in Rotterdam-West, in the Netherlands. Their production team includes Juliana Martina and Luis Mora Matus, Italian video makers Michele Coppari and Francesca Zannoni (Cosenude Mediaprojects), and French cinema mixer Pierre-Jean Labrusse.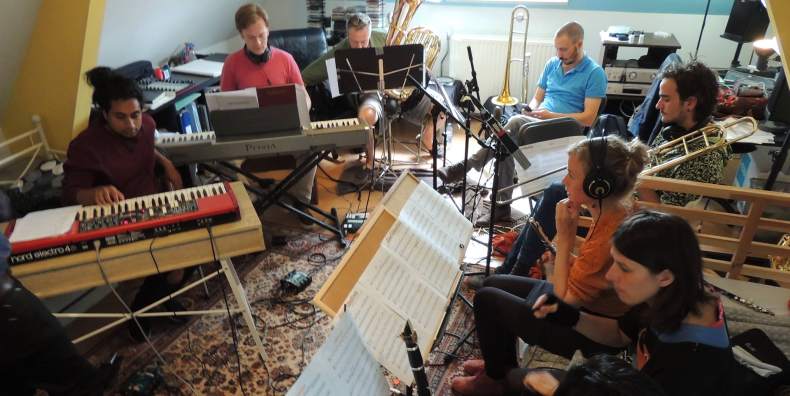 The first session took place in their home, rather than a studio, to allow for a more communal relationship to develop with the various musicians and production people. But, the work itself began much earlier. As Simone Bottasso told me:
It took 2 months of preparation. My housemates and I worked not only on writing the music but we also gathered together the orchestra, the equipment, food, coffee to survive and beers to have a huge party with everybody, that started right after the recording and ended at 5AM. We planned everything in a DIY way, discovering the way to do it by doing it. We managed to find all the equipment for cheap, great sound engineers, crazy videomakers, wonderful musicians, a great cook, photographer, and some friends helped us of course.

The arrangement was mainly written by the three of us. Luis, one of the drummers, and Jelle, the guitar player, helped us in some parts. Musicians brought their mics and some equipment. They arrived at 12:00 and at that time they received the parts. We recorded 6 takes between 15:00 and 17:00. The music was written in a way that was easily sight readable, but we raised the bar high.

Afterwards it took 1 month of work for mixing and video editing. All the work was voluntary, both from the the three of us, the video makers, the sound engineers, musicians and everything else.
So here is the end product of their work, in a film that lets you in on a little of the process as well as the music.
Music Through the Walls presents their interpretation of the Beach Boys "Good Vibrations."
They have more productions planned, including one that is already in the works with an original song by some members of MTTW.
Find out more about Music Through The Walls.