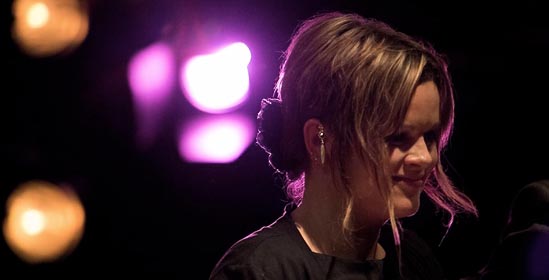 Annbjørg Lien
Drifting Like A Bird
Heilo (www.grappa.no)
Review by Greg Harness
| | | |
| --- | --- | --- |
| | | "Sailor's Waltz" |
In a piece I wrote a few years ago for RootsWorld, I referred to Annbjørg Lien as "an all-around musical treasure." Drifting Like A Bird makes me believe those words even more.

This Norwegian hardingfele and nyckelharpa player has put out a number of recordings performing traditional Nordic tunes, writing for string quartets, and combining electronic and ambient sounds with jazzy and bluesy musical ideas, often working with world musicians from multiple countries.

Drifting Like A Bird showcases Lien on hardingfele and nyckelharpa, as well as on lead and background vocals. She composed and arranged all of the music and penned most of the lyrics, written in both Norwegian and English. Together with her longtime musical partner Bjørn Ole Rasch and Roger Tallroth of Vasen fame, she leads a fine ensemble of Nordic musicians through a very entertaining set of tunes thematically centered around the sea.
| | | |
| --- | --- | --- |
| | | "Drifting Like A Bird" (excerpt) |
For those who love a good singalong (and really, who doesn't?), the title track is a good place to start. The chorus, sung in three-part harmony, contains the words of a letter received:
I have great desire to see you
Sail across the ocean wide
To the girl that I want to marry
I'm drifting like a bird
Then joyful hardingfele chimes in, portraying the happiness and anticipation of nearing the end of a voyage undertaken for all the right reasons.
| | | |
| --- | --- | --- |
| | | "Sette Segl" (excerpt) |
The Norwegian song "Sette Segl" (or "Setting Sail") is another beautifully sung piece with a wordless refrain, making it still ripe for a singalong even for those who do not speak Norwegian. This has the strongest arrangement on the record, with subtle accordion, cello, and guitar backing up the vocals.
"Sailor's Waltz" is my favorite track, combining all the best concepts of this album into one song. It starts with a beautiful tune played on hardingfele, moving gracefully into a minor key for the bridge, and back into major. Then comes Lien's strong voice singing, "Stormy sea afraid of not feeling safe at hand / I wouldn't care as long as you are there."
I'm not sure what else is needed to live up to the label 'all-around musical treasure,' but Annbjørg Lien is exactly that. - Greg Harness
Further Reading:
Khoom Loy
Spel (with Bukkene Bruse)
Aliens Alive / The Lovliest Rose (with Bukkene Bruse)
2010 Interview
Drifting Like A Bird is available from cdRoots
Your purchase helps to support RootsWorld.
© 2016 RootsWorld. No reproduction of any part of this page or its associated files is permitted without express written permission.