More Than A Great Hardanger Fiddler
Greg Harness talks with Norwegian musician Annbjørg Lien and reviews some of her recent recordings.
Annbjørg Lien has been recording great roots music for the past 25 years, which is especially impressive when one realizes she is still in her 30s. She is primarily a Hardanger fiddle player but also plays violin and nyckelharpa and has a beautiful voice. In addition to her solo work she is a member of Bukkene Bruse, a quartet that plays traditional Norwegian music and served as the official musicians of the 1994 Olympics in Lillehammer. She also played with the fiddling supergroup The String Sisters.
Since the mid-1980s she has put out a number of solid records which run the gamut of Norwegian traditional and electronic music. From the more traditional Felefeber to the mixture of ambient tones and traditional lilt on Prisme to the blend of heavy synths and Sami joik singing of Baba Yaga, Lien has been shown her considerable skills as a fiddler and nyckelharpist.
A few years ago, Lien received a commission to write original music for the annual Telemark Festival held in Bø, Norway. "They gave me blank sheets," she told me in a recent interview. "The start was to put together a folk string quartet, which has been my wish to try out for a long time. I wanted it to be international, including strong musicians from different cultures and traditions." Formed from musicians she wanted work with, the resulting quartet has a distinctively northern sound with a few twists. Lien herself played both Hardanger fiddle and violin. The noted American roots musician Bruce Molsky brought his violin, then doubled on guitar and sang. Mikael Marin of the Swedish folk group Väsen played viola, and the cellist was Christine Hanson from Scotland via Edmonton. Norway's go-to folk singer Kirsten Bråten Berg added another voice to the mix.
This group put out a recording in 2008 entitled Waltz With Me, a fascinating mix of folk and classical sounds.
"Home East" is a contemporary string quartet work that would fit well in the Kronos Quartet repertoire. "Masques" is another string quartet work that explores the colors and timbres that the ensemble can produce, placed in a lyrical and free-flowing setting. For good old-fashioned foot tapping, the title track works really well; you may be tempted to clear a space in your living room to waltz with your sweetheart.
On the folkier side of this recording, the lovely ballad "The Fiddle" showcases the stringband side of this group with Molsky, who switches to guitar, singing a gorgeous duet with Berg in both English and Norwegian. There can also be some rhythmic quirkiness in Lien's compositions, shown by the string quartet on "Walking Strings" and by the folkier "Dancing The Years All Away," another vocal duet by Berg and Molsky.
Waltz With Me is a great record all around with wonderful compositions and arrangements performed by a band that is willing to go where Lien asks them to go.
In 2009, Lien released a duo record, Come Home, with Bukkene Bruse bandmate Bjørn Ole Rasch.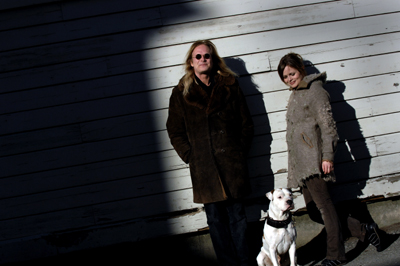 Photo: Erik Holand

Rasch is known primarily for his work on organ and synthesizers, but for this recording he switched to a harmonium which was given to him by Halvard Kvåle, the Hardanger fiddler and founder of Heilo Records.

This CD features compositions by Lien and Rasch along with some traditional Norwegian folk music and a pair of tunes by one of Norway's best Hardanger fiddle players from the last century, Hans W. Brimi. These are great tunes and great arrangements, and the recording is refreshing. Lien said the duo worked to create space in the music which "gave place for details and variations in tone." The creaking of the harmonium is built into the sound adding a real presence, a right-here feel to these songs.

The reworking of "The Old Car" from the Waltz With Me record is especially impressive. It's less quirky here, more lilting. Lien and Rasch also add a new arrangement of "January" which they recorded on Lien's 2000 outing, Baba Yaga, this time without the synths. "We toured with this setting," Lien said, "and there were requests from the audience to play 'January' and 'Old Car' live. So we included them on the record." These two pieces demonstrate how good Lien's compositional and arranging skills are. Both feel like they were written with fiddle and harmonium in mind, and yet they worked perfectly in the earlier contexts too.

On the title track we hear Lien singing a beautiful traditional ballad. Her voice is just right for this setting. Come Home explores a smaller range of styles than Waltz With Me does, but the execution is spot on.

We get to hear more of Lien's singing on her 2010 release Alle Vegne, a duet recording with Sondre Bratland.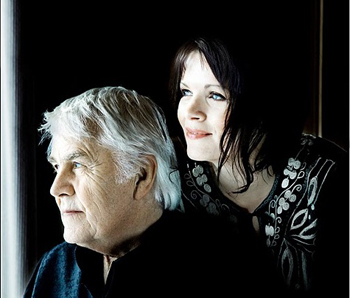 Photo: Barbro Steinde

Lien describes Bratland as Norway's leading male folk singer. "He is 70 years old, and has been singing all his life, mainly religious folk songs." Bratland is another musician Lien had wanted to record with. "We have been playing together for many years, working with some of the oldest material we know about." Most of the songs on this collection feature Bratland's singing with Lien accompanying on Hardanger fiddle or nyckelharpa, producing a sparse, beautiful record. "There is a old tradition in Norway to sing and play at the same time, like talking together," Lien told me. "This is our inspiration when working together." Both musicians have solo space which shows the precision and clarity both these artists bring to their craft. All the pieces here were arranged by Lien, and again they are very good arrangements.

While Alle Vegne does not have emotional range of Come Home or Waltz With Me, each song itself is well-crafted, and well-performed. It's a good record and listeners who are expanding their Annbjørg Lien library should definitely have a copy. Listeners for whom Annbjørg Lien is new might do better to start with Come Home.

It's been clear for years that Annbjørg Lien is one of the great Hardanger fiddle players. Looking at her strictly as a fiddler may have pushed appreciation for her compositional and arranging skills into the background. This set of three recordings should help remedy that perception and help us all pay more attention to her exceptional skills as a composer and arranger. Annbjørg Lien is an all-around musical treasure. - Greg Harness

Visit the artist's web site for more info and tour dates.

CDs available from cdRoots

© 2010 RootsWorld. No reproduction of any part of this page or its associated files is permitted without express written permission.
Annbjørg Lien
Waltz With Me
Grappa, Norway / Compass, US

Annbjørg Lien & Bjørn Ole Rasch
Come Home
Grappa (www.grappa.no)

Sondre Bratland & Annbjørg Lien
Alle Vegne
Kirkelig Kulturverksted (www.kkv.no)