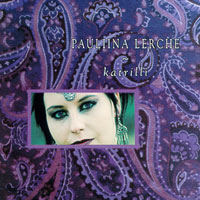 Bukkene Bruse
The Loveliest Rose
NorthSide, US (www.noside.com) / Grappa, Norway
Annbjørg Lien
Aliens Alive
NorthSide, US / Grappa, Norway
Sinikka Langeland
Runoja
Heilo (www.grappa.no)
Paulina Lerche
Katrilli
Ruote Records (www.paulinalerche.com)
These four releases have little connecting them outside of their Scandinavian origins and the fact that they are all, in their own unique ways, good listening.
Bukkene Bruse's Christmas album is graceful and reverent, with all of the warmth of the season intact. Recorded in Oslo's Sofienburg Church, The Loveliest Rose has a spacious, echoey quality that gives the fiddles and flutes added resonance. The church's organ is put to majestic but not overbearing use on several tracks. Most of the songs center around Arve Moen Bergset's warm tenor voice. Operatic yet accessible, it floats over the filigrees that the instrumentalists create. A highlight is flutist Steinar Ofsdal's composition "Christmas Gangar (Romjulsgangar)." Its moody tonality and gently swaying rhythm perfectly convey the quiet time between Christmas and the New Year. On "My Heart is With Jesus (Mit Hjerte Altid Vanker)" their quote of Ravel's "Le tombeau de Couperin" gives a prayerful effect. This lovely release gives a fresh yet timeless way of experiencing the holidays.
Stepping out of Bukkene Bruse and into the spotlight of the live stage is hardanger fiddler Annbjørg Lien. Recorded live in 2001, Aliens Alive runs the gamut of Lien's genius, from her impeccably phrased and ornamented solo fiddling ("The Rose") to her Keith Emerson-inspired classical/rock anthems (the title track.) Walls of synth-soaked sound are interspersed with folky, acoustic larks. She is backed by guitarists Roger Tallroth (of Väsen) and Rolf Kristensen, percussionists Rune Arnesen and Per Hillestad, and Bukkene Bruse comrade Bjørn Ole Rasch on keyboards. The band handles the massive, complex arrangements cleanly and with a muscular energy. The fourteen-minute-plus "Origins" takes the listener on a musical journey to the dawn of creation, complete with sub-bass vocals by Ailo Gaup. They come down off their lofty perch to do a humorous little rendition of Grieg's "Morning Song" with Lien playing the melody on just the sympathetic strings with Hans Frederick Jacobsen vocally filling in the missing notes. The whole thing is nicely varied, well paced, and powerfully played.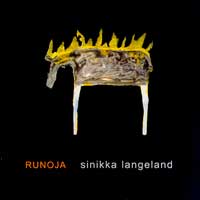 Finnish/Norwegian singer and kantele player Sinikka Langeland sets Finnish rune songs to melodies derived from a variety of sources in Runoja. The runes originated in Finland, then were brought to the Finnskogen area of Norway in the 1600's. Langeland gives them a jazzy setting, backed by Bjørn Kjellemyr on bass, Pål Thowsen on drums, and Arve Henriksen on trumpet. Her voice has a wide range and she varies the tone quality to suit the arrangement. At times her voice has the playful quirkiness of Iva Bittova, at other times the earth mother keening of Grace Slick. On "Voi Veikkonen" she uses a breathless quality that reflects the fast pace of the song. The melodies tend toward the angular, but occasionally (e.g., "Ulverune") she dispenses with melody altogether, singing in a monotone over a kantele drone. On "Pakeneva," she recites the poetry over a cool jazz backdrop. Moody and atmospheric, Runoja is an intriguing introduction to an obscure tradition.
Paulina Lerche takes the kantele and accordion in more of a world-beat direction on Katrilli. Some of the tracks here are straight-up stadium rock ("Vot I Kaalina") a la Lien; some are downright folkloric ("Rapakatrilli," with its oom-pah dance beats). Toward the end of the CD, she brings in sarangi, tabla, and tanpura for a cross-cultural mix that works very well indeed. On "Katrilli Kintaan Kylästä," the kantele gives a glittering, almost sitar-like overlay to Sarathi Chatterjee's vocals. The same line-up appears but with heavy dance beats and scratching on "Dehli.katrilli." This time Lerche pumps a meaty accordion melody into the mix. On the final track, a dance reworking of "Katrilli Kintaan Kylästä," the electronics are little farty, which distracts from an otherwise fine mix. Overall, Katrilli is a groovy listen, bringing an exciting new artist to the fore. - Peggy Latkovich
All four recordings are available from cdRoots
Bukkene Bruse
Annbj�rg Lien
Sinikka Langeland
Paulina Lerche