There is a moment at the end of "Chon Chon Kijimuna," from Takashi Hirayasu and Bob Brozman's new release, Jin Jin (Firefly), when a crow squawks. Both musicians and the recording crew laugh heartily. This connection with the natural world of the tiny Okinawan island of Taketomi, where the album was recorded, characterizes the relaxed openness of the project. Jin Jin brings together Okinawan sanshin innovator Hirayasu and American steel guitar whiz Brozman in a collection of traditional Okinawan music with a bluesy twist.
The album came together in a whirlwind four-day recording session under some very rustic conditions. A one-room shack served as living room, bedroom, kitchen, and recording studio. Ten people, including the musicians, producer, engineer, photographers, journalists, and cooks maneuvered around the tiny space. Recording equipment, consisting of not much more than a few mikes and stands, was shipped in from Tokyo.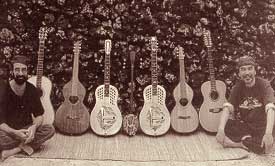 Hirayasu and Brozman had met only moments before at the airport, and neither was sure if this unusual project would work. The two had an instant rapport that was unhampered by language barriers. "An interpreter was provided for us, though Takashi's English isn't too bad." says Brozman, "After awhile we discovered that we needed the interpreter's services less and less." Brozman studies the body language of the person he's working with to pick up cues. "How a person breathes when he's about to start a phrase, how his muscles move," all provide important information, he says.
Brozman has made a career of collaborating with musicians from all over the world, including Indian slide guitar player Debashish Bhattacharya, West African kora player Djeli Moussa Diawara, and Rene Lacaille, an accordionist from the island of Reunion, in the Indian Ocean. He has been playing guitar for forty of his forty-six years, and was smitten by the sound of the National steel guitar at age fourteen. He went on to study ethnomusicology at Washington University, and has since published extensively on the subject of historical Hawaiian music. In 1993, his tome The History and Artistry of National Resonator Instrumentswas published. Over the last twenty years, he has released about as many albums and toured with many of the aforementioned musicians. When I spoke to him on the phone from his home in Northern California, he was on his way out the door for a weeklong tour of Japan with blues guitarist Woody Mann, followed by a six-week tour around the Indian Ocean with Lacaille and other musicians of the area. Brozman's website sign-off, "Guess I'll get some sleep in the next life. . . ." has never sounded so apt.
Hirayasu, 48, is a pioneer in mixing traditional Okinawan sounds with rock. He played guitar in rock, blues, and R& B bands at American military bases around Okinawa. Some of his earliest influences were 60's surf music and Motown. In his early 20's, he took up the sanshin, a three-stringed banjo-type instrument with a snakeskin head. He joined Shokichi Kina's influential band Champloose in the 1970's and they began experimenting with combining shima-uta, Okinawan traditional music with rock. Ry Cooder collaborated with Champloose in 1980 for the release Bloodline. Feeling restless with the group experience, Hirayasu spent the 90's focusing on his solo career, releasing Kariyusu No Tsuki, an album that reflected the multiple facets of his musical interests. When the prospect of working with Brozman arose, Hirayasu was enthusiastic about it.
"I like to spend time with a person before I work with him – eat with him, live with him, really get to know him," says Brozman. With Hirayasu, this all took place in the four days they spent on the island. "We slept on tatami mats, got up at around 5:00 a.m. each day, had breakfast, and then stepped over to the mikes and began recording," says Brozman. Logistics did not permit them to get together before the recording session, so all of the musical arrangements grew out of the time spent in their simple digs. This lack of frills is reflected in the music. Overdubbing was kept to a minimum, with at most one pass. The result is an open, guileless collection of songs, some delivered with heart-tugging simplicity, others (such as the title track) with the high energy of rocking acoustic guitar jams. Often the sound borders on minimalist, with just two instruments and Hirayasu's earthy voice.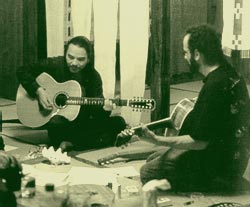 "I try to meet other artists at least three-quarters of the way to their music," says Brozman. He believes that what makes steel guitar so compatible with so many disparate types of music is that it closely resembles the human voice. He adheres to the "universal language" view of music: "Master musicianship knows no borders; we are all from the country of music."
Brozman and Hirayasu found a common ground in Hawaiian and Okinawan traditional music. "Both are in major keys, but sound sad," says Brozman. "The music is very text-driven. Western music is often a very strict four beats to the measure. Hawaiian and Okinawan music is more flexible." Both also share a longtime love of playing the blues.
Though much of the music on Jin Jin could be characterized as children's music, Brozman cautions against using that label. "If someone told me this was children's music, I wouldn't be interested," he says, "These are children's songs only in that they are songs that adults sing to children." The album includes lullabies, dances, teaching songs, and even scolding songs. Most of them are songs that Hirayasu learned as a child, and have never been recorded before. Though they are traditional, "they have been adapted a great deal from tradition," says Brozman, "they have been heavily reworked, except for the lyrics." Hirayasu's sanshin playing also defies tradition. "He does a lot of harmonic things that are unusual for Okinawan music," Brozman says.
A wide range of stringed instruments is brought into the mix, from Santa Cruz baritone guitar to charango. "Both Hirayasu and I love the idea of modifying our traditional instruments to expand the harmonic and timbral possibilities," Brozman says. "Each of us has designed and built sanshins, Hawaiian guitars, and regular guitars with longer-than-normal and shorter-than-normal neck, to facilitate higher and lower tunings than normal. This gives us more orchestral results when we combine instruments in live and recorded music."
A deep, fruitful friendship has arisen between Hirayasu and Brozman. They enjoyed working on Jin Jin so much that they worked on a second collaboration. "We just finished up our second CD project together, this time recorded at my place in Northern California. This CD expands what we've done, by including more influences from various world musics, some of which Hirayasu was exposed to with me last summer, when we did a huge tour with a troupe of up to eighteen musicians from ten different countries. We also invited David Hidalgo from Los Lobos on these sessions, to add his soulful playing to an already great mix of styles, from Okinawan ska, blues swing, Afro-Mexican 6/8, and more." However, the crow from Jin Jin was not invited to sit in on this one. - Peggy Latkovich (March, 2000)