Features

It may be difficult for a contemporary westerner approaching mid-20th century Congolese rumba for the first time to have any real understanding of how this music sent rhythmic shock waves up and down the African continent in the 1950s and 60s. It might take a few spins to recognize that the grooves held so firmly in check under what seem like such polite, non-threatening vocal harmonies are no less radical for their rigidity. And of course the electric guitar bands, whose sensual, harmonious, dance band music managed to contain all the hopes that nothing else this resource-rich hunk of Central Africa seemed able to hold onto. It was also a product of a burgeoning pre-independence Congolese middle class, and at the music's forefront was vocalist/bandleader/songwriter Joseph Kabasele, aka Le Grand Kallé. Bruce Miller looks into His Life, His Music and the creation of modern Congolese pop.
---

Catrin Finch and Seckou Keita connect two ancient musical traditions. Finch is an accomplished concert harpist who grew up on in a small village near Aberaeron on the shores of Cardigan Bay in Wales. Keita grew up in southern Senegal in the town of Ziguinchor on the Casamance River. They bring their distinctly different traditions together seamlessly on Clychau Dibon. Alex Brown considers the possibilities.
---

Film maker Michal Shapiro writes, "As far as I know, the collaboration between Seckou Keita and Catrin Finch is the first one to pair the kora with another harp. And upon hearing this duet, one actually wonders what took so long." Watch and listen to a performance by the duo.
---

Most fans of African music are far more familiar with this simple logo than with the man behind it. But it can safely be said that without the man behind Syllart, the world of music would have been a far leaner, less interesting place. On December 30, 2013, Ibrahima Sylla died, leaving behind a discography and a legacy few in the music world could match. Christina Roden offers a personal memoir of the man who brought Salif Keita, Africando and so many, many more artists to the world at large.
---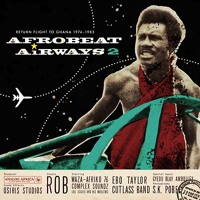 The international appreciation for Afrobeat continues to grow as more and more of it is unearthed. For most, Afrobeat is synonymous with Fela Kuti and 1970s Nigeria, but the roots of Afrobeat rest in highlife, which originated in Ghana at the turn of the 20th century. Fela was playing highlife jazz when Sierra Leonean Geraldo Pino travelled to Nigeria in the 1960s and sent shockwaves across the dancefloors of Lagos. With his infectious style of heavy, James Brown influenced soul music, Pino had crowds at his mercy. Fela witnessed Pino's performance and marvelled at his energetic sound as well as the professional equipment the band had. The soul driven funk blend Fela heard that night became the popular sound in Ghana, where the nightclubs were packed night after night.
Alex Brown explores the golden years of Afrobeat in Ghana in Afrobeat Airways 2: Return Flight to Ghana 1974-1983. Grab a boarding pass.
---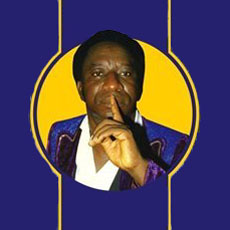 This month we lost two great men from two different realms, both of whom did much to change the world's they lived in. Now that we have had time to mourn and miss Nelson Mandela, I want to go back, to remind you of one of the great men of music we lost just a few weeks ago, and give him his due. Ken Braun remembers Tabu Ley Rochereau, the voice of lightness.
---
Other CDs available from cdRoots