"In African music there is room for everyone" - Youssou N'Dour
Youssou N'Dour
and
Salif Keita
show that the modern world doesn't have to leave the old world behind.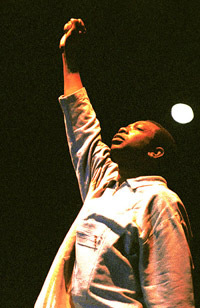 Just as rock 'n' roll modernized American roots music and introduced it to the rest of the world, other cultures pulling out their old tunes and instruments and make them shine, as well.
Recent releases from Youssou N'Dour of Senegal and Salif Keita of Mali show how African musicians have created popular music that is sophisticated as any in the world, but is also unmistakeably part of their culture. This has been possible because in many African countries traditional music is still vital and everpresent, an "everyday national treasure," as N'Dour called it.
After he rose to the top of Senegal's music scene in the 1970s, N'Dour came to world attention, in part due to his work with western stars such as Peter Gabriel and Neneh Cherry.
Talking about his wonderful new album, Nothing's in Vain (Nonesuch), N'Dour said, "I'm a modernizer, I can't deny that, but a modernizer filled with respect for the larger musical culture that has nourished my own singing, writing and thinking."
The beautifully produced album is built on a foundation of percolating rhythms, but it is sweet and tuneful. N'Dour's singing is by turns powerful and gentle, proving that the human voice is still the world's most expressive musical instrument. The happy tumble of songs like "C'est L'Amour" seems to be Africa's best bet at snagging mainstream U.S. listeners.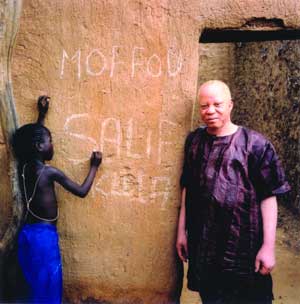 Keita also rose to international prominence through the 1980s and 1990s, building his success on an electrified version of west African music. Though the son of an aristocratic family, Keita grew up as an outsider, having been born an albino. Despite his family's status, he was shunned -- even by his own father. As tragic as that was, it seems to have led him to becoming an artist, and then to look outside Mali for influences and audiences.
Something in Keita, however, kept him from becoming a bitter emigre. Even though he eventually moved to France, he continued to embrace the homeland that mistreated him. Those ties have never been clearer than on his new album, Moffou (Universal).
The moffou is a simple, handmade flute used by Malian farmers to chase away birds who might otherwise eat their crops. Keita chose it as a name for his album and for the club he recently opened in Bamako to express his desire to celebrate the humble origins of his musical life. The album is mostly acoustic, sounding traditional, but also contemporary because of its pop-oriented arrangements.
"It was time for me to take a break" from electronic music, said Keita, to create an album "that feels like back home."
It is hard to imagine that Keita was once a pariah given the adulation that he was given at his gig at Irving Plaza in Manhattan in the autumn of 2002. He reigned over his tight band with ease and though he is not given to much movement on stage, his slightly husky tenor filled the auditorium.
His 11-piece band matter-of-factly juxtaposed an electric keyboard and a lute-like n'goni; it had a rhythm section that included electric bass as well as a calebasse, which looks like a big wooden bowl turned upside down.
It's a sign of how things have changed that putting African and western instruments on equal footing is accepted so easily. Keita and N'Dour are showing that the modern world doesn't have to leave behind the old.
"In African music there is room for everyone," N'Dour said. "I see no reason for gloom and doom about the future of traditional music. And I'd like to add this: We, the creators of the hybrid forms, we the 'Afro-pop' stars, actually open many doors for traditional music by promoting an awareness of Africa's musical riches." - Marty Lipp
CDs available at cdroots.com
Youssou N'Dour
Salif Keita
Other, harder-to-find recordings by these artists are available from cdRoots