Sanementereng
Learning and teaching the beat of the djembe in Gambia

Ritva Lundberg visits Boss and Alieu Joof in Serrekunda
The history of djembe drum in The Gambia in West Africa is short; it is not part of the indigenous musical history. But in the early 1980's, a visiting ballet ensemble from Guinea, Fourret Sacré (sacred forest), rented a compound in the quarters of Latrikunda German, in Gambia's biggest town, Serrekunda. The compound owner was Bubacarr Sillah, a djembe and doundoun player now living in UK. They brought the music of the djembe with them and created a small musical revolution here.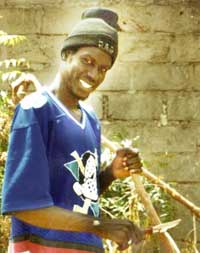 Alieu

The young teenaged brothers, Boss and Alieu Joof lived in the next compound with their parents and many sisters and brothers. They were not from a musical family; their father was a house builder and bricklayer. But the boys heard drumming all over the community and loved it. The kids in the neighborhood amused themselves by playing and having fun in a near-by forest behind a football field (where now stands the Alliance Franco-Gambienne, a French culture center).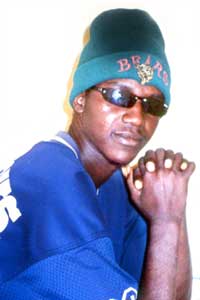 Boss

The boys can especially remember from the early boyhood years, how they could sneak into the kitchen and borrow some pots, buckets and pans from their mothers and pretend they were playing drums in the forest, which would upset their mothers.

Years later, when they had convinced their parents that they really wanted to become serious drummers, they were given professional sabar and ashiko drums. They advanced very quickly by listening to "big boys" and imitating all the music they heard, formed a drum group with other boys on the street. They were often invited to perform at family celebrations in the neighborhood, playing Wolof and Ashiko rhythms that were popular at the time.

Every day the boys heard the Fourret Sacré ensemble play Guinean rhythms on djembes and doundouns and began to copy them. In the Guinean's compound there was no big tree to give them shade during the hot afternoon hours, so they very often came to the Joof's to rest and spend the siesta under the large mango tree. When they heard Boss and Alieu play the djembe rhythms on their ashikos, the Guineans were amazed that they played so well. In 1984, the master drummers Karim Dollar, Morli Camara and Abou Kempo started to guide these young Gambian boys in the secrets of djembe, doundoun and dance. Fourret Sacré more or less adopted Boss (then 14 years old) and Alieu (16) and made them their students.

In 1988 they met a great Guinean dancer, Pele Camara. He was the leader of Ballet Bougarabou in Senegal, who had traveled to the US to teach dance. On returning to Africa, Pele Camara founded African Bougarabou, a drum and dance group in The Gambia. Morli Camara from Fourret Sacré was their first solo drummer. When Morli moved to Casamance four years later, Boss Joof, who had by then become a master drummer, replaced him. He also worked with Thomas Camara and his group Alalake, and continued to perform with Fourret Sacré and other groups.

In 1992 Boss founded his own group, Sanementereng. Naturally he included the boys from the street, his childhood drumming and dancing friends. The Guinean dancer Dekoteh (Yusupha Camara) joined them and trained the members in dance and choreography.

At the same time the old friend Pele Camara in Senegal succeeded in getting a contract in Switzerland for his group Ballet Bougarabou. He remembered Boss as an excellent solo drummer and sent for him to come and practice with them, in order to join the tour in Europe. Boss traveled to Mbour on the Atlantic coast near Dakar and spent 6 months there playing, dancing, training and performing in hotels with the Ballet. On the day they were to leave for Europe, the unlucky Boss was very sick with malaria, and he could not go. Disappointed, he returned to Gambia after recovering from the disease and continued to develop his own group Sanementereng.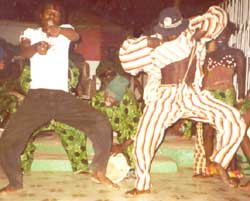 Guest dancers on stage in Bendula bar, Boss in the middle

There is a great strength in Sanementereng. Their skills, deep devotion, feeling and perfect timing on stage is a measure of their close relationship: the members have been close friends since their early childhood; they grew up together and started drumming, singing and dancing when they were small.

The founders, Boss and Alieu Joof, were trained early by great Guinean drummers. Boss and Alieu still compose, drum and sing together every single day. They form the natural heart of Sanementereng. To be able to drum and sing simultaneously is not very common, and that they can pass these skills on to their membership is even more remarkable.

The African way of learning is: you listen to the rhythms since the day you are born, so when you first touch the drum as child, you already know the rhythms and know how it SHOULD sound. Nobody ever has to explain anything to you, you just copy what you hear. That is why many African drum teachers do not explain enough and do not go methodically forward in teaching. Boss's method of teaching djembe rhythms is more detailed and suits many American and European students, who are welcome to come study any time of the year.

The musicians of Sanementereng have a deep emotional connection and the profound communication between the solo drum and the main dancers is inspiring. It inspires the listeners, driving them to want to dance and drum themselves. - Ritva Lundberg
---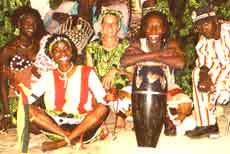 The band with many guest musicians, including two European students, after a gig at Bendula Bar in Kotu hotel district.
The original members of Sanementereng were:
Drummers: Boss Joof, Alieu Joof, Amadou Sarr, Yusupha Kurubally, Ousman Sanneh, Sulay Secka.
Dancers: Dekoteh, Essa Mankabu, Assan Nying, Djeynaba Sanyang, Eff Mattah, Yassin Jobe, Sona Camara.
Today many of these drummers and dancers have moved to other groups, or started working with something else.
Main drummers today: Boss Joof, Alieu Joof, Captain Joof, Sanna Camara.
Dancers today: Essa Mankabu, Mbye Joof, Chancharang, Amie Camara, Matty Koneh, Nyima Jatty.
Several guest drummers and dancers join the group on most gigs.
Contacts:
Boss Joof, c/o Amie Konteh, P.O.Box 472, Banjul, The Gambia, West Africa.
Tel. +220- 37 46 55
Web site www.go.to/sanementereng
Promotor in USA:
Michael Bennett
P.O.Box 825, SW Harbour, Maine 04679
Tel. 207-244 57 98 [email protected]

The author: Ritva Lundberg, Sweden / [email protected]
Photos and Audio Recordings: Börje Lundberg