Close Enough
Folk, Blues, Roots, Alternative Country, etc....
Dwight Thurston discovers the new blood: Alvin Youngblood Hart and Jeremy Wallace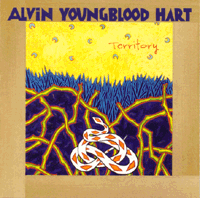 Alvin Youngblood Hart is one of those artists who defy categorization. His new record, Territory (Hannibal / www.rykodisc.com) opens with an easy-going western swing original "Tallachatcha," on which he delivers wonderfully understated, but full-bodied electric guitar and lap steel parts. His singing is comfortable, expressive, and quite at home in this genre. On track two, Territory shifts to a haunting take of Skip James's "Illinois." It's a risky venture for any musician, covering James's spooky, elliptical songs, but Hart's fluid resonator guitar playing, and his eerie, naturally compressed vocals are perfect. Two nice country blues follow, one instrumental, with Hart on 12-string, and mandolin, the other his haunting original song "Sally, Queen of the Pines." "Countrycide," an atmospheric tale of racism and violence, follows with its story of two half-breed brothers victimized by "the injustice system."
Two tracks seem at first to be gatecrashers on Territory, Don Van Vliet's "Ice Rose," an instrumental that's a virtual anthology of rock guitar styles, segueing or cutting abruptly from one to the next. The other is "Just About to Go," a very nice ska number that, from the horn section to Hart's perfectly in character vocals, is certainly a success. These two pieces might be jarring to some ears, but ultimately they're appropriate, because Hart's hugeness of soul is, after all, what Territory is about.
Hart's take of the Dubin/Burke "Dancing With Tears in My Eyes" is a wonderfully eccentric success – Hart's liberties with the tune and the rhythm make it a primitive, lumbering waltz, strangely at home in both the frontier barroom and the Victorian parlor. Hart's thumping 12-string, and Pete Sears' alternately swirling and romping accordion are an unbeatable combination here. His rendition of this song vividly points out what happens when this man gets hold of your music. Alvin Youngblood Hart will not sing your song for you, but he'll take your song and work it through the secret places in his being, then give it back to the world – forever changed, and larger than it was before.
Alvin Youngblood Hart's first release, Big Mama's Door (Sony Music, 1996) earned three 1997 Living Blues Critics Poll Awards – Best Blues Album, Best Debut Album and Best Traditional Album of the Year. Territory should reap similar, but more broadly based kudos for Hart. It's one of the handful of 1998 releases that adds to my conviction that the well of roots music is both very deep and very wide, and a long, long way from going dry.
In a world of where traditions die with too many gray hairs and too few witnesses, it's a relief to see fine young musicians like Jeremy Wallace. The tradition is, very broadly put, barroom blues. The gray team (still going strong) has only a couple players – Dave Van Ronk and Spider John Koerner come most quickly to mind. The new team has only a couple too – Jeremy Wallace (coming on very strong), and Jason Eklund (when he's not too shi*-faced) are among the few. The chief danger in following traditions is that mere preservationism – a sort of artistic formaldehyde – can take over, at the expense of breathing new life into the old corpus. Jeremy Wallace clearly knows and reveres the traditions that make his music possible (the versions of "Saint James Infirmary" and "Statesboro Blues" on My Lucky Day are fine indeed). He's also masterful at rolling unexpected combinations with those old dice.
Most of those unexpected rolls come in Wallace's lyrics. They're in hot little lines like "the tip tap tappin' of her false eyelashes" ("Missing You This Morning"). They're in the pithy, pregnant opening lines of his musical short story "House Painting in America":
There was a woman her husband he was no good
But the melancholy house painter he understood
He was on a ladder he was tattered he was in her neighborhood
My Lucky Day (Palmetto / www.palmetto-records.com) covers a range of time-tested musical genres that work well from the perspective of the sidewalk, the bar, or the alley. "Missing You This Morning" is classic barroom blues; "See You in September" is a sad country barstool ballad. "$1.49" is slippery, tongue-in-cheek country blues. "Since You Left" and "Somebody was Laughing" are Wallace's variations on distinctly Dylanesque song styles. The former is straight Highway 61 Revisited: "I'm on some broken down highway where nothin' good has ever been/ Where the lovers lied and the children cried and the poets don't have pens." The latter is closer to Another Side of Bob Dylan vintage.
So far, Jeremy Wallace has put his personal mark on every tradition or style in which he's written, sung, and strummed. The title My Lucky Day is no exaggeration – although it's clear that there's more than mere luck in the brilliance of Wallace's music. Even the usually tight-lipped Dave Van Ronk says, "He's one of the most arresting new talents I've ever heard. When I hear him I get the same feeling I got the first time I heard Bob Dylan and Arlo Guthrie." Producer Frank Christian and others form the small band that plays on My Lucky Day. There's never a hint of over-production, and these players have a solid grip on the musical types that Wallace works in. A brilliant, long-awaited debut that will expose Jeremy Wallace to the wider audience he deserves. - Dwight Thurston

---
Read the previous edition
Dwight Thurston hosts an American Roots music program called "In the Weeds" on Fridays from 1-4:00pm on WWUH-FM 91.3, West Hartford. The "Blue Monday" blues show airs Monday nights from 9-midnight. Folk and roots music shows air from 6-9am on weekdays, as well as "UH Radio Bluegrass" on Saturday from 9:00am to 1:00pm. WWUH is also available in realaudio in real time on the Worldwide Web at http://uhavax.hartford.edu/~wwuh/wwuhreal.html. Responses to this column are welcome at dwight.w.thurston@snet.net

Copyright 1998 Dwight Thurston and RootsWorld.