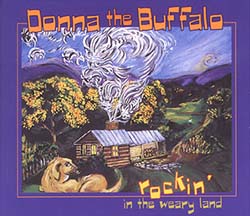 Donna the Buffalo
Rockin' in the Weary Land
Sugar Hill (www.donnathebuffalo.com/)
It's a mystery: there's no Donna, and no Buffalo. It's about the Big Smile, Big Love, the Big Groove, and the Big Dance. It's equal parts rock & roll and rockin' in the everlasting arms. Rockin' in the Weary Land is Zero Gravity, Zen Groove, Zydeco Gospel, Reggae Rock & Roll. With Tara Nevins of the disbanded Heartbeats Rhythm Quartet now devoting her full musical attention to the group Donna the Buffalo, the fun is still only a heartbeat away. The members of the band are all fine old-time fiddlers who met each other at fiddle festivals and contests. They are: Jeb Puryear, electric guitar and vocals; Tara Nevins, electric fiddle, accordion, acoustic guitar, rubboard, tambourine, and vocals; Jim Miller, electric & acoustic guitar, and vocals; Joe Thrift, Lowrey & Hammond organs, synthesizers, Wurlitzer piano, rubboard, and vocals; Jed Greenberg, bass and vocals; and Tom Gilbert, drums.
With musical roots in zydeco, rock & roll, old-time, and reggae, this New York State sextet churns out a delicious melange that will delight fans of The Heartbeats, The Health and Happiness Show's Tonic (Bar-None Records), and The Deighton Family's squeezy-wheezy music. Where Donna the Buffalo's music differs most from the above is in its consistent cosmic and personal optimism. The lyrics of the band's original music (written by Tara Nevins and guitarist, vocalist Jeb Puryear) make a quick and emphatic leap from personal to universal in most of the songs – something that could be a serious problem for writers who don't wrap their music in infectious dance beats and rhythmic grooves. The opening lines of "Tides of Time," the accordion-driven zydeco number that opens Rockin' in the Weary Land, set the stage for the rest of the songs, whose lyrical meanings weave a large web of interconnectedness.


				Some day, I might figure it
				Right now, I'm just livin' it
				Right now, I'm just livin' it	
				Right now, I'm just givin' it

Track two, the upbeat funk, groove-rock "Funky Side," is a vignette of a meditation. Jeb Puryear recklessly throws off lyrics that in other contexts, and without his mischievously laconic delivery, might fall dead on the pavement:

				In the shape I'm in
				You can see for miles
				Shooting through the clouds
				On a magic sound
				I'm here cleaning my connections
				To everything around 

The cosmic humor and the funky groove make for the Big Smile here. It's no surprise that Deadheads are drawn to Donna the Buffalo's sound and meaning (so, it appears, is just about anybody else). John Anderson's country song "Seminole Wind" rolls powerfully along over an insistent country-rock beat. It's a song that's been covered well by quite a few, but never quite like this. This is the one I'll consider definitive, unless (unlikely prospect) somebody someday manages to surpass Donna's take. If the lyrics quoted here are throwing up red flags and fears of new-age foolery, burn the flags, it just ain't so. Rockin' in the Weary Land is clear-eyed, time-tested, genuine balm for the soul. The music on Rockin' in the Weary Land is worth a hundred self-help books, and you can laugh and dance to it! - Dwight Thurston

---
Read the previous edition
Dwight Thurston hosts an American Roots music program called "In the Weeds" on Fridays from 1-4:00pm on WWUH-FM 91.3, West Hartford. The "Blue Monday" blues show airs Monday nights from 9-midnight. Folk and roots music shows air from 6-9am on weekdays, as well as "UH Radio Bluegrass" on Saturday from 9:00am to 1:00pm. WWUH is also available in realaudio in real time on the Worldwide Web at http://uhavax.hartford.edu/~wwuh/wwuhreal.html. Responses to this column are welcome at dwight.w.thurston@snet.net

Copyright 1998 Dwight Thurston and RootsWorld.