Close Enough
Folk, Blues, Roots, Alternative Country, etc....
By Dwight Thurston

TOO COUNTRY FOR NASHVILLE?
SOME MORE NON-HAT ACTS FROM MUSIC CITY
David Olney and Darrell Scott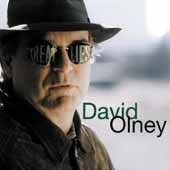 I've taken to calling David Olney (pronounced "ahl-nee") Nashville's Secret Weapon. Olney is a picking, singing compendium of American roots music, and one of the most insightful, hard-hitting songwriters anywhere.

Real Lies (Philo) is a sort of stepping out for Olney, in that it rocks more and is more lyrically aggressive than any of his previous recordings I've heard. This approach is sometimes successful, sometimes not. It's fine on the hard-driving R & B "Camille," and "Border Town," but a bit inauthentic on the flashy soul posturing and falsetto singing of "Basketball."

David Olney creates his best characters in terms that make them larger than life (the man reread Shakespeare's major plays last year; it's no surprise). There are several of these great characters on Real Lies, John Barrymore ("Barrymore Remembers"), Jesse James ("Robert Ford & Jesse James"), and Judas ("Thirty Coins of Gold"). Olney misses the mark some, however, on "Baseball," his three-character closet drama about a fatal day for the Yankees pitcher Bobby Coover and Red Sox rookie batting phenomenon Damon Young. A little less editorializing by the announcer's character, and a bit more dramatic or character development would have added this otherwise captivating baseball story to Olney's larger than life list. David Olney continues to be one of Nashville's best writers and a very convincing solo performer. His special mix of sharp intellect and visceral imagery is as powerful as ever when he's at his best. Real Lies is by no means a bad recording, and its little flaws are worth the price of admission. Olney at his more consistent best can be found on his High, Wide, and Lonesome, or the recent reissue Eye of the Storm.

So far, Darrell Scott has been known mostly as a Nashville session musician and songwriter. That's going to change as the word gets around about his first release for Sugar Hill, Aloha from Nashville. Scott's prodigious talent as writer, string player (acoustic, electric, and pedal steel guitars, dobro, Weissenborn slide, banjo, mandolin, and more), and singer are pretty surprising for a first release.
Darrell Scott's songs are the kind that make you think you're hearing songs that are much older than they are. But, except for "Banjo Clark," his reworking of "Old Joe Clark" (co-written with Verlon Thompson), and "It's the Whiskey that Eases the Pain" (written by his father Wayne Scott), he wrote them all. His mastery of various styles is impressive. Aloha from Nashville starts with his rollicking "Head South," an upbeat western swing paean to the Southland. Track two, "Banjo Clark," is a brilliantly successful and unusual blend of old-time music, racial politics, and ironic commentary on the musician's "place" in society. It's followed by "You'll Never Leave Harlan Alive," a coal country song that will invoke comparison's to Jean Ritchie's "The L & N Don't Stop Here Anymore" and John Prine's "Paradise."
Scott is handy with country styles too. "Spelling Bee Romance" is one of those spell-it-out songs that so often become tired after one or two times. Scott manages to inject enough solid wit and humor to make it last at least a bit longer. "Life is Cheap" is a slightly weepy, but clear-eyed story of a woman who's suffered a lot, but still endures. Aloha from Nashville ends with a lightweight but merciless anti-Nashville anthem "Title of the Song," a pretty accurate portrayal of the formula for success in the Nashville country music scene. Scott's studio sidemen include Sam Bush, Suzi Ragsdale, and the late Roy Huskey, Jr. But what really counts here is the brilliance of Darrell Scott's writing and his versatile, expressive voice. One of the years best and biggest country surprises. - Dwight Thurston
---
Read the current edition
Dwight Thurston hosts an American Roots music program called "In the Weeds" on Fridays from 1-4:00pm on WWUH-FM 91.3, West Hartford. The "Blue Monday" blues show airs Monday nights from 9-midnight. Folk and roots music shows air from 6-9am on weekdays, as well as "UH Radio Bluegrass" on Saturday from 9:00am to 1:00pm. WWUH is also available in realaudio in real time on the Worldwide Web at http://uhavax.hartford.edu/~wwuh/wwuhreal.html. Responses to this column are welcome at dwight.w.thurston@snet.net

Copyright 1997 Dwight Thurston and RootsWorld.