Memphis Slim
The Folkways Years
Smithsonian Folkways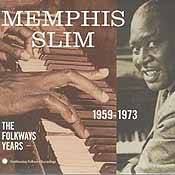 Peter Chatman moved from Memphis to Chicago in 1939, after a decade of playing piano in the juke joints of Tennessee, Missouri, Arkansas and Mississippi. Already known as Memphis Slim, he began recording his distinctive brand of blues and boogie woogie piano in 1940, at sessions probably arranged by his friend Big Bill Broonzy.
This compilation covers the period from 1959 to 1973, a transitional period in Slim's career, during which he was no longer performing or recording for a specifically black audience. He had achieved a degree of fame in Europe, and eventually expatriated himself, although his music remained deeply rooted in the blues tradition of the American South.
The selections here range from solo piano with vocals ("I Left That Town," "Dirty Dozens," "Pinetop's Boogie Woogie"), to small combos in which Slim functions only as a sideman ("Key To The Highway," "Walking Blues"). A few numbers have Slim playing with members of the 'Folkways stable' of jazz and folk performers, like Pete Seeger, Jazz Gillum and bass player Willie Dixon ("Joggie Boogie," "Stewball," "Midnight Special"). Three previously unreleased tracks are included, among them a solid blues number played on the Hammond electric organ, "The Gimmick."
Memphis Slim was inducted into the Blues Foundation's Hall of Fame in 1989, a year after his death. - Frank Dalton