Big Bill Broonzy
Trouble In Mind
Smithsonian Folkways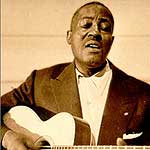 Big Bill Broonzy learned about music from an uncle who led a small country string band in Arkansas. As a young man he played the fiddle at country dances and learned to play guitar in Chicago from bluesman Papa Charlie Jackson. In 1927 he began his recording career when he waxed "House Rent Stomp" for the Paramount label, and continued performing throughout the depression and into the 1950s. He was then 'discovered' by a new, largely white and urban audience and his music was labeled folk-blues. Like other black artists (Lead Belly, Josh White, and Brownie McGhee and Sonny Terry) he gained fame in the early days of the folk music boom.
These selections, from 1956 and '57, are from the very end of Big Bill's career, and present his music in several settings: radio interviews, live concerts, and studio recordings made by Moses Asch.
Broonzey's inventive guitar playing had by now taken a back seat to his voice and the lyrics to his songs. Still, flashes of instrumental prowess can be heard on "Hey, Hey Baby," "Shuffle Rag," and the classic "Key To The Highway." Songs of social comment were a Broonzy specialty, and "Black, Brown, And White," along with "When Will I Get To Be Called A Man" are fine examples. Live concert performances include the civil rights anthem "This Train" and "In The Evening When The Sun Goes Down." Broonzy died in 1958 and these 24 recordings are some of his last. - Frank Dalton