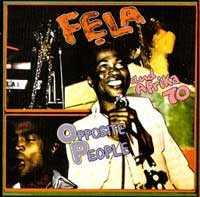 Fela Kuti and Afrika 70
Shakara/London Scene
Expensive Shit/He Miss Road
Yellow Fever/Na Poi
Opposite People/Sorrow Tears and Blood
V.I.P/Authority Stealing
Coffin For Head Of State/Unknown Soldier
all titles reissued on MCA (www.mcarecords.com)

How delicious it is to have this much of Fela's music available on CD: the first six CDs of a projected 20-volume collection from the prodigious catalogue of Fela Anikulapo (Ransome) Kuti are now out.

To read a history of Fela's musical evolution, his battles with various Nigerian military governments and his huge influence on Afro-Beat music is to put the music into context. But even without any history, Afrika 70's music is meant to grab your body and then your mind. Fela's essential musical structure is built on hypnotic grooves set up by percussionist and musical arranger Tony Allen. Staccato brass lines punctuate the melody and then Fela enters on sax or keyboard. After building to an initial climax over seven or eight minutes, Fela's vocal calls out and a huge female chorus responds. The song builds to an even larger climax over the next ten minutes.

If one is limited by budget to just one of these six releases, I would recommend Expensive Shit/He Miss Road. Both albums come from the 1973-74 period during which Fela's music hit full flower. "Expensive Shit," with its brooding groove and brass bombs, tells the story of how the Nigerian police attempted to plant a marijuana joint on Fela in order to arrest him for possession. Fela swallowed the joint, the police imprisoned Fela and attempted to analyze his feces in order to get a possession conviction. Of course, Fela outwitted his captors and the song is a humorous account of the authority's obsession with fecal material. "Water No Get Enemy" is an outstanding example of an African wisdom song in modern garb. The musical interplay of Afrika 70 combines jazz, funk and African styles. "He Miss Road," with its open, loose approach and great sax solo by Igo Chico, is one of Fela's greatest songs. This album was recorded with the assistance of Ginger Baker whose influence is felt on "It's No Possible," an uptempo dose of "heavy rhythm."

As Fela's confrontations with the Nigerian authorities continued through the 1970s, the songs lost much of their lightness and playfulness. By the time one gets to "Coffin for Head Of State," Fela's music is angry, even strident. Light parody has given way to polemic. What was once personal is now political. On "Authority Stealing," Fela portrayed the Nigerian rulers as worse than armed robbers. Naturally the record was banned in Nigeria. History has demonstrated that Fela painted a more accurate picture of Nigeria than most of her modern artists. Listening to these six Fela CDs, one wonders how is it that political dissent, once an important feature of Afrobeat music, has so often been neutered in favor of nothing more meaningful than dancing the night away. - Aaron Howard