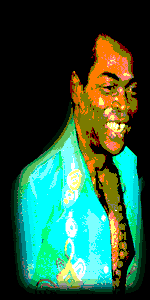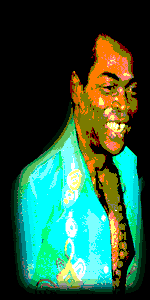 Fela Anikulapo-Kuti
Fela Anikulapo-Kuti, the Nigerian Afro-beat star and political activist, died of AIDS-related heart failure related to AIDS on August second. His brother and physician, Olikoye Ransome-Kuti, announced the death at press conference in Lagos on August 3rd, and attributed the death to the "many complications arising from the Acquired Immuno-Deficiency Syndrome."
Fela was an African legend, a musician whose music reached far beyond his own environs and created a rare legacy of not only music, but rumor and speculation both within his own country and throughout the world. founded a political party called Movement of the People (MOP) after Nigeria's militarily squashed civilian rule in 1979. During the ensuing years his music and lifestyle became a constant challenge to the authorities, writing lengthy musical diatribes against the government, and founding a sort of commune called "The Shrine" that was purported to not only be a source of anti-government activity, but a place of sexual and social debauchery that flew in the face of the conservatism of the ruling party. His bouts with the military regimes of his country often landed him in jail, which only spread his fame further out into the world.
The legacy of Fela Anikulapo-Kuti will be debated for years. He was both a renowned sexual reprobate and a musical genius, a political gadfly and an insightful social commentator. - Cliff Furnald
Fela Kuti discography.