Riccardo Tesi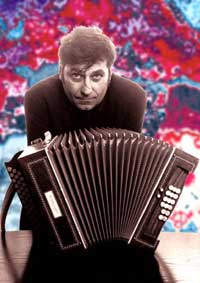 Certainly one of the most important figures in the "new routes" of Italian roots music is Riccardo Tesi, an arranger of unique skill, a composer and an unchallenged masters of the accordion in Italy. Tesi has contributed a piece called "Penombre," a work he has recorded before, but this time we get a solo performance that exposes his special grace on the instrument.
Tesi has a new CD with his Banditaliana (Dunya Records, Italy), and you can hear a track from that album as well
Also listen to the music of accordionist Filippo Gambetta, a rising young player who shows the Tesi influence in composition and performance.
Audio: composition and performance © 2000 Riccardo Tesi.