"What strikes me most about Filippo is the naturalness of his playing, his fluid phrasing but I think his best quality is the way he puts his considerable technique at the service of the emotion he wants to express, which is the sign of a great musician." - Riccardo Tesi

Filippo Gambetta, diatonic accordion

"La Tabachera / Quattro Danse / Incantatrice"
Traditional tunes from Italy, accompanied by Beppe Gambetta (his father) on guitar. Recorded special for the Free Reed Festival, in Genoa, Italy in May, 2000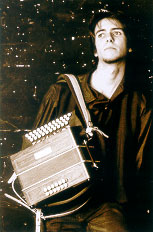 Gambetta was a student of Tuscan melodeon master Riccardo Tesi, from where he has gotten not only valuable training as a technician, but also a rich and diverse sense of musical geography. Like Tesi, he sees the beauty of his roots (in Gambetta's case, the soil of Liguria), but he also hears the world in his music, and applies lessons from the Balkans, much of the Mediterranean and of course, the modern sensibilities of jazz, classica and pop music.
He has just released his first recording as leader of the group Stria (Dunya-Italy), a challenging young group of musicians who are going to be at the forefront of the next millenium's new roots movement in Italy. Read a review and hear a track from this new CD- CF
More music from
Italy
at RootsWorld
© 2000 RootsWorld
No portion of these pages may be reproduced without written permission