Wales - An Introduction
The history of Wales (Cymru in Welsh) is one of the bravest sagas of survival in the Celtic world. In 1999, the first elected Welsh National Assembly for 600 years came into being, heralding the start of a triumphant new era in their history. Their culture, as personified by the great red dragon on the Welsh flag, has prevailed over vigorous political repression and dour, fundamentalist Christian doctrines. Modern musical revivalists were left with only a few threads of oral tradition to build on and had to comb the countryside and pore over books and manuscripts to restore their birthright. The present climate of nationalism and the resurgent Welsh tongue have inspired new generations of outspoken singer-composers to pick up where their ancestors left off, and then some.
Welsh music is drenched in long-breathed, poignant melody and precise harmonies. Even more than in Brittany, major and minor scales predominate; although classic bardic modes are also commonly used. The famous male choirs, whose voices once soared over choking clouds of coal dust, are but a single strand of the national musical genius, but "Corau'n Canu Gwerin - Welsh Choirs Sing Folk" (Sain) is good way to sample this sound (or else rent the classic film, "How Green Was My Valley"). Angelic female folk singers, virtuoso triple harp players, and lively ceilidh dance bands are waiting to be discovered at clubs, concerts, twmpaths (dance parties), and Eisteddfods (formal music festivals); in rural areas and in the cities.
Although labels outside of Wales have licensed some choice material, most of the best recordings are to be found on such independent imprints such as the Caernarfon-based Sain, where the cover notes are often written in Welsh, although English translations and explanatory essays are sometimes provided in the liner notes. This can make choosing which albums to purchase a daunting experience. One key word to look for is "gwerin", which translates roughly to "folk", although the meaning of this term in Wales can be more flexible than some acoustic music fans might agree with. Incidentally, recordings that are partly, or even completely, sung in English should not be dismissed out of hand. As in Ireland and Scotland, and especially in Cornwall, many old and perfectly authentic Welsh folkways were originally created and have continued to develop in that language.
A look at the instrumental forces in play on a particular recording can supply further clues. The harp, or telyn, is the Welsh version of the fabled bardic standby, and various models have been played there since the dark ages. The chromatic triple-harp, which consists of two lines of strings on the outside plus a central, sympathetic row, is phenomenally difficult to play but makes precise yet lush music. The bell-like lap, or knee, harp is popular, and the neo-Irish and classical harps have also gained adherents. Craftsmen have also managed to reconstruct the crwth, a very old type of stringed instrument that can be either plucked or bowed. Bagpipes are known as pibacwd in this part of the world, and yet another mettlesome member of the Celtic double reed family, the pibgorn, with its cow horn resonator, is increasingly popular.
Ar Log - Welsh Soul For Hire
Ar Log (For Hire) is one of the most durable and best-loved Welsh folk groups. The line-up consists of triple harp and lap harp (played by the two Roberts brothers), accordion, flutes, fiddles (a hauntingly resonant viola as well as the more conventional violin), guitar and mandolin, percussion and occasional electric flourishes. The band's extraordinary level of musicianship, manly and sensitive Welsh-language vocals, and spirited clog dancing can all be experienced on their recordings. Unfortunately, much of their early output has not yet been transferred onto CD format. Thus, "Ar Log I", "Ar Log II", and "Ar Log III" (Dingles), are available only on cassette, but the sprightly dance suites that open all three albums make them worth hunting for. "Meillionen" (Dingles), a strictly instrumental outing, is another cassette-only gem. On CD, "Ar Log 0 IV I V" (Sain) contains priceless tracks from their fourth and fifth albums. The opening dance set leads into a ballad, "Y Deryn Pur", which is sung over chiming harps and a darkly evocative viola that doubles with a fiddle and breaks out into the light during the final verse. Track five, "Cerrig Y Rhyd", is an ecstatic little waltz scored primarily for the harps, and the tenth tune, "Yn Iach I Ti Gymru", is a tear-jerker of the old school that gives the lead singer's upper register a stretch. "Ar Log VI" (Sain) is similarly diverse, and the players move from delicate pastorals, to neo-folk experiments, to ceilidh foot-stompers with their usual pluck and aplomb. Although there are many superb musicians in Wales, any exploration of the region's music should start with, or at least include, a selection of Ar Log's recordings.
Robin Huw Bowen, Crasdant And The Welsh Harp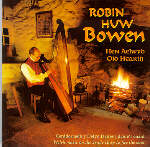 Robin Huw Bowen is beyond question the foremost exponent of the Welsh triple-harp. He is also an important musicologist who has archived literally hundreds of harp pieces, some of which were gleaned at the last possible moment from the fingers of Gypsy harpers and their few remaining latter-day disciples. Bowen is to Welsh harp music what Alan Stivell is to the equivalent Breton repertoire. He is a tireless teacher and crusader, a sought-after performer, and a supportive and honored figure within the Welsh and pan-Celtic musical communities.
Bowen's solo recordings for Sain, "Greet The Harp" and "Hen Aelwyd (Old Hearth)," should both be bought on sight, but his definitive recital on Saydisc, "Cerddoriaeth Telyn Cymru - Harp Music Of Wales" offers a selection of familiar tunes ("Llwyn Onn - The Ash Grove", "Dafydd y Garreg Wen - David Of The White Rock", "Ar Hyd y Nos - All Through The Night") realized with a combination of seemingly off-the-cuff flair and minute attention to detail.
Crasdant consists of Bowen on triple harp, supported by former Ar Log fiddler Stephen Rees, the guitarist Huw Williams, and Andy McLauchlin on assorted woodwinds. They have fashioned an acoustic blend that shares many of the intricacies found in the Irish "ascendancy baroque" tradition, wedded to a melodic richness that is all Welsh. Like Ar Log, they often incorporate percussive step-dancing into the mix. "Cerddoriaeth Draddodiadol Gymreig - Welsh Traditional Music" (Sain) is a bright and winning session and one of the most musically arresting Welsh instrumental recitals available.
More Welsh Musicians
Carreg Lafar (Echo Stone), who hail from Cardiff, are extraordinarily fine instrumentalists who play violin, viola and cello, pibgorn, guitars, pibacwd, and percussion. Plaintive old modal scales rise like an echo from times past and family resemblances between Welsh and Breton traditions are strongly marked. However, the two vocalists, Linda Owen Jones and Rhian Evan Jones, are what makes this band so utterly outstanding. Of their recordings, "Ysbryd Y Werin (Spirit Of The People)" (1995 - Sain) has many excellent qualities, but their next release is the more confident and varied undertaking. "Hyn (This)" (1998 - Sain), is polished yet dashing from start to finish, clearly the work of a band at the height of its powers. Both records are winners, but if it should come down to a choice, the second is the one to purchase.
The arrangements on Pigyn Clust's 1998 offering, "Otitis Media" (Sain), sometimes recall early albums by Ireland's Clannad. Judiciously applied jazzy flourishes are wedded to an all-acoustic, harp-driven sound while the lively mixed vocals are mostly sung in Welsh, with a bit of English tossed in for good measure. They are cautiously breaking new ground, but never stray far from the ancestral fire. Within these chosen parameters, they are scintillating and arrestingly creative performers.
Siân James is a powerful singer, a fine pianist, and a gifted harper. She explores aspects of pop and New Age as well as folk styles on "Cysgodion Karma" (Sain), but resolutely adheres to the Welsh language for her vocals. Traditional music fanciers are more likely to find her 1996 release, "Gweini Tymor", to their taste, both for the content and how it is presented. No matter which direction she takes, James' soprano is a ravishing instrument, exquisitely balanced and full of feeling, and it pleases the ear in any setting.
Siwsann George joins forces with Robin Huw Bowen and a hand-picked consort of fine players on "Caneuon Traddodiadol Cymru (Traditional Songs Of Wales)" (Saydisc). Her repertoire is well researched and the performances would be hard to match, let alone better. George's resonant mezzo-to-alto evokes the robust humor and undying pride of the Welsh character. Antique folk tunes, bardic recollections, shepherds' and miners' work songs, and Breton references are all transformed in this charming collection. Ar Log and other artists have covered some of the same material, but George's warmly sympathetic treatments can stand comparison with the best of them. - Christina Roden
Accordion in Wales: Mick Tems gives us the basics (includes audio)

© 2000 RootsWorld
No portion of this work can be copied or transmitted without express permission.