Many Welsh recordings are available at
cdRoots





Mick Tems tells us about
The Squeezebox In Wales
Welcome to Wales, the nation at the heart of the Celtic community and a country with a very special musical heritage. The Welsh harp playing tradition is the only one in the Celtic world which has continued unbroken; even at its weakest point it was kept alive by the Welsh Romanies, and there are harp players today who can count the lineage of their tutors back seven centuries.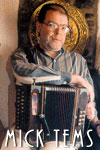 The Welsh bards developed an oral tradition which was to ensure that no music was written down before the 17th century, and the only surviving manuscript from 300 years ago is written in a strange tabulature which scholars are still trying to unravel with certainty. Henry VIII's Act of Union between England and Wales in 1536 contained clauses designed to stamp out both the Welsh language and Welsh culture -- and music, in particular, received another major body blow with the rise of Non-Conformist religion in the 18th and 19th centuries. Dancing and singing was frowned upon or forbidden, but at least some of the old dance tunes survived, slowed down and made solemn, as hymn tunes which have been passed down to us today.
Nearly 500 years after Henry VIII, the Welsh language has survived and is flourishing in the new political era that has dawned in the past year and which has given Scotland a Parliament and Wales its own Assembly. Today, 500,000 people -- approximately one in five of the Welsh population -- speak Welsh, and in many parts of the North and West it remains the first language of communication.
So where do free reed instruments fit into this ancient landscape, with their comparatively late arrival in an era when Wales was dominated by chapels and ministers preaching fire and brimstone?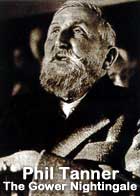 They don't, if you listen to Cymdethais Offerynau Traddodiadol Cymru, the Traditional Instruments Society of Wales. COTC only recognizes instruments it considers to be traditional to Wales, including the harp, fiddle, flute and pibgorn. We could argue endlessly over this, but put it this way: The Roberts Family, Welsh Romanies who played their triple harps for Queen Victoria and were instrumental in preserving that tradition, used to relax after the gig by playing mouth organs.

It's clear that accordions, melodeons, concertinas and their relatives made strong headway in Wales after their invention. A huge influx of Italians from Piemonte in the late 19th century guaranteed that accordion societies would find a niche; the Piemontese came to open cafes in the rapidly-expanding coal communities of the South Wales Valleys, which became known as the Welsh Klondyke; the first family to open up was called Bracchi, and to this day the Italian cafes still found throughout the Valleys are always called Bracchis by the local people.

Just as the folk revival started the fiddle's march back to prominence in Wales, so it encouraged the hew generation of folk musicians to hunt out the old instruments that were hidden in attics and junk shops all over Wales. I remember the first instrument I started to learn on, a 26-key Jones Anglo-concertina which was rumored (without any justification) to have once belonged to Phil Tanner, the legendary Gower Nightingale. I found an immaculate McCann system duet concertina in Swansea for £10, and started on the melodeon road when a shop in the same city sold me a Hohner C/F Club for £25.

Today, Wales boasts a host of excellent squeezebox players using their instruments in a host of styles. For the purposes of this feature, I'll concentrate on those who have developed the instrument to meet the often-complicated demands of Welsh traditional music.

I'm sure it's true that each new instrument that enters a nation's traditional music has an effect on that music as players bend the tunes to meet the feel and style of their new toy. Look at the effect the banjo, the bouzouki, and the accordeon family, have had on Irish music, for example. One major effect that free reed instruments have had on Welsh music is to give it punch at the bass end, a wumph that was lacking when harps and fiddles were the primary instruments.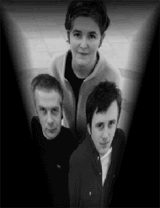 Fernhill

It can't just be coincidence that the last three Welsh CDs to be released all focus, to one degree or another on free reeds. West Wales band Fernhill, who for my money have just turned out one of the best Welsh CDs of all time, Whilia (Beautiful Jo BEJOCD 30) work with English melodeon wizard Andy Cutting, whose contribution to the band is delightfully under-stated; he almost never lets rip with a solo, but his feel and understanding for Fernhill's music is exquisite.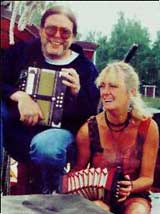 Calennig

Our sixth album as Calennig, A Gower Garland, has just been released by the English Wildgoose label (WGS 299) and leads, as always, with my two Brittany-built Eric Martin melodeons and with Pat's 120-year-old Lachenal 30-key Anglo concertina. We've always found these instruments ideal for producing dance music and song accompaniment with bite, and we can safely claim to be the first to use free reeds as the main sound in Welsh music, going right back to our earliest albums in the late 1970s.

The West Wales-based Fflach Tradd label, which has concentrated on focusing attention on various areas of Welsh traditional music, has just broken new boundaries by releasing Megin (CD212H), an album devoted to squeezebox players from all over Wales and the Welsh borders. Here you will find Welsh music interpreted in a variety of styles ranging from baroque to symphonic to European; it hangs together remarkably well and stands up with pride when compared with the many similar projects that the record labels of Brittany seem to specialize in.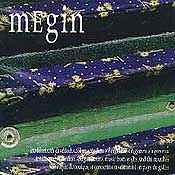 Megin (the Welsh word for bellows) will introduce you to John Morgan from Ogmore Vale, who became an accomplished Irish fiddle player before branching out with beautiful, stately arrangements of Welsh tunes on McCann duet concertina. You can hear Cardiff-based Guto Dafis probing the boundaries of some of our better-known dance tunes, plus a couple from Pat and myself (and the whole concept of Megin gave us a new way of looking at the music we'd been playing for more than 20 years). There's Meg and Neil Browning from North Wales (Neil also has his own album, Scwisbocs, out on the Sain label, Wales' major record company) and Boz Boswell and Nick Passmore with their very accordeon-style Eurotake on Welsh music.

Finally, Megin offers a couple of tracks to John Kirkpatrick, who lives on the Welsh border a mere skip and jump into England. This area has always been a cultural hotch-potch, claimed by one side and then by the other, and John responds with a couple of Welsh sets stamped with his unmistakable mark.

Sadly, some first rate players didn't make it onto the album -- Mike Greenwood, who has done so much for Welsh dance, is a good example.

And there is a Welsh concertina now. Marcus Butler, who runs Marcus Music at Tredegar Park Country House in Newport, Gwent, who has provided an excellent sales and repair service for many years, is now producing sensible, sturdy Anglo-concertinas which look and sound far better than the current European imports and yet which still retain a reasonable price tag. Marcus will never get around the Internet in the next 100 years, but you can telephone him at (00 44) (0)1633 815612. - Mick Tems

Many of these recordings are available at cdRoots

You can contact Mick Tems by e-mail: micktems@folkwales.org.uk
and visit the Celfyddydau Mari Arts web site for an even deeper look into the music.