A Veteran of Mandingue Music Shines While Another Falters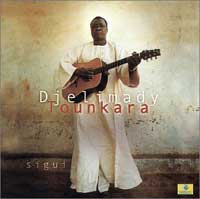 In his unplugged album titled Sigui (Indigo), Djelimady Tounkara, the Manding guitar legend and leader of the famed Rail Band of Bamako, displays uncanny wizardry on the acoustic guitar. On this album, simply the best acoustic album from West Africa since Ali Farka Toure teamed up with Ry Cooder on Talking Timbuktu, Tounkara clearly establishes the African blues connection by making his cascading strings cry and laugh at the same time. You will find yourself wondering aloud how he leads the guitar through those rapid waterfall-like melodies, only to snatch it up without a break. There is unparalleled nonchalance in the manner with which he opens with a single note, slowly building a simple, beautiful sound. This is BB King, Ali Farka Toure and Boubacar Traore all rolled into one, but Tounkara, while keeping a close connection to the 21-stringed kora, jumps beyond traditional Manding repertoire to sip from Congolese soukous and reggae.
Though Tounkara is the central figure in the cast of strong performers on Sigui, other significant artists include Sayon Sissoko on the sardonic ngoni, Sidiki Camara playing pepper-hot djembe, and Fadiala Diawara on rhythm guitar. Most noteworthy is lead vocalist Lafia Diabate, a long-time Tounkara associate with whom he collaborated on the album Big String Theory. On Sigui, Diabate gives a tremendous performance, signaling his emergence from the shadow of his older, and more famous brother, Kassemady Diabate. His powerful voice reaches into the heavens on "Amary Ndaou," a tribute to one of Mali's patrons of music. The grittier, earthy voice belongs to Samba Sissoko who provides the perfect balance to Diabate's more fluid voice.
But Tounkara is the man who holds everything together with his guitar, building a steady story line with a distinct beginning, a colourful middle and heart-stopping finale. This is an album to be enjoyed everywhere, on the street, dance hall, in a quiet room or even better, on a train to Bamako.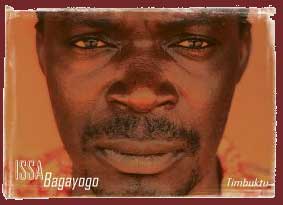 The same does not hold true for Issa Bagayogo's album, Timbuktu (Six Degree Records) which involved to-die-for talents like Koko Dembele and Moussa Kone on guitar, Alhassane Sissoko on djembe, Dujuru Diallo playing the flute, and Mamou Sidibe and Djeneba Dansoko on background vocals. The album is at its strongest when Bagayogo moves front and center with the kamele n'goni. This is discernible on minimalist tunes like "Tounga," and "Tamagnoko." On these tracks, Bagayogo demonstrates his talent as a writer and performer of traditional Mali music. The track Toroya is probably the best illustration of the artist's ability to emote beautiful vibration. The song is simple, yet full of colour, meaning and undeniable brilliance.
Yet, Timbuktu fails to find a happy medium between strictly Mali traditional and modern sound. The rest of the album is characterized by emptiness in the music, a vacuous sound without heart that wavers on the edge, but never quite breaks out. For example, instead of embellishing and enhancing the music, the layer of keyboarding and programming by Yves Wernert never quite work out on the tracks "Baro," "Dambalou," "Saye Mogo Bana" and "Dama." Even after adding the entire techno-urban riff, one is left with the feeling that the artist is trying too hard to escape the shadows of luminaries like Oumou Sangare and Ali Farka Toure. Instead of simply being himself and highlighting his natural gift on the kamele n'goni, Bagayogo slaps together disparate sounds that simply will not melt together. The result is a limp album, spotted here and there with short bursts of life, and then oblivion.
Return to Roots Baaba Maal and Mory Kante Lead the Way.
Baaba Maal goes back to his roots with the album Mi Yeewnii-Missing You (Palm Pictures), sidestepping the grittier urban sound that characterized his last two albums. Consider Mi Yeewni as a timely strategic retreat that allows the singer-songwriter to showcase his skills as interpreter and arranger of traditional Senegalese music into modern settings. To do that he fades to the background the dry staccato of the sabar drums in favour of the more rounded and melodic sounds of the balafon, the kora, guitar and hoddu. Moreover, the head-turning line-up includes veteran guitarist Kante Manfila, kora maestro Kaouding Cissokho, Peul flute specialist Aly Wague, and his perennial sidekick and best friend Mansour Seck. The result is the sweet mix of acoustic guitars in the mode of legends like Jean Bosco Mwenda and S.E Rogie, with an assortment of instruments that accentuate the music. Listen to the opening lines of "Miyaabele" and "Jamma Jenngii," as the guitar sweetly outlines the agenda before everyone joins in. On "Fanta," a song first popularized by Guinean kora performer Djeli Moussa Diawara under the title "Haidara," Cissokho leads blistering on the kora.
The entire album works precisely because Maal is on his home turf with strong vocals, great back-up voices and killer acoustic accompaniments. The album is a strong reminder that before Maal became an international phenomenon, his domain was mostly at the village level, where the sound is unadulterated by techno-wizardry, and frankly, is the better for it. Mi Yeewni, though released with minimum fanfare, will likely turn out to be another classic in the same category as Djaam Leelii.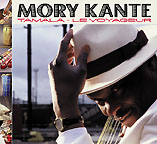 Meanwhile, Mory Kante, he of kora disco fame, has also retreated somewhat from the heady days of Yeke Yeke to a more traditional (if that's possible for the master of techno groove) music. His latest album Tamala-Le Voyageur (Next Music) draws heavily on Kante's keen kora sensibilities. From the opening track, "Le Griot," the 21-stringed instrument is made the central sound around which the lyrics and additional instruments are set. On virtually every song, Kante is a dazzling virtuoso on the instrument, setting the pace for the crew of artists mostly from Europe. The strongest elements of the album, great acoustics and top-notched vocals, come through because of the razor-sharp arrangement that dictates who does what, when and how much. On "Nin Kadi," also released as a single, featuring UK singing sensation Shola Ama, the vocals are carefully drizzled with touches of violin, kora, guitar and balafon, all in the right proportion to tug at the heartstring and maybe exact a drop or two of tears. The real coup is the traditional song "Alamina Badoubaden," a praise song for Kante's grandfather; its sheer beauty is worth the price of the album. Kante's voice shines as he accompanies himself on the guitar, even as flutist Ali Wague creates an esoteric mood on the Peul flute.
But, ever so eager to get bodies moving, Kante reaches elegantly for his signature discotheque sound on tracks like "Mosso," "Mana Mana Ko" and "Le Griot." Then it's boogie time all the way.
Beyond Youssou N'Dour and Lwambo Makiadi Franco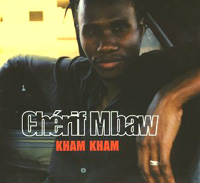 The problem with being a young, up and coming singer in Senegal is that you either sing like Youssou N'Dour or you don't. This harsh and unfair judgment sometimes deters critical appreciation of serious talents like Cherif Mbaw whose debut album titled Kham Kham (Erato Disques) is the best first harvest in the last three years. In fact, careful listening reveals a young talent who draws his inspiration from the two famous Lo Ismael Lo and Cheick Lo. Mbaw, who sings like a lark and plays the guitar, has sharp ears for other sounds including flamenco, European and Indian classical sound, and West African kora music. (If you want to know how Beatle George Harrison might have sounded were he born in Senegal, listen to "Borom Baakh"). Mbaw is a lyricist whose poetic approach to music is complemented by a spartan arrangement. Yes, there are some elements of the ubiquitous Senegalese mbalax, but instead of a cliché, it is worked into the music. The beauty of Kham Kham is that it is a beguiling album that moves flawlessly from oriental-sounding ballads on tracks like "Weet" and "Borom Baakh," to Louisanna blues, and finally to waist-shaking mbalax tracks like "Boroom Ker" and "Saay Saay." In fact, Mbaw's innovative folksy style will likely outlast many albums recorded by Youssou N'Dour. It's a real gem.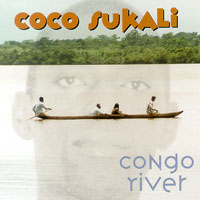 Another young musician blazing his own path is Fernand Tchikounzi, a New Yorker and lead vocals for the group Coco Sukali. Born in Congo during the heady days of Rumba kings like Franco Luambo Makiadi and Tabu Ley Rocheareu, Tchikounzi has a deep appreciation and respect for the rumba music of 1970s and early 1980s. On his debut album, Congo River (Mayombe Records), he characteristically opens each song with the deep rolling classical rumba, slow and deliberate. The vocals move in tight tandem with lead guitar while the bass curves a wide path as if it is not interested in what is going on. Then comes the sebene, the part where the strings and drumbeats tremble with emotion, the part where bodies contort into all sorts of shape on the dance floor. Now this would be no different from the deluge of soukous noise produced each year, except that Congo River recognizes the importance of balance. It carefully avoids overdoing the frenetic guitar and chaotic shouting stuff that have almost killed soukous. To achieve that sense of unity in the music, the album boasts some of the best veteran rumba guitarists Lokassa Ya Mbongo, Daly Kimoko, and Nguma Lokito. And to pull it all together, Tchikounzi sings passionately in both English and Lingala, and succeeds in both tongues. To appreciate just how comfortable he is in the two languages, listen to the reggae piece, "African Children Abroad" and then the Lingala tracks "Ya Charlie" and "Sans Guarantie." The music reverberates with warmth and liveliness as Coco Sukali makes rumba good all over again, and in the process offers North Americans the chance to finally discover the music that broke through language and geographical borders on the African continent to become one of the most loved style ever. - Opiyo Oloya
Where to get some of the music:
Issa Bagayogo (cdRoots)
Djelimady Tounkara (cdRoots)
Baaba Maal (cdRoots)
Mory Kante (cdRoots)
Cherif Mbaw (cdRoots)
Coco Sukali (cdRoots)