'Fast-Fingers' Has Arrived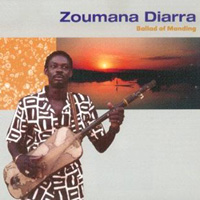 The summer is gone with few worthy albums by the usual big names of the African music scene. But there are good ones there if you look hard enough. On the top of my summer list is the obscure 1997 instrumental album titled Ballad of Manding (Stern's Africa) by a relatively unknown Malian guitarist named Zoumana Diarra. A veteran of Super

Biton, Super Djatta and The Rail Band, Diarra builds driving rhythms using his quick, lilting style on the guitar and ngoni, slowly propelling you toward the very zenith of sweetness. The album, unfettered by human vocals, allows the instruments to soar all on their own, wailing, smiling and singing, dazzling the ear with the most pleasing music. Along the way, Diarra's merry guitar flirts playfully with the skittish balafon of Kouyate Lansina, the laughing piano of Alex Wilson and the thunderclap from the congas of Tomas Dyani Akuru. Essa Mbaye is unrelenting on the talking drum, scattering pregnant wisdom on the tracks "Teri Janfa," "Ta Ma" and "Kala Timeni." But, for the head-stuck-on-a-tune experience where the brain craves the same music over and over, listen to "Siriba," and good luck getting it out your system. It may have taken four years for the album to make its way to the marketplace, but the music is as effervescent as newly bottled wine.

Fire From Faye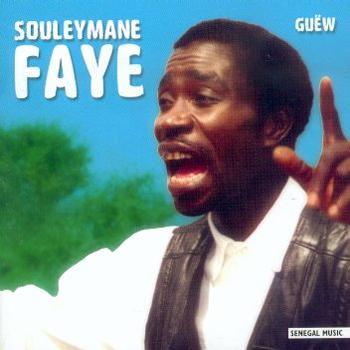 Souleymane Faye's debut album Guew (Africando) is pure soul meets mbalax. Faye's gritty James Brown-like mournful voice leads the way for the percussive filled mbalax sound. But from the opening track "Nieuweul Guew" to the concluding "Tchim," it is the voice that grabs the ears; it pleads, dares, beckons and pushes and, above all, provides the rhythm for the music. There is something very earthy, real and honest about Faye's voice. This is perhaps a reflection of his eclectic life experience, which includes drug abuse, alcoholism, a stint in an Italian jail, hitting rock bottom in Manhattan and, of course, singing for a half a dozen Senegalese bands including the famous Xalam. The rich funky horns of Nicolas Gueret on saxophone and Jacques Bolognesi on trombone, and the relentless drums of Moussa Traore complement Faye's direct lyrics.
But instead of falling into the trance of ceaseless mbalax, Faye deliberately uses his powerful voice to delve into jazz, soul, R&B and a hint of Cuban rumba, which used to be popular in Dakar in the 1970s. Faye's voice comes alive on the tracks "Meissa Bigue," "Sama Yaye," "Serigne," "Yeene" and "Tchim." Really, he is alive on all the tracks, leading the charge, changing direction and more importantly, singing songs that go straight to the core of human experiences--sadness, joy, triumph and everything in between.
In contrast to Faye's soul-pepper approach to music, Tidiane and Les Dieuf Dieul is pure testosterone, adrenaline and fire on their debut album Salimata (Justin Time). Youssou N'Dour on steroids might best describe this relentless, hard-driving mbalax. Don't expect apologies from these young Turks. They believe in the motto that you only have ten seconds to make a lasting impression, and they do so brilliantly. The Dieuls are all twenty-something young men who want to be noticed in the decidedly crowded field of African music, and what better way to be noticed than to wring the life out of your listeners. Yet, Salimata is not a scattered album lacking proper grounding. If anything, with Tidiane as lead singer, the Dieuls carefully build each music from scratch. The keyboard, the sabar, drums, Peul flute, djembe, saxophone and back-up vocals are introduced one at a time for maximum effect on "Africa" and "Xalatal" and carefully nurtured toward a nail-biting climax. My favorites are "Salimata," "Waxonalako" and "Lahilala." All start really slow, with Tidiane's voice controlling the cavalry before all hell breaks lose. And that's the single flaw in this action-packed album: there is not enough time allowed for the music to simply soak in. Then, again, it might be what you really want: sweat-drenching action that keeps you on your feet.
Young Women Make Lasting First Impression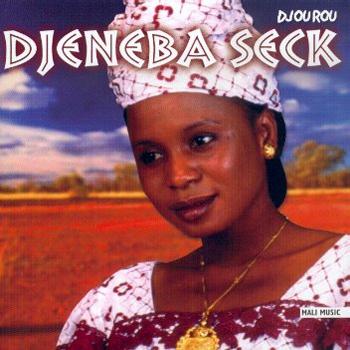 Djeneba Seck's debut Djourou (Africando) is a successful throwback to the early days of Oumou Sangare and Nahawa Doumbia, when sparse accompaniment provided the backdrop for the sweet female voice. A very experienced Who's Who of Europe-based musicians, including Djely Moussa Kouyate (rhythm guitar), Makan Tounkara (ngoni), Jean-Luc Pinot (violin), and Yves Ndjock (guitar), provide Seck with plenty of room to explore the total range of her voice. There is a witty elegance and ease that comes naturally to this singer, born in Kita, known as a breeding ground of beautiful singers. On "Abiban," Seck sets a jaunty pace for getting down on the dance floor, but she quickly retreats to the more relaxed ambiance of an evening performer singing before a small group of family guests around the log-fire. The intimate approach provides the authenticity and sincerity currently missing in the many artists striving for broader world appeal these days. Listen to "Ndiyani" and "Djourou" to find some of the lost sound that was introduced more than a decade ago; no gimmicks, just wholesome music. In the end one is left with one nagging question; what kept her so long from making this debut?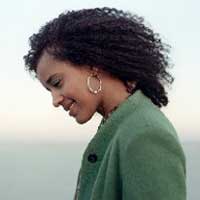 Another female gem making her first appearance on record is US-based Ethiopian diva Ejigayehu "Gigi" Shibabaw on the album Gigi (Palm Pictures). If the truth be told, my first impression of Gigi was of an album richly produced by a major name (Bill Laswell) for a major record label in order to manufacture a buzz for a no-name singer with zilch talent. But, after deploying all my critical faculties, the only conclusion is that Gigi is a very talented young singer going places, maybe even more places that her predecessor Aster Aweke. For one thing, unlike Aweke, Gigi uses the Amharic language to engage the backing instruments; you don't have to understand the lyrics in order to appreciate the musicality of her voice. There's none of the tricks (like a certain fluffy rendition of Otis Redding's "Fa Fa Fa Fa Fa (Sad Song)") that some emerging African singers have gleefully employed to become visible in the West. Instead, Gigi's clear voice leads a heady Ethiopian modern-traditional rhythm. She is as confident as she is sweet. Moreover, Laswell's sure hand is visible as he carefully juxtaposes Gigi's voice against the background of sound that includes tabla drums, French horns, talking drums, organ, horns and melting back-up vocals. The result is a well-crafted middle-eastern cosmopolitan bounty of fat bass-lines, raucous horns, and snappy drums that are guaranteed to go down as well in Addis Ababa as in New York City. The unique flavor of Gigi comes through when playing back-to-back the tracks "Guramayle" and "Zomaye." But, then the same applies to playing the entire the album. - Opiyo Oloya
CDs available:
Zoumana Diarra (cdRoots)
Tidiane and Les Dieuf Dieul (cdRoots)
Gigi (cdRoots)