H. E. Chagdud Tulku Rinpoche
Voice of Tibet
Chagdud Ganpa Foundation

Prayers and mantras are the expressions of enlightened speech, and have the ability to transmit blessing to the listeners. In other words, when listening to prayers or mantras, I can receive the compassion and encouragement of the singer.

This is an album of raw singing and reciting of mantras. No instrumentation. No choral harmonies. One man, singing. But this man is His Eminence, C. T. Rinpoche, the recognized reincarnation of the abbot of Chagdud Monastery in Tibet. He received extensive training in Vajrayana Buddhism while in Tibet, was forced into exile in 1959, and served the exile community in India and Nepal as lama and physician. Later he came to live in the US and formed a very lively Buddhist community there. Recently another was begun in Brazil, where this album was produced.

While the album may be required for devotees of His Eminence, anyone can feel blessed listening to it. His sonorous, resonant baritone voice floats from the speakers offering ancient melodies and chants with confidence and compassion. It is that compassion that comes across as the essence of his faith. - Brian Grosjean
(Profits from the sale of the album support the Chagdud Monastery in Brazil.)
---
The Music of Tibet

---
Yungchen Lhamo
Coming Home
Real World Records (www.realworld.on.net/rwr)
Yungchen Llamo's second album of music of Tibet is a groundbreaking crossover recording, with new leaves and branches growing from the established traditional roots. Lhamo's uplifting, sonorous voice is held lightly or not at all by inspired instrumentation. This is what a crossover album is all about. The slow cadence and long held notes of Tibetan music is complimented by sixteen eastern and western musicians. All were recorded in England at the Real World studios by Hector Zazou where these musicians of many of the world's cultures met to exchange ideas.
Tibetan music, like that of much of the East, tries to concentrate the listener's mind, as opposed to the western aim of distraction. In "Khyab Sangye", Tibetan bells and Lhamo's long strains of melodies intensify the listener's concentration through the song. In "Heart," a violin brings Chinese chords around her voice, building to a tension and a quick release. In addition, the political message of a free Tibet is proclaimed loud and clear in "Ngak Pai Metog," a song for the Dalai Lama, and in "Defiance," about the hungry and poor children of Tibet.
Offering up prayers is a natural part of the devoted Tibetan's life. Prayers are written on wheels and spun in the air to release them. The mantra of loving compassion "Om Mani Padme Hum" is written on the CD itself. So, as the CD is played, the energy of loving compassion is released. The feeling of the singer's peace and confidence in her music is felt throughout the album. After every listening, I felt more at peace than when I began. Lhamo invites you to feel peaceful and at one with "all Tibetan children who carry the future of Tibet in their hearts and minds." - Brian Grossjean
---
Nomad
Echoes from Shangri-La
Distributed by Wind Records, (800-850-5015)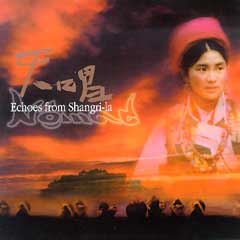 The Dalai Lama recently visit the United States, bringing his message of peace, hope and kindness. I could imagine him enjoying this album because it is hopeful, invigorating, and most importantly - kind. It is an album of Chinese artists discovering Tibetan music.
Nomad is a collection of passionate Chinese artists led by Ouyang Qian and Yang Xiu-Lang. Also appearing are Dai Ya, Gong Bei-bei annd Zhang Fang-ming. The music is a combination of traditional themes and modern overtones. The instrumentation is mostly Chinese traditional with touches of synthesizers and machinery. The result is Tibetan and Chinese music in new contexts, and great way to investigate the genre. High Tibetan vocals mix with tracks of chanting and drumming. Some tracks start slowly to build to a meditative climax. All bring out what is best about Tibetan music - its totally unassuming nature.
The Xie-Dun festival is referenced in the liner notes as where some of the live tracks were recorded. Other tracks were definitely recorded in the studio, but since the liner notes are somewhat limited to describing the songs, (in Chinese and English), it's a little hard to tell. Other than that, Wind Records does its usual appropriate and wonderful production values to the album.
The Dalai Lama's visit reminded us that a liberated Tibet is still only a dream. Chinese troops occupy the country. The next Dalai Lama is under house arrest in China. Chinese culture threatens to overwhelm the Tibetan heritage. All looks bleak for the Lama's cause. And although Richard Gere, the Beastie Boys and the rest of Hollywood may have Tibet's best interests in mind as they sound the alarm for the Tibetans, I feel a different calling. I say let's get on with the business of meeting the Tibetans on their own plateau. Let's all travel to lofty Lhasa and silently absorb their culture, sitting cross-legged before their monks and common folk. Let's learn some Tibetan heritage and even a few words of their language. Let's open our ears to their music. - Brian Grosjean
---
Tibetan Institute Of Performing Arts
Dhama Suna
Detour, via Atlantic Records
This is an impressive, if somewhat unfocused, collection of music from Tibet. Recorded in the US and seemingly made with the "blessing" of the Dalai Lama himself, it is a chance to hear a wide variety of secular folk music from this inaccessible land. The recording opens with a stunning lha-mo (opera) song, sung solo in a wide open and strong voice, and then followed by a lush drinking song with a female chorus and an ensemble of strings. There are pieces known as gar, traditionally performed only in the court of the Dalai Lama, and here, in the title piece, we are presented with a raucous work in that style for percussion and raspy horns. There are appearances by the infamous monks of Gyoto, performances of aristocratic court music for zithers, formalized versions of work songs. Perhaps the most interesting of the styles here is nang-ma, performed on dulcimer, lute, two-string fiddle and a transverse flute. It's unusual in that it is played primarily in unison, with only small deviations by the musicians to ornament an important line or to underscore the vocal part. As a whole, Dhama Suna merits many listens to unlock its beauty and to lead the listener to a focus that goes beyond the individual tracks. -CF
---
Choying Drolma And Steve Tibbetts Chö
Hannibal/Ryko
Steve Tibbetts has never been one to avoid the precipice. He has been pushing the limits of the guitar for a long time, and as a composer has done some daring work. To take on a project like Chö is certainly one of the bigger risks. Most musicians enter into these "cultural exchanges" with egos the size of Nebraska or some happy-flappy new age goals of "harmony and peace" (the cereal box kind). Most fail miserably. Choying Drolma and the nuns of Nagi Gompa, a Tibetan nunnery in the Himalayan foothills have entered into a unique pact with a foreign artist here. They neither abused or altered their music for Tibbetts, nor did he demand or concede to concessions their music might have demanded. Instead, Tibbetts recorded the sacred singing of the nuns, then went home and created a soundtrack of sorts, incorporating his ideas and musicians into a very subtle sub-flooring for the singing. I honestly don't know how to describe what they have done here. At times it is so subtle as to be almost missed by the conscious ear, at others so obvious that it just seems like it belongs there already. There's only one way to describe this record, and that is to tell you to listen. Closely. There is a wealth of minute detail, surprising musical turns, and above all, the beauty of tradition unbound and untouched. - CF
---
YUNGCHEN LHAMO
Tibet, Tibet
Realworld
There are always more aspects of a culture than reach your ears through the usual channels of distribution. From Tibet, and the monasteries in India where the Tibetan monks have fled, we have all heard the transcendental, deep chanting and bells music. Not much else (cultural or otherwise) has made it from Tibet to the ears of the world, so this album comes as a much needed addition to the library, and Yungchen Lhamo (her name means "Goddess of Song") has given us this opportunity.
Tibet, Tibet is mostly pure vocal music, not the religious music of the monks, but a more secular music, songs that relate daily life and human struggles; folk songs both traditional and original. Some of the songs are simply accompanied by small percussion instruments and strings from traditional sources with one unfortunate track where someone is credited with "special accompaniment" (read: electronic and acoustic noodling and trinkets). No matter, that, because the entire album is overwhelmed by the beauty of her voice and the deep rooted grace of the songs. In Real World tradition, there are some cross-cultural moments, like "Lhasa Pumo," which mixes her voice with Japanese percussionist Joji Hirota and Brit mandolinist Richard Evans to beautiful effect. Simple in its beauty, sublime in its delivery, Tibet, Tibet is near perfect. - Cliff Furnald
---
Nawang Khechog
Quiet Mind (1991)
Sounds of Peace (1988)
Both titles: Sounds True (www.soundstrue.com)
A while back I wrote a brief review of another, more recent Nawang Khechog album and while I loved the music, I bemoaned the producer and artist's need to add various sound effects to the mix. These two earlier titles were almost immediately brought to my attention and I offer them to you as a partial antidote to the over-wrought production of his more recent recording. Both feature primarily solo flute, performed in sublime loneliness, occasionally punctuated by other acoustic wind instruments. This is much more satisfying to my rather acoustic oriented ears. Nawang Khecog is a masterful player, and innovative in subtle ways. These recordings get you a little closer to the sound he makes. - CF
---
Back to the top