Tibet: Chanting For Peace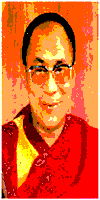 "The key point is KINDNESS.
With kindness one will have inner peace.
And through inner peace,
world peace can one day be a reality."
His Holiness the Dalai Lama



Having been raided and deprived of their nation, their freedom, their religion, their culture, and their sons and daughters, the Tibetans have now, in typical Zen fashion, gladly given up their music to the west.

Rock and rap stars have joined Tibetan monks in fund-raisers for Tibetan freedom from Chinese hegemony. Last year, Southern California's Tibetan Cultural and Community Service Center sponsored Blues for Tibet, a fundraising concert with The Blasters. Last summer's Carnegie Hall benefit in March for Tibet House included Ben Harper along with Michael Stipe, Natalie Merchant, Billy Corgan and more. The chants and horns of the monks are used to develop concern for Tibet in the hearts of middle class rockers. But more basically, the Tibetans have not stood in the way of those who would copy and disseminate their musical heritage. In fact, one gets the feeling that, as we come to feel the centeredness and concentration of their music, they're watching us with that wonderful knowing smile.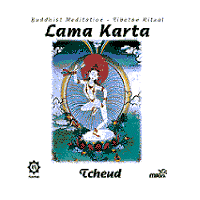 Recent recordings of authentic music from Tibet include The Lama Karta's album Tcheud - Buddhist Meditation - Tibetan Ritual (Milan Records, 1997: www.milanrecords.com). The practice of tscheud is the practice of meditation on the perfection of transcendental wisdom according to the Mantrayana. His earlier album Buddhist Meditation (Kumchab/Milan 1994) has chants such as "Prayer to the Buddha" which are simply the Lama in meditation. It is our choice whether and when to enter into prayer with him.

Lama Karta's recordings do not try to be anything else than what they are. These are recording of singing done during meditations. We are looking in on another's prayers. Somewhat esoteric in this format, it nevertheless offers a perspective of the basics of Tibetan Buddhism. Much more than the hymns of the Protestant Revival kept together the respective churches, these chants keep the individual on the sacred path, and weld the community together whether in Tibet or in the Diaspora.

But for a true connection with the heart and soul of Buddhist Tibet, seek out the music of flutist Nawang Kechog. You can find his music in better Asian arts and crafts stores, and places where better incense is sold. Nawang Khechog was born in Tibet. He fled to exile in India after the invasion by communist China. He studied as a Buddhist monk for 11 years, incorporating the teachings of the Lama's with his natural tendency toward music. Khechog exhibits his country's intense devotion to the Dalai Lama, Tibet's spiritual leader.

The liner notes for his most recent album Karuna (Domo Records, 1995) includes an endorsement from Joan Baez describing his flute playing in a poem. This is a very special album, dedicated to the search for peace and kindness in the world. He uses his flute with synthesizers and acoustic instruments to transcend the miles and cultures between him and the listener. It's not an album of background music, but an invocation of the basic nature of our souls to listen and respond.

Nawang Khechog's solo and duet recordings center on the search for peace. In his earlier releases Tibet-Australia, Sounds of Peace and Tibet: Rhythm of Peace (Nawang Khechog, PO Box 112, Avalon, N.S.W., Australia 2107 (02) 918-8397 ), he draws on his immense popularity in Australia to collaborate with didgeridoo players, adding chants and percussion. His albums are performed and created spontaneously. The spirit of peace and good pervade the music, challenging the listener to find an inner quiet and respond.

These recordings are, in one sense, about as far away from our present culture as you can get. They are quiet, then suddenly with a gong and a blow of the horn, your attention is required. The recordings are repetitive. There is the feeling that you are listening in a Temple, with its reverberations and wafts of incense. The songs are monotone, with no overdubbing or harmony. But with each listening, there's something that resonates with the soul. Even though thousands and years and thousands of miles separates western culture from that of Tibet, chanting - whether done in a Tibetan temple, a Spanish Abbey, or a Native American powwow - is a human trait suppressed in our modern society. Maybe a chant channel on local TV would be a good thing for our souls.

One of the more accessible recordings of Tibetan music is from the score to the movie "Little Buddha", called The Secret Score of Tibetan Chant (Milan 1993). Singers Dechen Shak Dagsay and artists Ying Ruacheng, Zakir Hussain, and Ali Akbar Khan contribute their indigenous music to the score. Though not totally Tibetan, the feeling from this recording is very evocative of Tibet. The movie itself has two stories -the search for the next Buddha and the story of the Buddha itself. The music swirls around the activity in India and Tibet, couching both stories in their native music.

Dadawa is a Chinese woman who, after becoming successful on the Chinese pop charts, went to Tibet to learn more. Her disappointing album Sister Drum (UFO Group/Sire 1995) is exactly what you'd expect from a Chinese pop perspective on Tibet. The songs are long on pop grooves and short on meaning, covering over the native culture with Chinese pretend pop and Dadawa's high looping voice.

Long after Western pop culture has fizzled to nothing with nothing to remember and nothing to learn from it, the culture of Tibet will endure. Devotion to kindness and peace will outlast devotion to money and fame. And the chant will continue to point the way to the soul.


Brian is the World Music Director at WWUH Radio and writes for their Program Guide under "Voices of The Village". He can be heard filling in for the folk shows 6-9AM, Monday-Friday playing "Folk Music From the Rest of the World." email: [email protected]