ANTI-GRAVITY
Boogie for Hanuman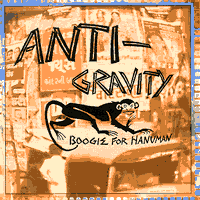 Indian fusions with jazz have always had the tendency towards either the frivolous or the arcane. With few exceptions what gets passed off as Indo-fusion in today's world music bins is either rife with misinformed, new age meanderings and improvisation passing as "Indian influenced" or else it is steeped in complicated patter and ethno-musical jargon that renders it lifeless. Occasionally one lifts itself above the morass and finds a place in the heart of even the most curmudgeonly soul (like mine). Anti-Gravity is such a band.
Anti-Gravity is actually two bands, both led by bassist Warren Senders. One is a U.S. based jazz band of American musicians. The other, the Anti-Gravity of this CD, is Senders and his musical friends in Pune, India. Senders has spent much of his musical life in Pune, carefully studying classical singing styles and learning Indian music and teaching jazz with this formidable cast of musicians. What they have come to over the years is a true meeting of cultures, a real fusion of genuine ideas and love of music that transcends place and time. This is not jazz as Americans know it, not Indian classical or folk music as Indians know it. It's a whole different creature that uses elements of both to come to a common understanding.

Boogie For Hanuman brings us a diverse outlook that has the feel of both Coltrane and Ellington buried somewhere amid the streets of an Indian city. It is crowded and complex, with surprising pitfalls and delightful surprises. "Dark House - Midday" exemplifies Senders world view, as it blends together a number of ragas, played on the bass, with a steadily more chaotic blend of Ajit Soman's flute and Ramakant Paranjpe's violin. As the multiple percussionists (kit drums and tablas) join in, the overwhelming sense of a crowded urban milieu crashes down into a quiet escape, dragged to its conclusion by Senders loopy, bowed bass lines.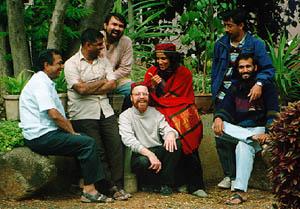 Antigravity, the Pune group

The album has more bright moments, particularly the world-fusion of "Weaving Time" with it's underscores of Indonesian and African rhythms. "Boogie For Hanuman" starts out mundane, with an underpinning that sounds almost disco to me but we are treated to a flashy sitar solo by Atul Keskar that sets the stage for better things to come. Perhaps most revealing of all is setting of Abdullah Ibrahim's "Ishmael." The familiar bass and kit drum groove is wrapped with tabla and sinuous violin, adds on some simple, bluesy guitar riffs, some baffling flute that skirts the border between jazz and Pune, and then folds it all together in a classic jazz jam. How they resisted the urge to add a line from "Caravan" in here is beyond me.

Boogie For Hanuman succeeds because in spite of its deep roots in tradition, it meets the music on its own terms, refusing to become either musicological artifact or message-bearing fusion. It exists in its own unique time and space. - CF
---
Further Adventures
EastJazz by Adrienne Redd explores the connections between modern jazz and ancient Indian traditions.
Drums and Dust, Warren Senders' visit to a festival in Pune, India
More music from Asia on RootsWorld

Credits
Sound:
Real Audio sound clip is a section from "Weaving Time" by Warren Senders, performed by Antigravity. Used with written permission of the composer.